More people have been displaced since Independence by development projects than by the partition and a majority of them have been indigenous adivasis or Dalits.
Landless Dalits who would migrate to Mumbai after Independence would eventually face bulldozers and the fate of every slum: demolition.
644 villages were emptied and an unknown number of villages were burnt down by security forces in undivided district of Bastar, Chhattisgarh since 2004. A number of villages were burnt down more than once along with all of their produce, while women were raped, and men were shot dead. Thousands of people would migrate due to the escalating conflict to nearby Andhra Pradesh where their homes would be repeatedly destroyed by the Forest Department who deemed them as 'encroachers'.
The destruction of the homes of forest-dwellers by the Forest Department happens across the country in the name of 'conservation,' yet thousands of acres of forests are diverted for industrial projects every year.
Across the country, there are numerous islands of resistance for the protection of one's land against displacement by development, and land alienation. Yet all these movements face state repression in the form of police firings, false cases, and the state policies of divide and rule.
To many farmers, land is not a commodity and rehabilitation is not an option. In the cities, the government's record of rehabilitation is filled with broken promises. In Mumbai, the Slum Rehabilitation Authority, has often cheated slum dwellers of their rights and even handed over public lands to private corporations.
The village of Badepalli in Dantewada was burnt down by security forces onthe 25th of April, 2009. It was also burned down in 2006.
The village of Boreguda in Bijapur District, Chhattisgarh, was burnt down by a joint force ofthe CRPF and the Salwa Judum in the winter of 2006.
Rajeshwari and Sanda Dharmaiya, sit outside the remains of their house at Lingagiri in Bijapur district, Chhattisgarh three years after the security forces attacked their village and killed four people.
Interned villagers in a state-run Salwa Judum camps in Basaguda. In 2006 ,many villagers were forced to live in camps by the police after the Salwa Judum emptied over 644 villages.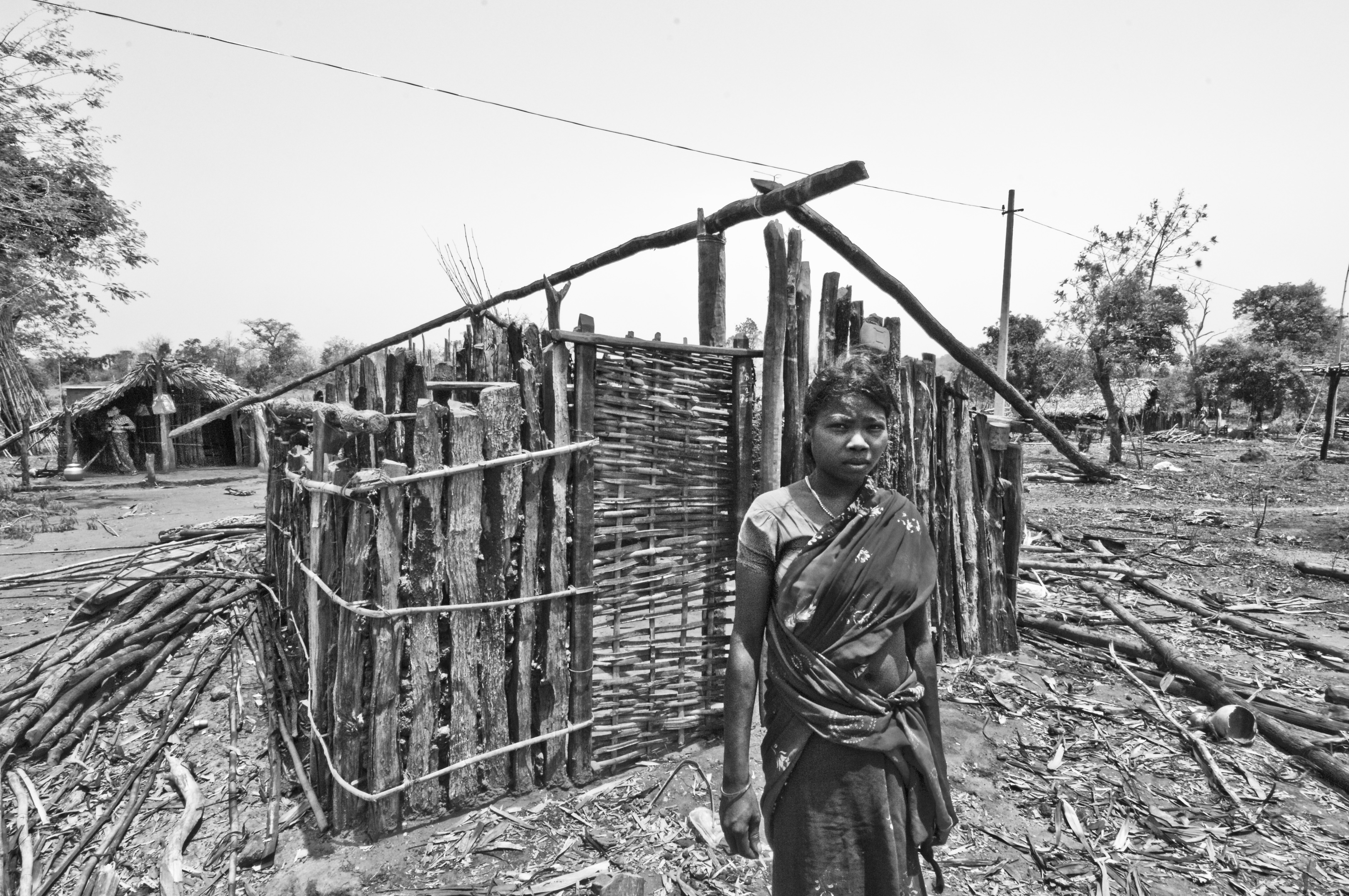 A village inhabited entirely by Internally Displaced Persons: Chalampalam in Khammam district, was broken down by the Forest Department on the 25th of May, 2010.
Bhime Nanda amidst the ruins of her home at Tatemargu village, Dantewada,that was burned down by security forces during a combing operation, on the 9th of November, 2009.
A young girl before the remnants her home in Golibar, Khar in Mumbai, that is fighting against builders who illegally acquired their consent for the project.
Demolitions have been a part of the lives of all slums in Mumbai, but so have people's movements for the right to a home.
There are at least 15 major Slum Rehabilitation projects across Mumbai where residents alleged the builders have committed fraud.
In Golibar, the builder has to be chargesheeted as per orders of the High Court, yet demolitions have been regularly occurring over the past one year
The homes of over 8,00,000 people (2001 census) face demolition over modernization of Mumbai's Airport.
Thousands of people live on the Deonar dumping grounds of Mumbai, and they risk losing their homes due to the privatization of the grounds.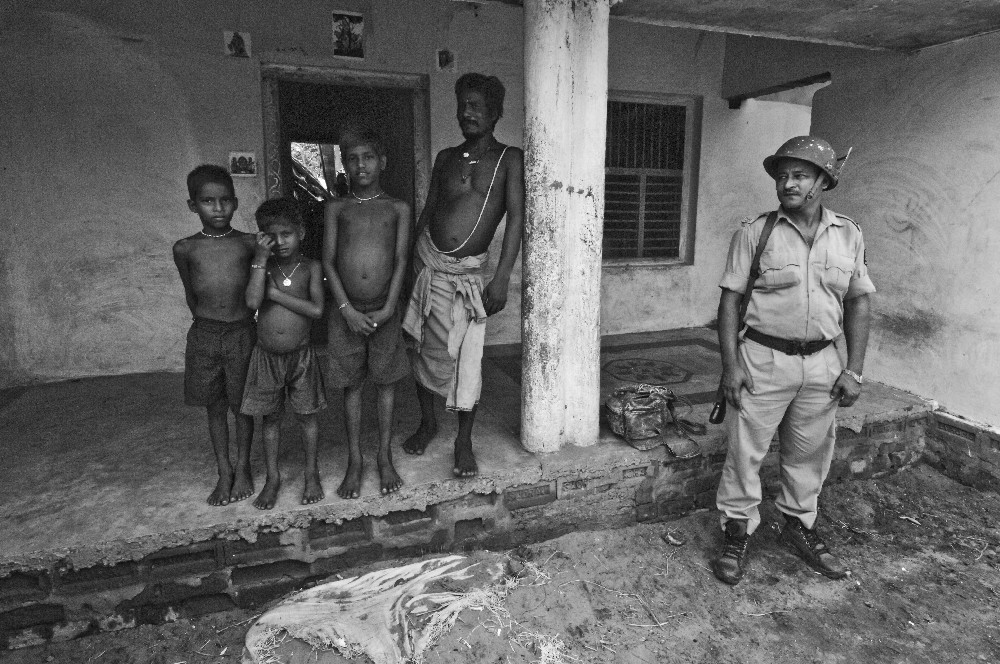 Land acquisition in process at Noriyasahi, a village affected by the controversial POSCO project.
The house of Dibya Prakash in the project-affected village of Noriyasahi. She already lost her betel vine cultivation in May of 2011, for land acquisition for the POSCO project that will also claim over 6,00,00 trees.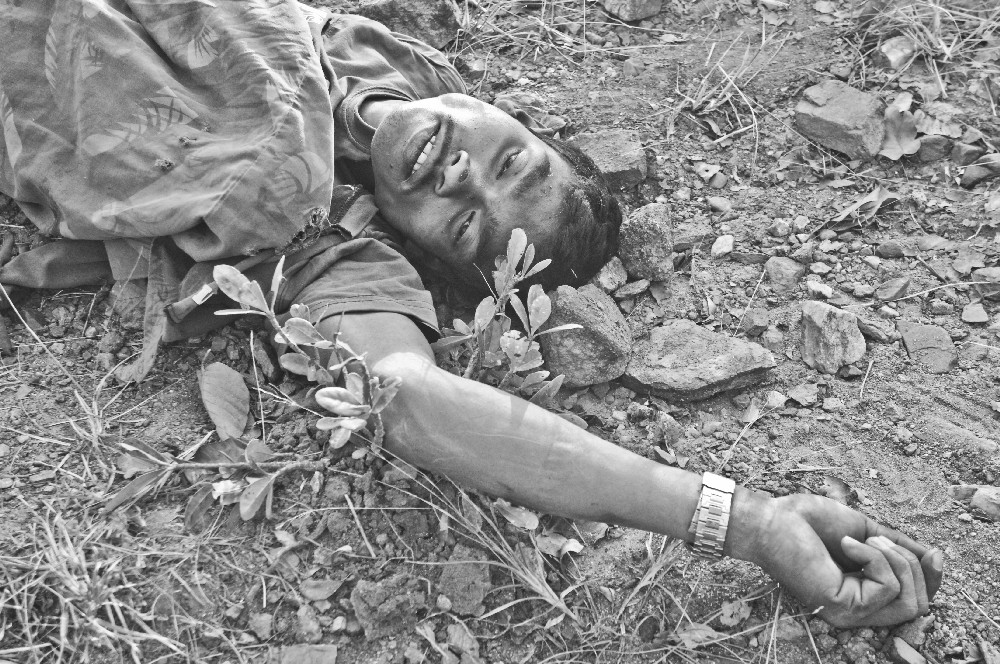 The body of Sadhu Munda who was killed in an encounter on the 12th of January, 2011. Sadhu Munda hailed from Baligotha village, Kalinganagar, that was on the frontlines of the protest against displacement and Tata Steel.

Devi Mangdroo sleeping next to her son and the remnants of her burnt home at Tatemargu, as well as her newest settlement.

The villages of Tadmetla, Timmapuram and Morpalli were burnt down in March of 2011 by security forces.
The village of Tadmetla was the closest to the scene of the Maoist ambush that claimed the lives of 76 security personnel on the 6th of April, 2010.

People sleeping on the roof of Mumbai Central Railway Station.
A family make a home out of an abandoned bus in Hyderabad.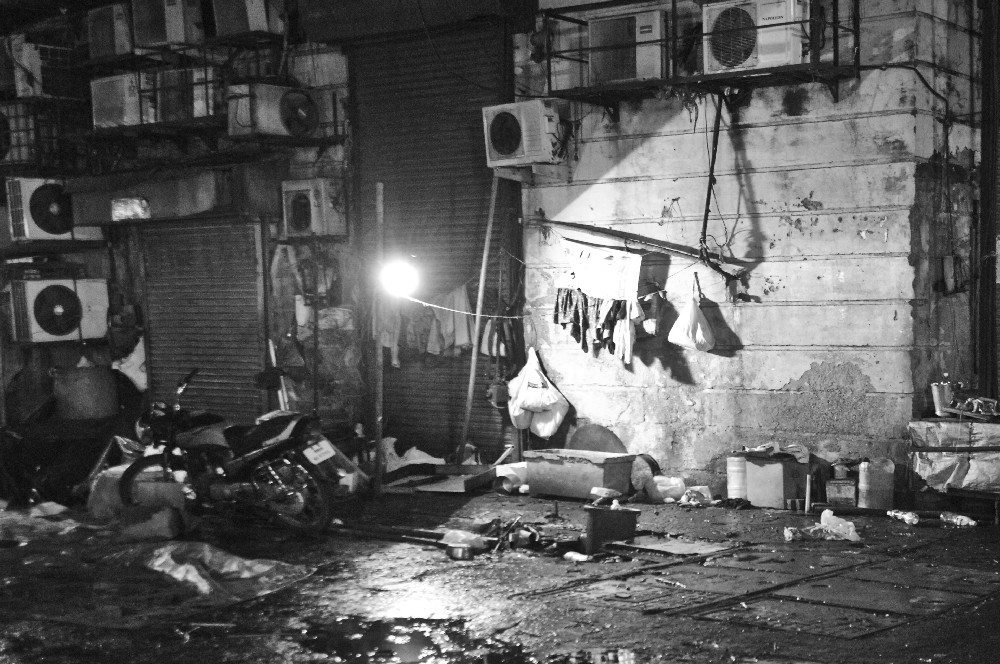 The derelict remains of homelessness at the epicentre of the bomb blast at Opera House, Mumbai on the 11th of July, 2011.
Non-tribals evicted from their homes in Narayanpatna, Orissa, by tribals live in the Soil Conservation building in Koraput. Almost all the non-tribals had illegally acquired tribals lands over generations.
Villagers from Basaguda cross a Central Reserve Police Force camp on their way to their homes after three years. They were rehabilitated as per Supreme Court orders, yet those involved in helping them rebuild their lives would eventually be jailed, and chased out of Chhattisgarh state.

Residents protest against the demolition of their homes in Golibar, Mumbai.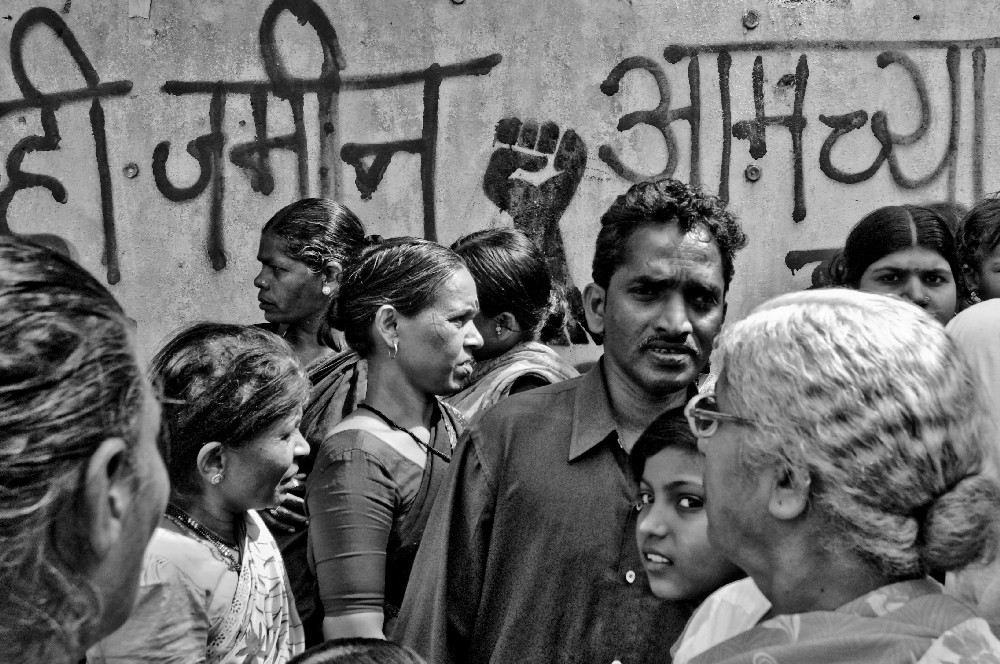 Graffiti by the residents of Ambedkar Nagar in Mumbai that is facing demolition over a flyover that would lead to the international Airport.
Bio:
Javed Iqbal is a Mumbai-based journalist and photographer.