"Six months ago, we were all rudely awakened in the middle of the night by sounds that are now quite familiar to us – those of an approaching elephant herd. The situation was alarming enough for us to run out of our house to a safe distance and when we watched our house being destroyed by the animals, our hearts broke." Gouri Mondal is a resident of Baisi Colony village near Dharamjaigarh in Chhattisgarh's Raigarh district where such incidents have become commonplace since 2005.
Following rampant deforestation and loss of their habitats in Odisha and Jharkhand, elephants began migrating to the forests of Chhattisgarh in the '80s. In Raigarh, Korba, Jashpur and Surguja districts, where a lot of forest land is being diverted for coal mining, foraging elephants often enter villages, attracted by the crops in the fields. As per official records, the resulting human-elephant conflict has caused 8,657 incidents of property damage and 99,152 incidents of crop damage in the state between 2005 and 2014. The state has also recorded 198 human deaths caused by the conflict during these years.
In 2005, hoping to minimise human-elephant conflict, the Chhattisgarh assembly passed a resolution seeking central approval for two elephant reserves. One of them was the 450 sq.km. Lemru reserve in Korba district, which received a clearance from the Ministry of Environment and Forests in 2007, but was shelved by the state government in 2008 to facilitate coal mining in virgin forests. According to the state government, the proposed sanctuary will block at least 40 million tons of coal production per annum.
Recently DB Power Limited, owned by the Dainik Bhaskar Group, sought to acquire 693.2 hectares of land for an opencast coal mine in Raigarh, of which approximately141 hectares fall within the municipal boundaries of Dharamjaigarh. The 92 million tonnes of coal underneath will fuel the company's 1320 MW power plant in Janjgir-Champa, still under construction. "Industry lobbies have been influencing the governments at both the centre and state. The Chhattisgarh government quietly sacrificed the concerns and conservation of both local people and elephants to suit the needs of companies," says activist Sajal Madhu.
Villagers gather around an elephant that was electrocuted to death on the night of 14th December, 2013 in Ongna village in Raigarh district, Chhattisgarh.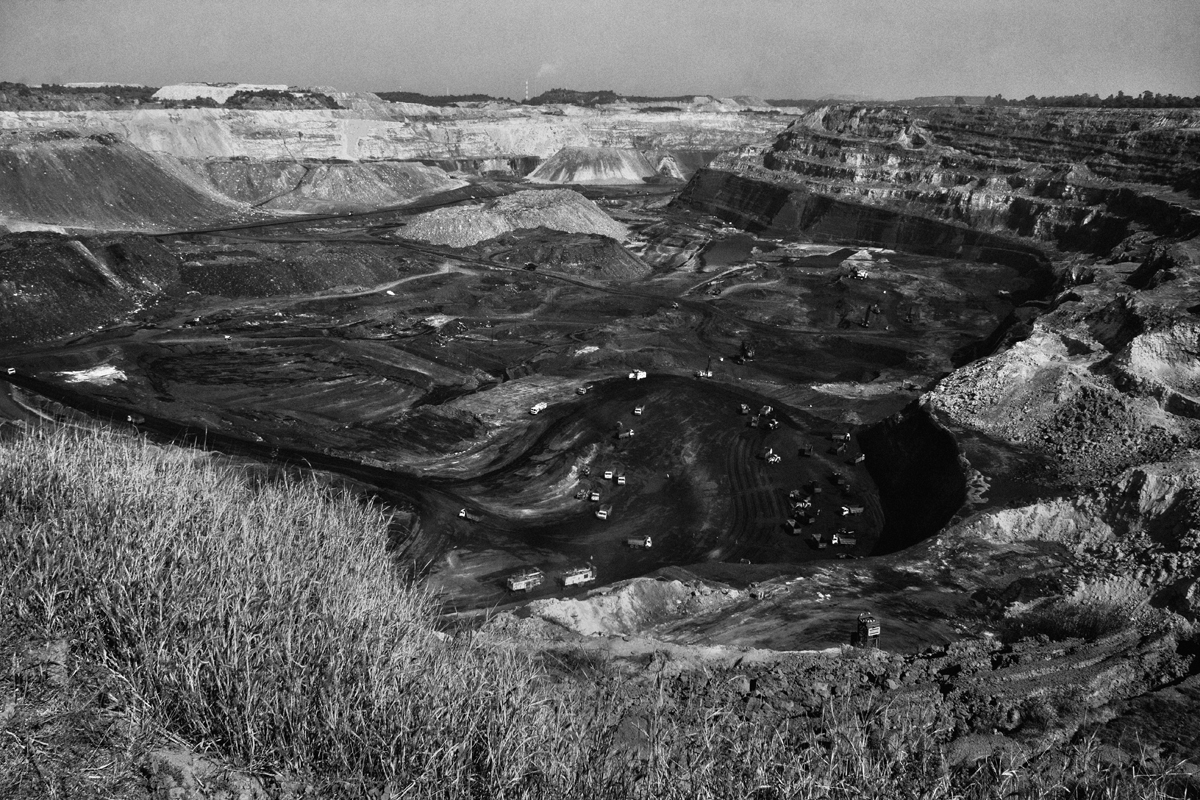 Spread over 20 sq.km, Gevra in Korba, Chhattisgarh is Asia's largest opencast coal mine and has a total production capacity of 35 million ton per annum.
Chhattisgarh has a significant tribal population, both in the forested hill areas and plains. Many of the highly populated tribal villages in Dharamjaigarh are situated on land acquired for open cast coal mining acquired by DB power Ltd.
Gouri Mondal (left) at her house in Baisi colony in Dharamjaigarh which was destroyed by a herd of wild elephants six months ago. The family received a meager compensation of Rs. 7000 from the government and has since taken shelter at a neighbour's house.
A herd of wild elephants seen in dense jungles near Ongna village in Raigarh district, Chhattisgarh.
The relentless stream of coal carrying trucks is a common sight in the opencast coal mining areas of Chhattisgarh.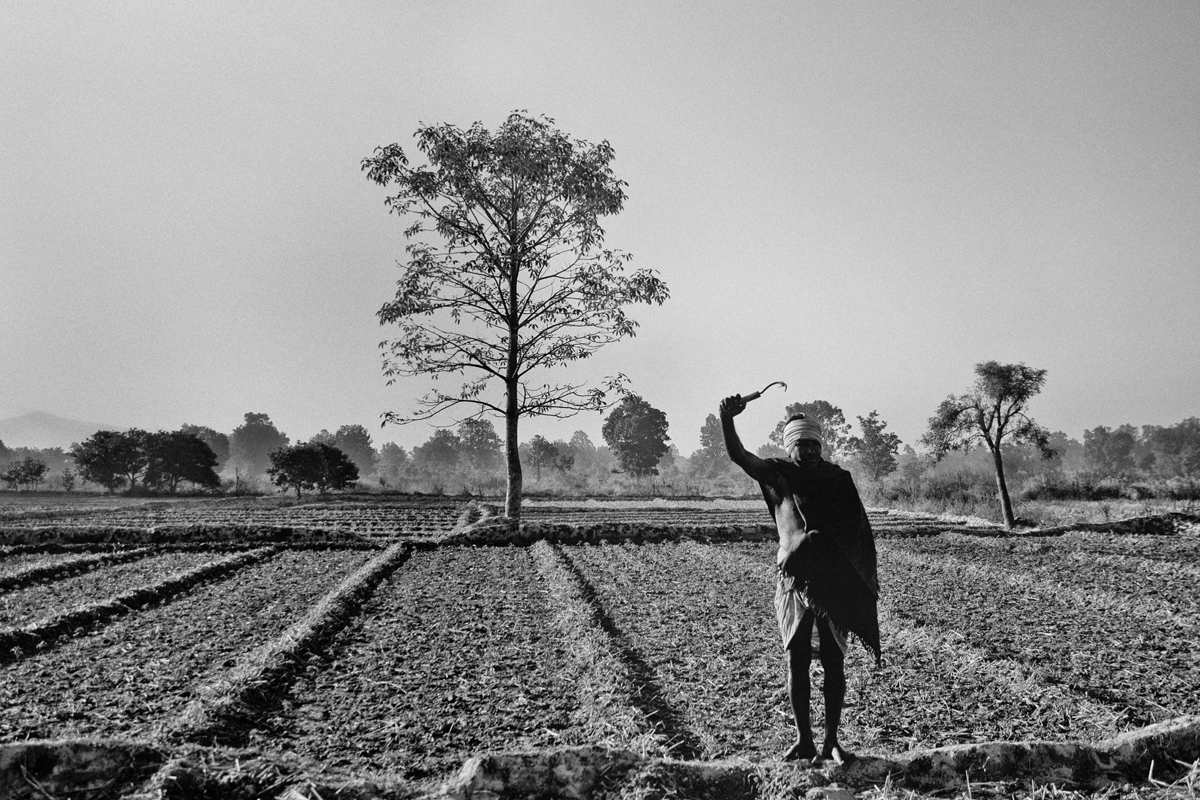 Joshi Burman, a farmer from Baisi colony village in Dharamjaigarh, suffered huge losses after a herd of wild elephants damaged standing crops in his field.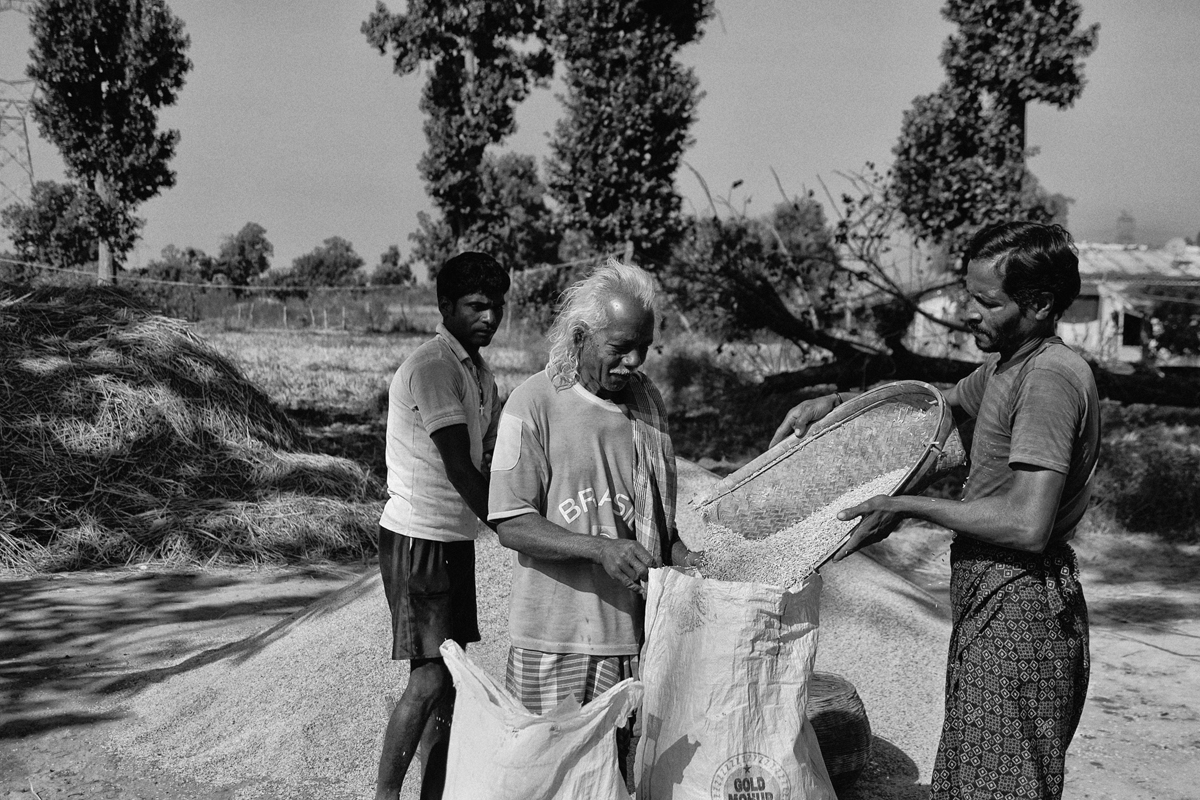 Sadhu Ram Bhagat (70), a farmer from Madorma village in Dharmajaigarh, is yet to receive compensation for the damage caused by an elephant herd to his crops to last year. He says the elephants enter human habitats only when they do not find anything to feed on in the fields.
Houses damaged by wild elephants are found in many parts of Raigarh district. Villagers say at least 56 farmers and 23 elephants were killed in recent years, the latter mostly caused by electrocution, in Raigarh and adjoining areas.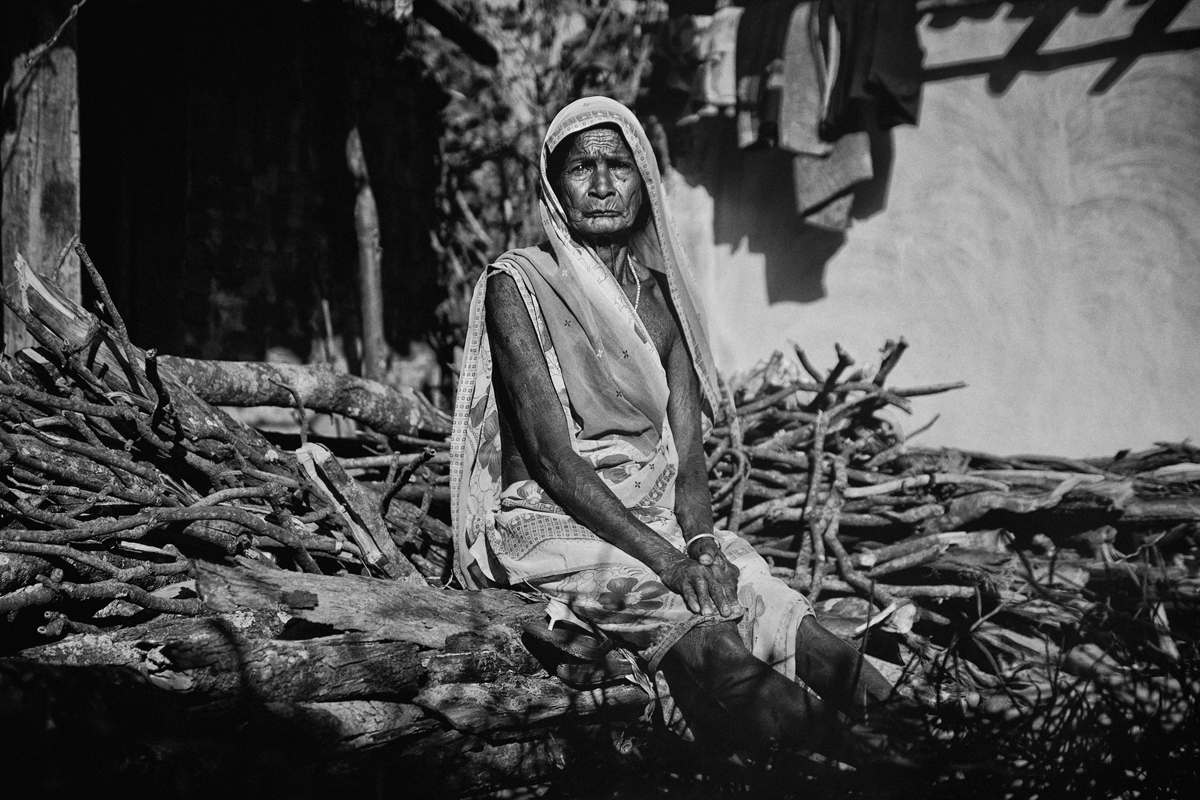 Hirasai Chahuhan's wife says he died on the spot after being  mauled by a wild elephant inside their home in Krondha village in Dharamjaigar.
Elephants roaming the fields at night often die of electrocution upon contact with live wires laid by farmers in the fields.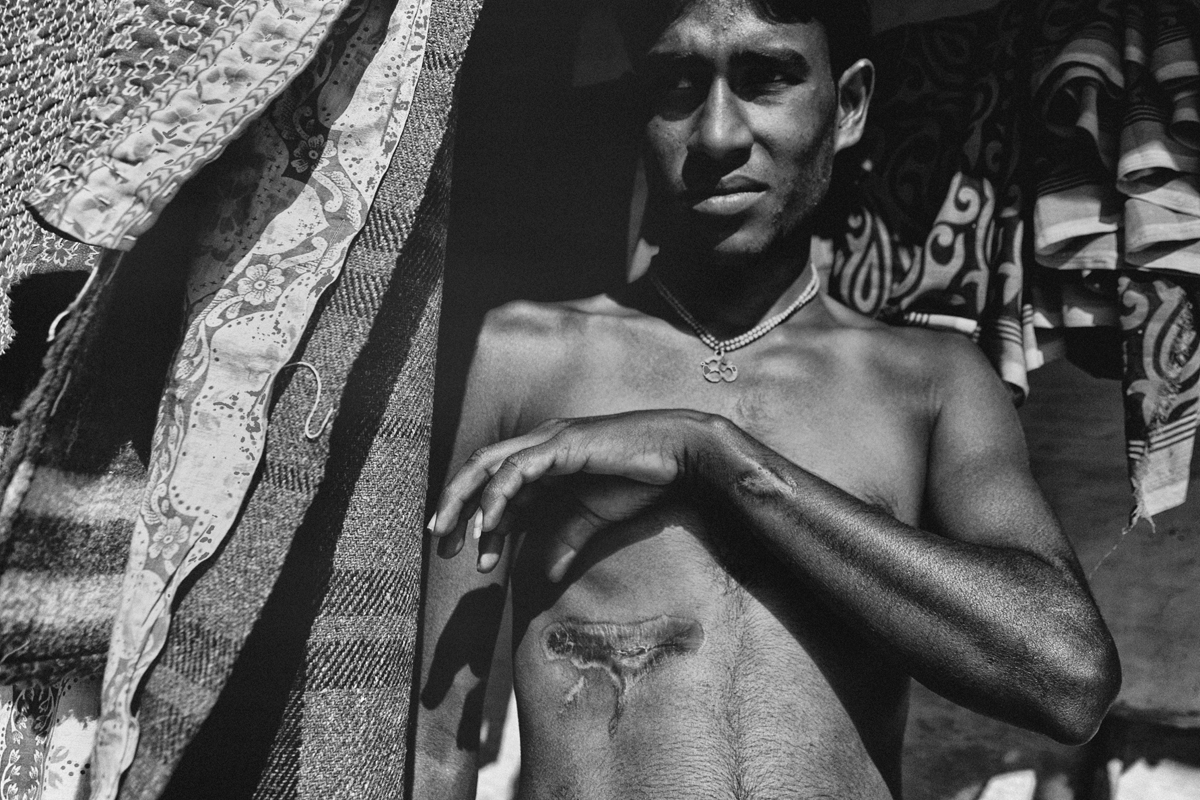 Joshi Burman's son Radhi Burman (20) was attacked by a herd of wild elephants while trying to save their crops from them. He managed to escape but got electrocuted by live wires passing through the  field. He was admitted to the intensive care unit in a very serious condition and the recovery process had been a long and painful one.
At Tendumar village in Dharamjaigarh, panicked women talk about attacks by elephants on two fields the previous night.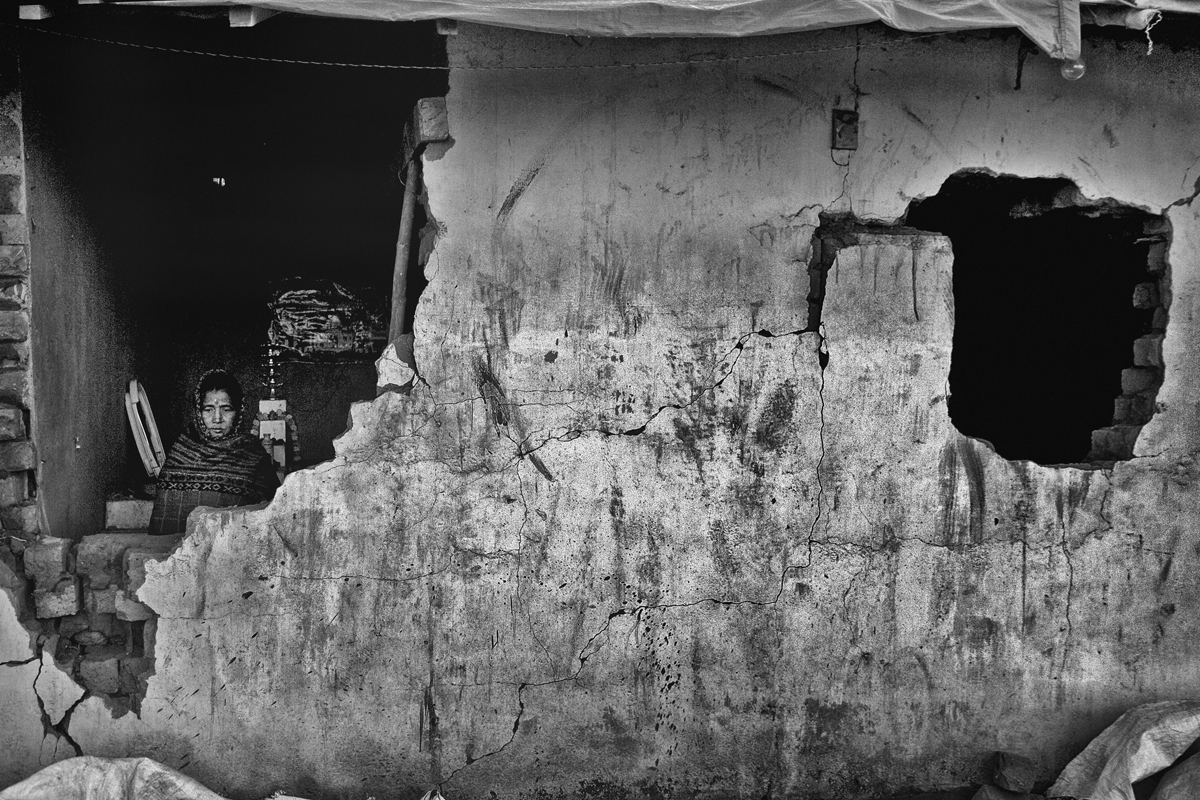 Sabitri Sheel, a resident of Baisi Colony village in Dharamjaigarh, received only Rs.4000 as compensation after elephants damaged her house a month ago. She says the money was not enough to repair even a small portion of their damaged house and her family is now considering migrating to a safer place.
Ramela Bairagi (65)  lost her son Jagdish Bairagi (40) in an elephant attack on 17th January, 2011 at their home in Madorma Village, Dharamjaigarh, The family had relocated to a safer place soon after the incident.
This elephant death on 14th December, 2013 in Ongna village was the 23rd incident since 2007. Locals are afraid that further diversion of forests and land in these areas for coal mining could lead to an increase in cases of human-elephant conflict and that mining will also pollute the air, water and land of Dharamjaigarh.
All images © Subrata Biswas/Greenpeace.
Bio:
Subrata Biswas (born 1982) is an independent visual storyteller from India. He holds an engineering degree in IT but an immense interest in visual arts from his childhood led him to pursue a full-time career in photography and painting. His work focuses on lesser reported issues, with a very personal approach. He also worked as a photojournalist with Hindustan Times in New Delhi. His works have been published and exhibited widely in India and internationally.