One of the five articles of faith that Sikhism, the world's fifth largest organized religion, mandates for every believer is kesh (uncut hair), secured firmly by a turban. However in Punjab, the land of the religion's birth, the practice of wearing a turban is declining.
The easily identifiable Sikh with a turban has been the target of many attacks, from the Sikh genocide in New Delhi in 1984 to the turbulent period of Sikh militancy during the late 80s and early 90s across India to even the hate crimes that followed 9/11. But for many young Sikhs, the choice to abandon the turban is the result of urbanized lifestyles they have begun to embrace following India's economic growth since the early 90s.
That a majority of Sikh youth are unable to identify with the religious and cultural identity of a community with an estimated 28 million followers is a matter of concern. I wanted to investigate the reasons behind it. I began by documenting, over a period of two years, the lives of the few contemporary Sikh youth who have chosen to continue wearing the turban and are trying to give it a new lease of life in these times of crisis.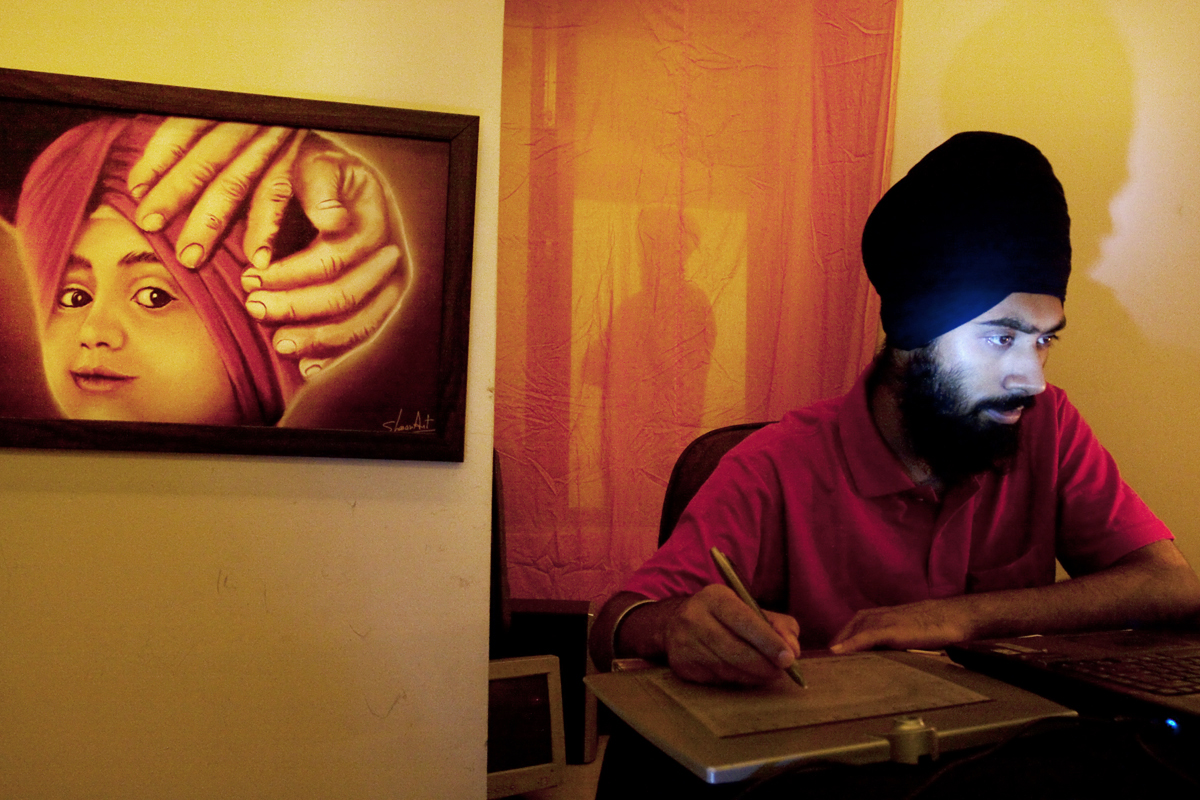 "A turban is a gift from my father which brings along pride, faith, love, religion and blessings and it is my responsibility to preserve these feelings and spread them wider."
Sharandeep Singh, 24, at his residence working on his digital artwork 'Father's Love'. Despite his busy 12 hours a day and 6 days a week schedule, he is committed to Sikh artwork, usually working through the night and sleeping for not more than 4 hours. The situation is such that he can neither quit his bread-winning job, nor stop working on Sikh artwork, which is his passion, so he has decided to follow the middle path and work a little harder. Ludhiana, September 2012.
"Like father, like son, they say. But my drug addiction had made my life hell and I was far from being like my father. It was ultimately the words of Sant Jarnail Singh Bhindrawaale, who said what do we call a son who does not resemble his father, that brought about the change and helped me come out of drugs and brought back my identity and Sikh way of life."
Damandeep Singh feels that only the Sikh principles and way of life can help Sikh youth come out of the trap of drugs since Sikhism prohibits any type of intoxication by any means. Ludhiana, July 2013.
Harmandeep Singh trying to learn the art of tying a turban at a Sardarian Trust camp. These camps are bringing in visible results as 35% of the participants have started tying turbans on a daily basis. Jeeta Singhwala, October 2012.
"I have had a love affair with the turban since childhood, and a desire to promote this symbol of equality in Sikhism as it does not discriminate, being the same for both men and women. My greatest opportunity came when I got a chance to work at a media platform, but not before a year of struggle and rejection as the TV channel was initially skeptical about a Sikh turbaned woman anchoring a show. However, I was lucky when one day the regular anchor was late and I got the opportunity to host the show. The overwhelming response to the show made them rethink, and I was allocated a weekly show on television."
Harsharn Kaur, anchoring one of her shows at the PTC news studio. New Delhi, July 2013.
"The only reason I chose to become an actor is because I believe there is a need for a world to see what an actual Sikh looks like. The Indian film and television Industry has failed in this regard and misrepresented and abused Sikh identity. Most of the times a Sikh character is played by a non-Sikh actor and it is time for individuals like me to come forward and ensure proper representation of the community"
Harvinder Singh taking some time out during his play on dowry. Ludhiana, December 2012.
A young Nihung Singh looking at his companions during the annual Holla Mohalla. Anandpur Sahib, February 2015.
A Sikh group called Young Flares rehearsing before a play. This group performs plays on various social evils that have crept back into Sikh society. Ludhiana, October 2012.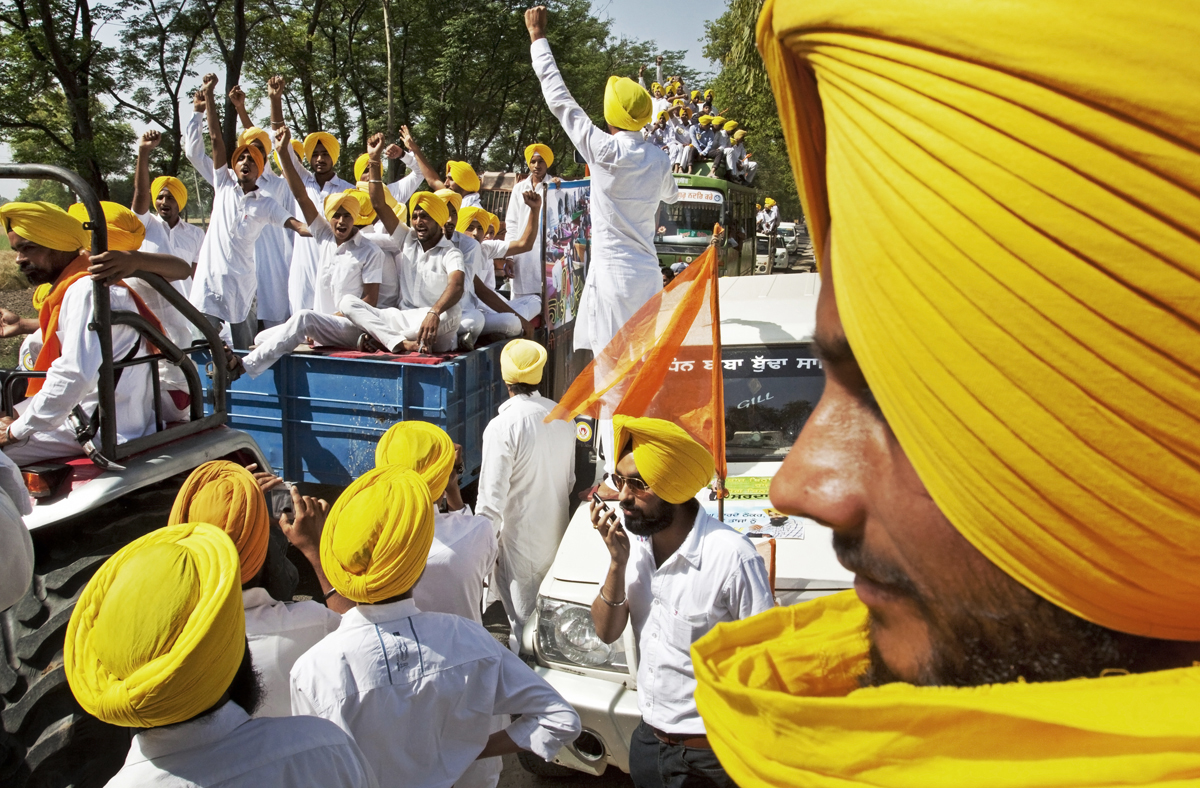 Young Sikh men during a turban awareness march. Jaitu, April 2013.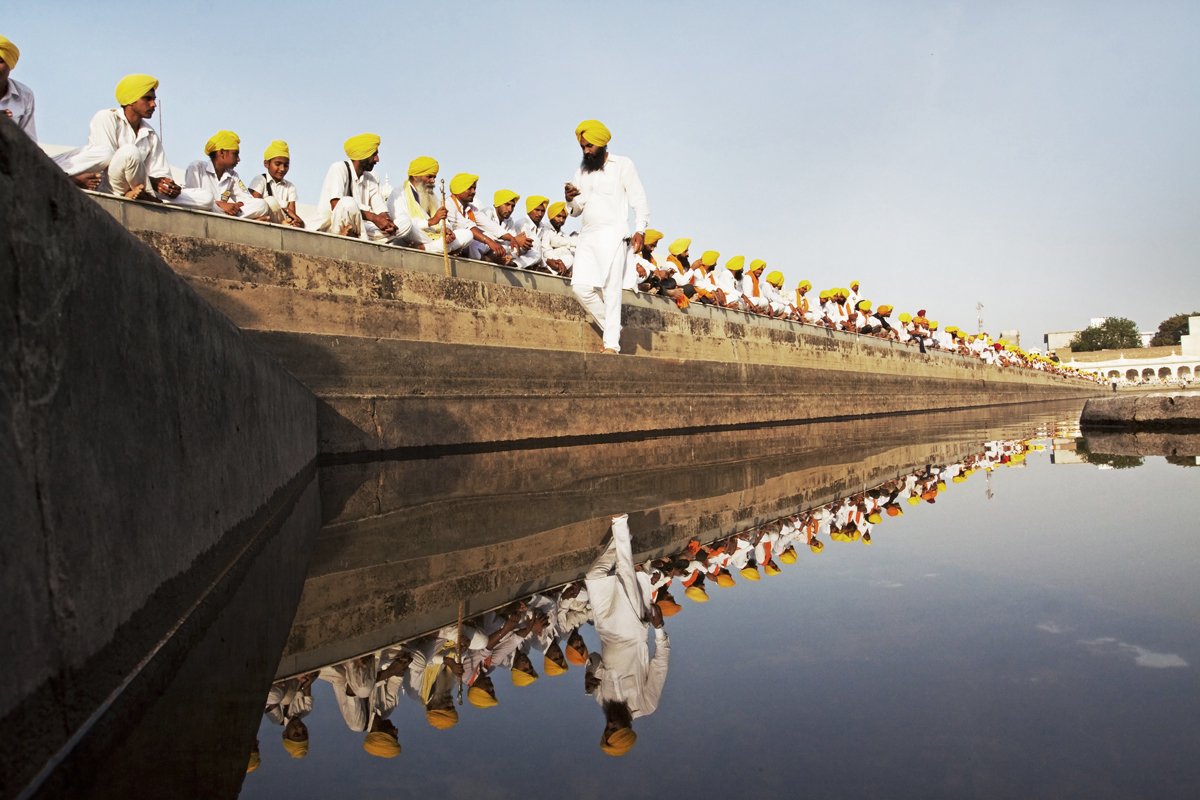 More than 6,000 young Sikh boys and men from all corners of the state of the Punjab participated in the turban awareness march with a mission to encourage youngsters to regain and retain the lost identity of Sikhism. The participants had a dress code of white attire and yellow turban to show solidarity and strength in being united. Muktsar Sahib, April 2013.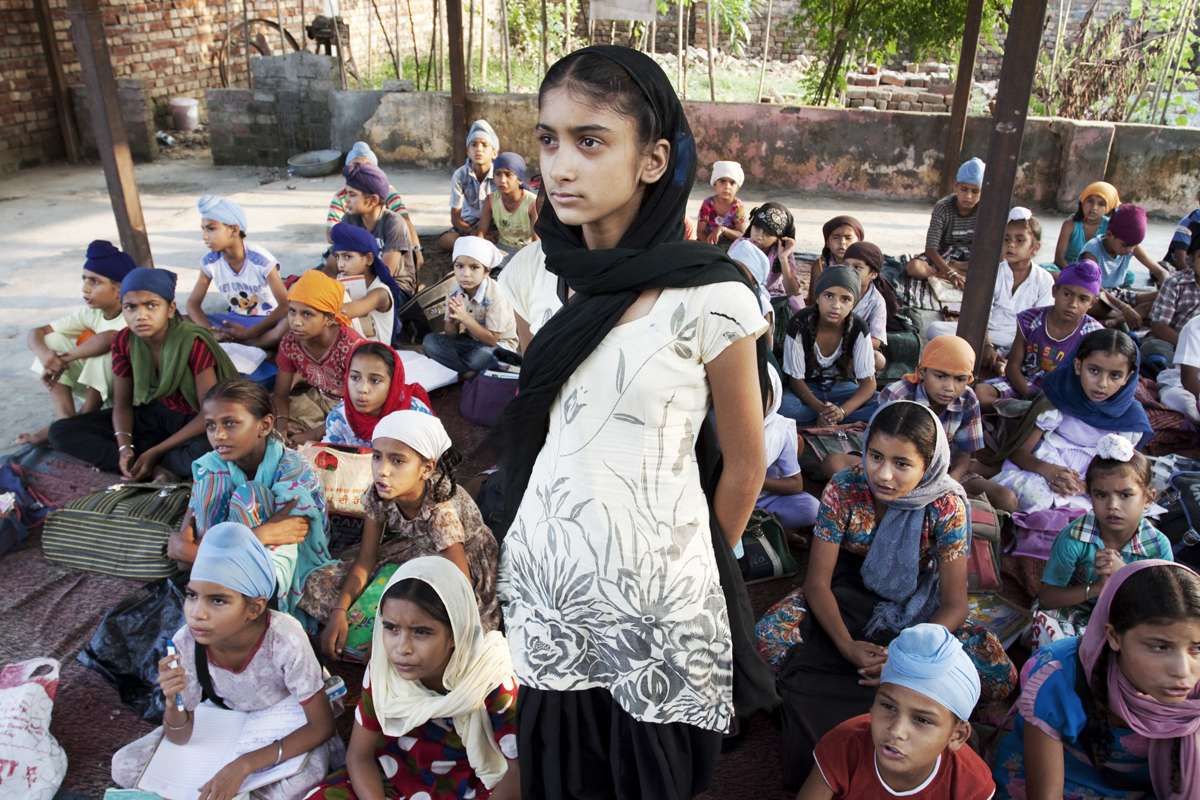 "Being close to the border area of Pakistan, this region of Punjab has always been lacking in development and education and the children here are always prone to anti-social elements. To deal with the situation, an organization named Khalsa Aid has established a tuition center in Meerpur village of Gurdaspur district. This organization educates children and introduces them to the Sikh way of life through Sikh teachings, musical knowledge and Sikh martial art. Khalsa Aid also aims to start a chain of such centers in this border region of Punjab"
Amarpreet Singh, a volunteer with Khalsa Aid. Khalsa Aid tuition center, Meerpur, September 2013.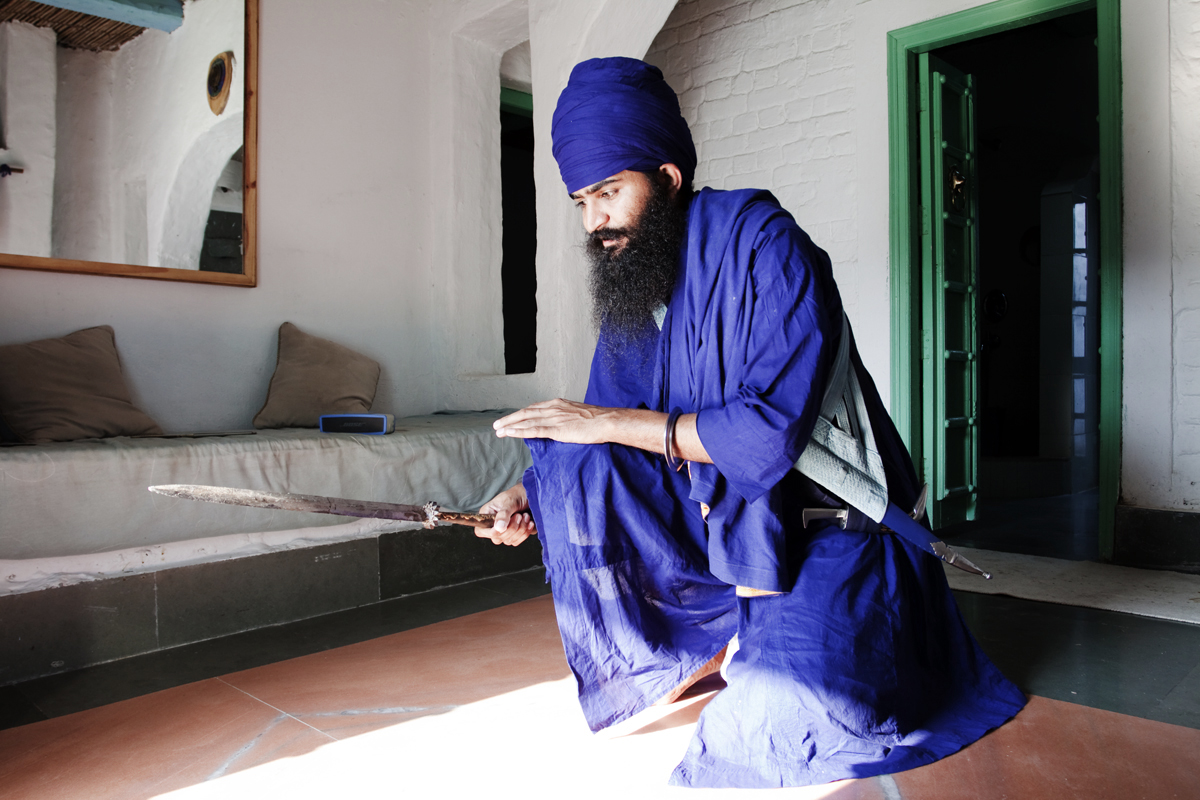 "Born into a Sikh family during the troubled times in 1984, I grew up seeing a lot of violence, which hurt the body and soul of an innocent child. At a tender age which requires love, I faced hatred in school since I was from a different ideology and because of my different appearance I was never accepted as one of them. The lack of love and compassion and continuous hatred filled me with fear, and I was seen as a failure by my friends, family and teachers. This resulted in further darker times ahead, as I resorted to drugs and wasted my precious adolescent years. Drugs brought me shame and suffering and almost death, but fate had other plans when it brought me words of Guru Nanak, and I was blessed with the positivity, love and compassion, which was always lacking since childhood. Since then I have been living peacefully, without any fear of future, and believe that words written in Holy Guru Granth Sahib can lead humanity to peace, harmony and love."
Since adopting the traditional Nihung Singh way of life, Inderjot Singh has developed a love for collecting traditional Sikh weapons and spends a lot of time searching for antique Sikh weapons. Anandpur Sahib, March 2014.
"The aimless generation of today is fast-moving away from its roots, culture and rich history and this grim situation has always motivated me to set an example and make my son Kunwarajit a role model for coming generations. For that to happen the only way possible is the rich Sikh knowledge and way of living, since I feel it is the way of salvation for today's sinking generation. My son has helped me a lot in making this task easier since he has shown a keen interest in absorbing knowledge about Sikh music, History, Scriptures and especially Sikh martyrs. Sikhism is the most advanced, scientific way of living and its awareness will greatly benefit our children"
Kunwarajit Singh with his father Baljinder Singh. Jagoli, Ambala, February 2014.
"Despite having a grand Dastarbandhi (first turban-tying ceremony) at a young age, I chose to cut my hair. My father always wanted me to be a turbaned Sikh but never expressed himself until a week before his death and then I promised to fulfill his wish. Since that day I started growing my hair and now I am a fully devoted Sikh but as destiny has it, my dad is not alive to see this. It gives me immense happiness to be back on the path of Sikhism and more so when I see my brother following my footsteps."
Mehtab Singh with his younger brother at their home. His brother has also started growing his hair and is also learning to tie a turban. Ludhiana, November 2013.
"The Sikh way of life teaches us to respect and serve our parents, but because we have moved away from Sikh principles, it has caused a distance in relationships, and children tend to abandon their parents these days. This gave me the inspiration and idea of visiting old age people's homes. Initially it started on a one-to-one level but then I decided to bring in more young people, so that they would also benefit from these interactions, and not make the mistakes of past generations."
Gursahib Singh has formed a group with his friends called Young Flares and can be seen spending some time with old women at old age homes. Ludhiana, February 2013.
"The world of today where internet and modern gadgets eat into the time of our children's lives, a Sikh traditional martial art known as Gatka is gaining popularity among children. The reason young are attracted towards the art is because of its association with Sikh Gurus and is immensely honorable in Sikh culture and thus they are rewarded with respect of the society. Apart from that children develop self-defense and gain physical strength, also they benefit a lot as Gatka is a sort of meditation and it keeps the children away from drugs and other menaces."
Prabhsimranjit Singh, a coach at the Dashmesh Gatka Akhara. Photographed here are children from the akhara helping each other get ready before a performance. Machhiwara, December 2014.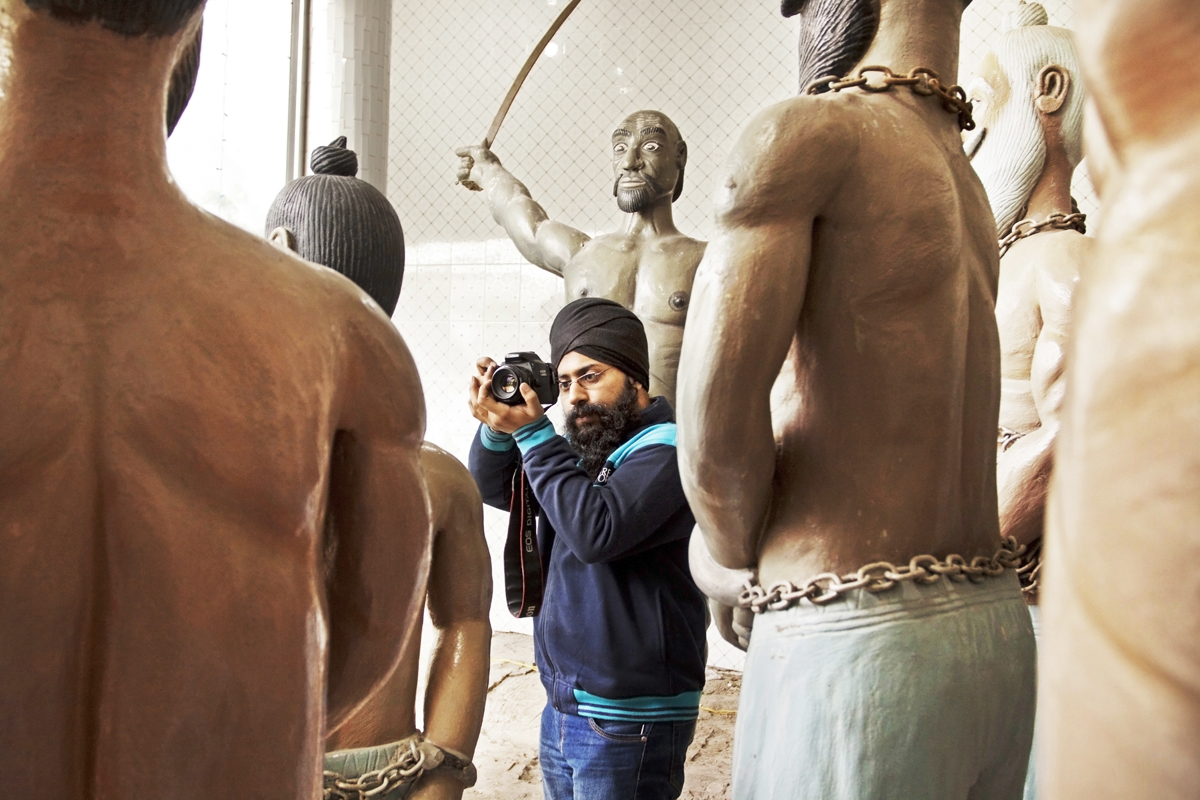 "A television series from my childhood days on founder of Sikhism, Guru Nanak Dev ji inspired me to direct a play on similar lines. My journey in film direction started with play writing and direction. I then moved to short film direction as I directed several short films on Sikh issues and Sikh way of life. Indian films have rarely touched upon the issues of Sikhs and I intend to change it. With more learning and professional training I aspire to create a media and audience for Sikh issue-based films, since I believe Sikhism is not a religion but a way of life and films are an excellent medium to promote it."
Satdeep Singh is a young aspiring film maker who has won accolades for his short films, The Forgotten Truth, Born to Lead and Five Folds. Ludhiana, December 2012.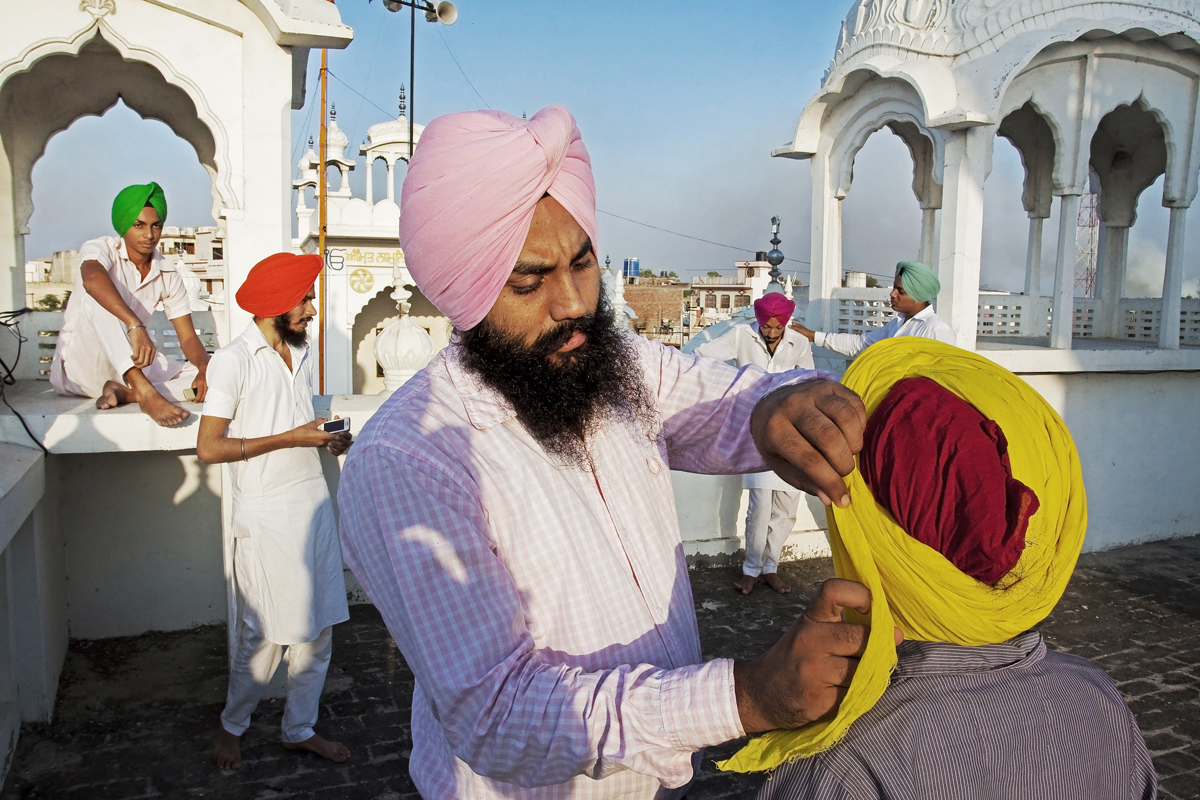 "The incident of a college friend's cutting of his hair and beard just because he could not tie a turban, changed my life once and for all. This incident inspired me to start turban-training camps and since then we have held training camps in more than 500 rural villages of Punjab and distributed countless self-learning CDs on the art of turban-tying. The only reason I see for the present crisis is the unchecked flow of drugs and vulgarity in music and films and through our efforts we intend to bring a change and the turbaned Punjab of yore."
Satnam Singh Dabrikhana teaching a child in one of their camps. His organisation, Sardarian Trust, is bringing a visible change with the help of the public and a few volunteers. Patiala, October 2012.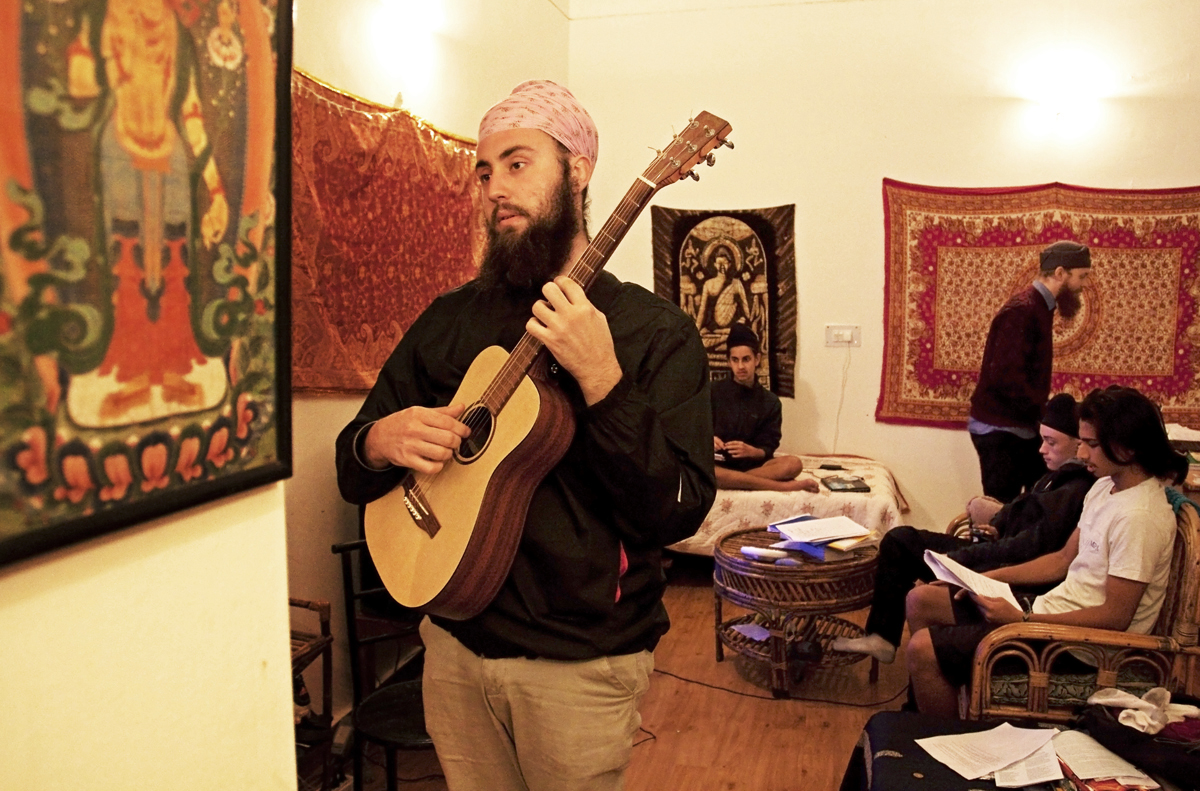 "Why have I kept my identity? Because I genuinely feel it is my identity, and love how my turban looks, feels, and what it represents. I like the feeling of putting up my hair and meditating. It was my learning of meditation, Sikh history and practice, Sikh Gurmukhi language, Indian classical music and frequent visits to Harmandir Sahib as a student at Miri Piri academy that brought me back to academy as a Teacher. I also look forward to a career in public office or government where I will proudly represent myself with the Sikh identity."
Shabd Singh Khalsa is an Economics teacher at Miri Piri Academy and a writer as well. He has written for Sikh Dharma, Sikhnet, Kashi House and also writes for the Miri Piri Academy blog. Miri Piri Academy, Amritsar December 2012.
Bio:
Prabhjot Singh Lotey (b. 1984, India) is a Punjab-based documentary photographer. He was introduced at an early age to the camera by his grandfather, and after finishing school, spent seven years working with him. He then left the family business and went to Delhi, where he learnt photography from Magnum photographer Raghu Rai and his son Nitin Rai. After completing his postgraduate diploma in Photography from Sri Aurobindo Centre for Arts and Communication in 2009, he focused on documenting stories related to sports and children in India. In 2012 he was selected for the Angkor Photo Workshop. Currently based in Punjab, he has been documenting lives of Sikh youth, and their bond with the Sikh identity, thus exploring the land, people and religion.
http://prabhjotsinghlotey.com/