Last summer, my brother gifted me a copy of 'Camera Chronicles of Homai Vyarawalla.' As a reporter with the Indian Express, having interviewed Vyarawalla a few years before she passed away, I was familiar with some of her pictures. But it wasn't until I saw the book – a complete body of work, together with her field notes and personal anecdotes – that I was able to appreciate the richness and depth of what she had managed to accomplish as India's first woman photojournalist.
2014 was the summer of luck for any Indian photojournalist. After the Election Commission announced the dates of the Lok Sabha elections, India became the stage for a political pageant of massive proportions. I decided to undertake a tour of India on my own at this decisive time for the country to record my own observations. Ms. Vyarawalla's work was a natural point of reference as was Raghu Rai's, but I was unable to find any more visual chronicles of politics in India by a single photographer, especially after the turn of the millennium.
This, to my mind, represented a rare opportunity to create a contemporary, visual political narrative of the country. So as I travelled over two months shooting election campaigns in Kerala, Karnataka, Punjab, Maharashtra, Gujarat, Uttar Pradesh and Delhi – I tried to record my observations of the relationship between the people of India and the political leaders who are representative of power. The empty podium, a paper-strewn desk, live microphones – all of these are subjective representations of the intersection between art and politics in my work. My purpose was not to make news-y pictures, but to take the viewer into places where news is made. So I was looking to photograph in the streets, markets, homes and offices where electoral battles are fought and decisions made.
I propose to continue on this journey, but to refine my focus further on women in right-wing organizations. I want to peel back the layers on how women in the BJP, RSS and Shiv Sena interpret their roles and spread their message to civil society. I would also like to document how society views these women. Are they more acceptable as political workers because women are traditionally seen as apolitical and pacifist? Are these traditional interpretations changing with the changing balance in power? These are questions I would like to answer in what I hope will evolve into a growing body of work.
BJP supporters gather at a Narendra Modi rally in Electronic City, Bengaluru, Karnataka.
AAP supporters gather to greet Arvind Kejriwal at a roadshow.  Indian Express Junction, Bengaluru, Karnataka.
Shashi Tharoor, MP, INC, (second from right) greets Kerala Chief Minister Oomen Chandy (fourth from right) at a KPCC meeting. Thiruvananthapuram, Kerala.
AAP candidate, Gul Panag, sipping tea before her morning campaign, Chandigarh.
A poster of BJP leader and the sitting Home Minister, Rajnath Singh, at a party office in Amritsar, Punjab.
BJP volunteers break for lunch at Khanna Smarak, the headquarters of current minister for finance and defence, Arun Jaitley. Amritsar, Punjab.
Journalists in Amritsar, Punjab wait for Arun Jaitley to address a press conference.
A BJP volunteer prepares a larger than life cutout of Arun Jaitley at Khanna Smarak, Jaitley's campaign headquarters. Amritsar, Punjab.
Bharathi Kannamma, a transgender candidate from Madurai addresses supporters from her car. Madurai, Tamil Nadu.
BJP leader DP Yadav is greeted by supporters in Varanasi, Uttar Pradesh, on the day of Narendra Modi's nomination.
BJP workers in Sultanpur, UP, test their public address system in anticipation of the arrival of their candidate, Varun Gandhi. Gandhi addressed a series of 25 nukkad sabhas in Sultanpur on a single day of campaigning.
A local resident attempts to get BJP leader Varun Gandhi to clarify something and is restrained by Gandhi's bodyguard. Sultanpur, Uttar Pradesh.
People try to catch a glimpse of Varun Gandhi addressing a meeting in Sultanpur, Uttar Pradesh.
AAP candidate from Lucknow, Javed Jaffrey and Delhi MLA Manish Sisodia campaigning for Arvind Kejriwal, in Varanasi, Uttar Pradesh.
AAP candidates Arvind Kejriwal and Kumar Vishwas at a roadshow in Varanasi on the final day of campaigning in the Lok Sabha elections 2014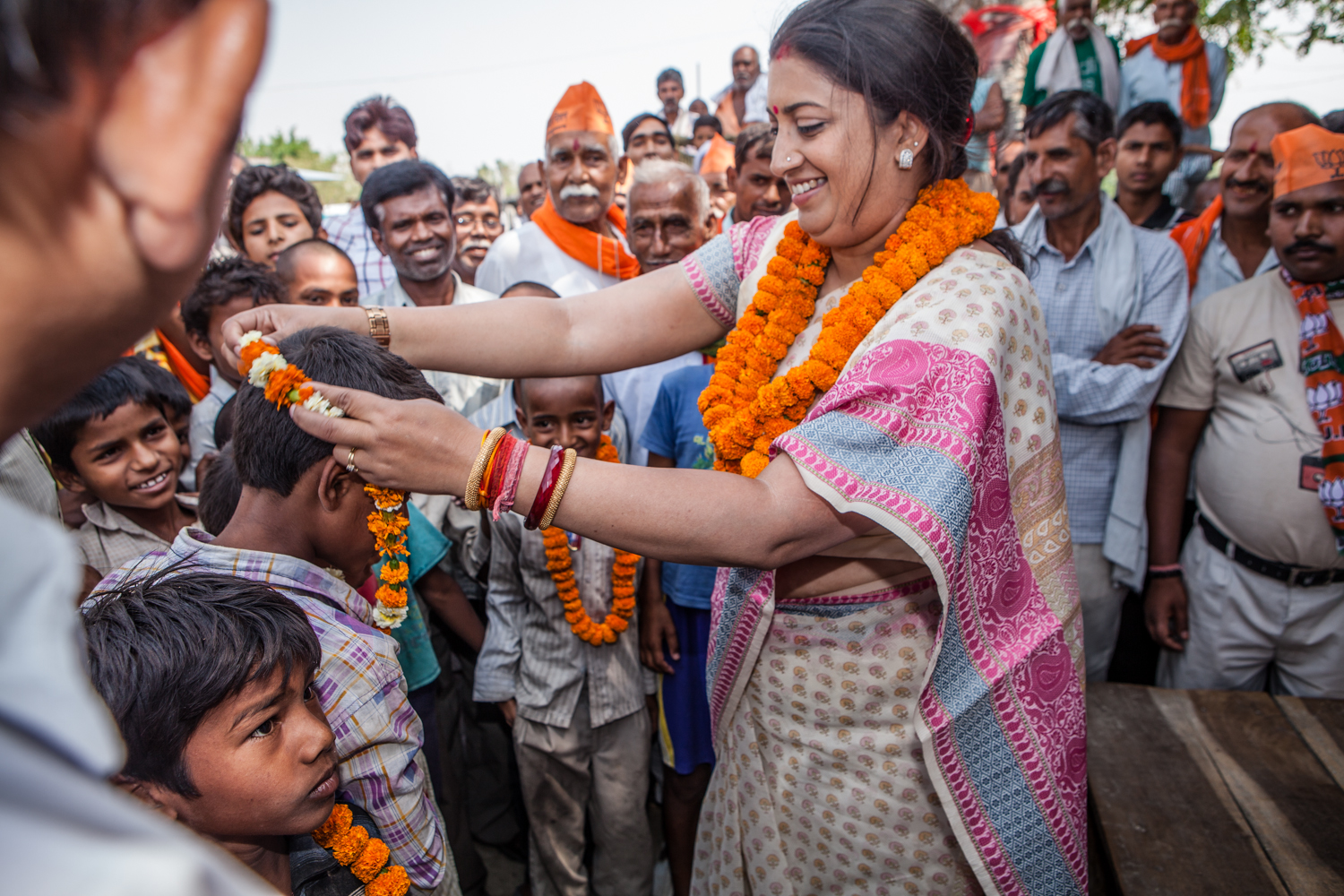 BJP candidate and current minister for Human Resources, Smriti Irani, greets supporters in Amethi, Uttar Pradesh.
AAP candidate, Kumar Vishwas, at a rally in Amethi, Uttar Pradesh.
Supriya Sule, NCP candidate and sitting MP greets supporters in Bor Taluk, Baramati, Maharashtra.
The stars and stripes make an unexpected appearance at a meeting organized for Supriya Sule, NCP candidate and sitting MP from Baramati, Maharashtra.
Supporters of AAP candidate Medha Patkar push her vehicle up a hill in Ghatkopar, Mumbai.
Bio:
Nitya Rao is a freelance photojournalist based in Boston, MA and Bangalore, India. She holds a masters degree in photojournalism from Boston University. Nitya's work has been published in The Boston Globe, boston.com and ESPN.
http://www.nityaraophotography.com/