Gurgaon comes across to me as a city which as yet has not developed her flavour, not fully realised her identity. The incessant construction works render the broad roads dusty. Labourers construct solid palaces and live in fragile shanties around them. The endless traffic is impolite and inconsiderate; the pedestrian without personal conveyance is left at the mercy of the concrete roads and a fleeting auto rickshaw.
The city is impersonal and formal. Cold, even. She is suspicious. The security guards at every step will vouch for that.
In my ongoing project on Gurgaon, I am trying to capture the co-existence of its opposites. Its unflinching drive towards infrastructure development for multinationals and corporates is contradicted by the worsening scenario of its immediate villages. Its handsome architecture rests on grounds facing severe water crises. A myopic construction plan has rendered poor its sanitation and sewage disposal facilities.
Gurgaon abounds in migrants. Urban migrants from the Capital, usually people who found its proximity to Delhi and the lower cost of property appealing. Or young professionals from across the country, lured by its job opportunities generated from MNCs and corporates. Then there are the rural migrants, people who enable the construction work and transport system of the city.
I wonder if anyone really feels at home in Gurgaon. In my photos I have tried to depict the innate loneliness I felt in the city. It is either too much of a big city or too much of a crumbling town for my taste.
A worker is reflected on a glass at the construction site of an upcoming mall near Sikander metro station, Gurgaon.
Construction workers in DLF Cyber City, the city's primary business district which houses several MNCs and high-rises.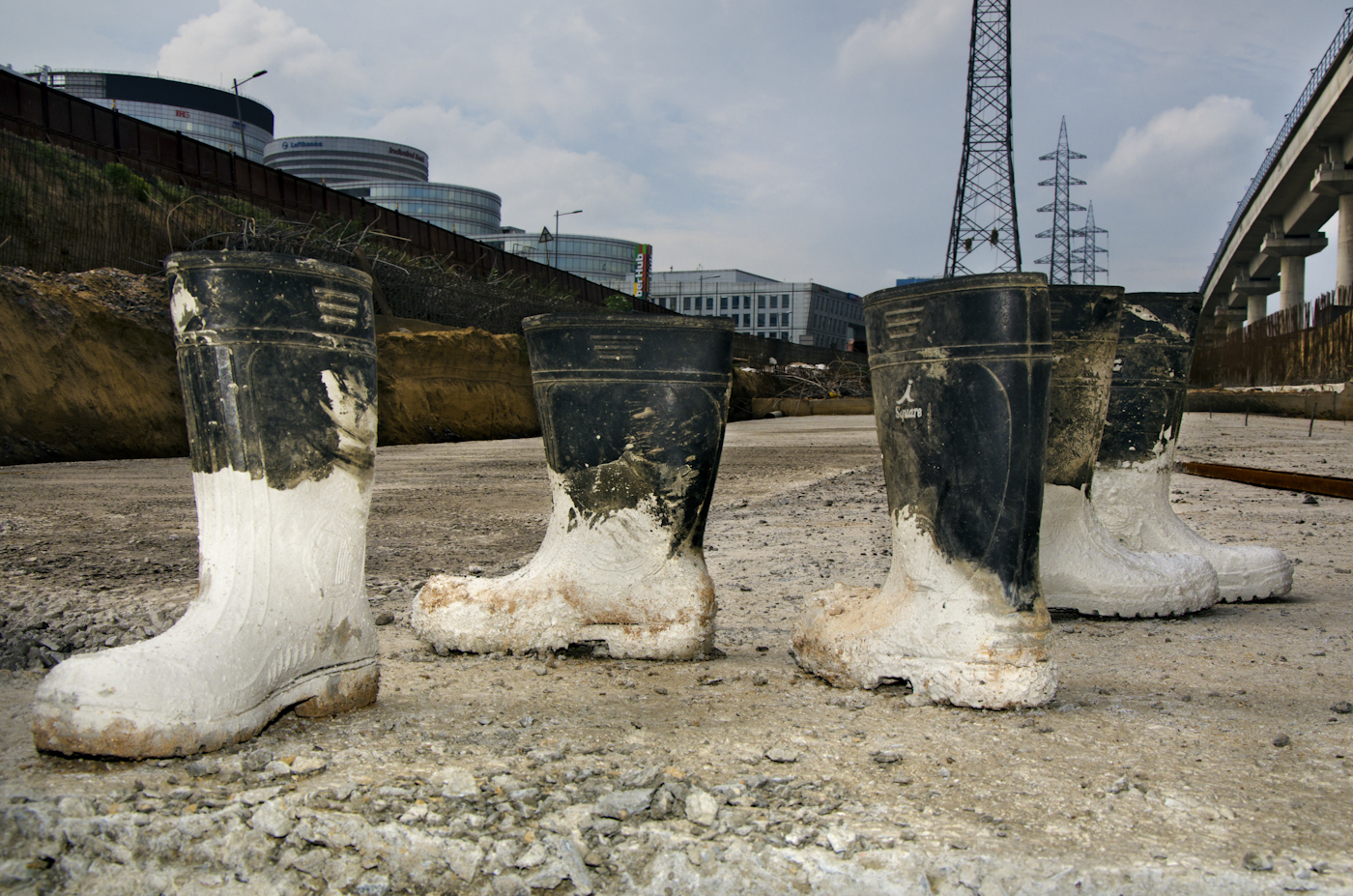 Gumboots of construction workers at a construction site for the DLF underpass, which will link major intersections of the city.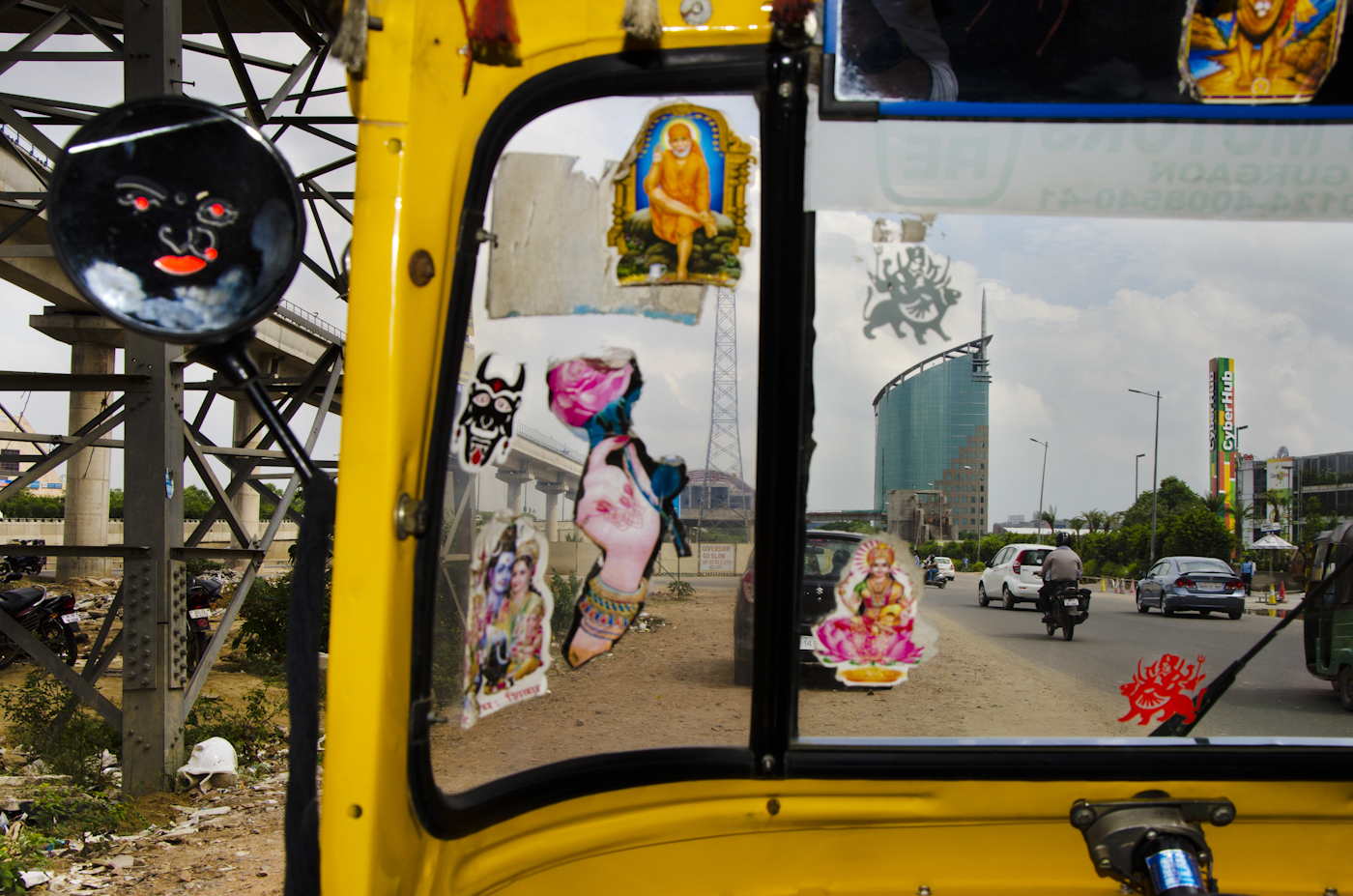 An auto rickshaw with tattoos of several India Gods and Goddesses with the Gateway Tower and Cyber Hub in the background.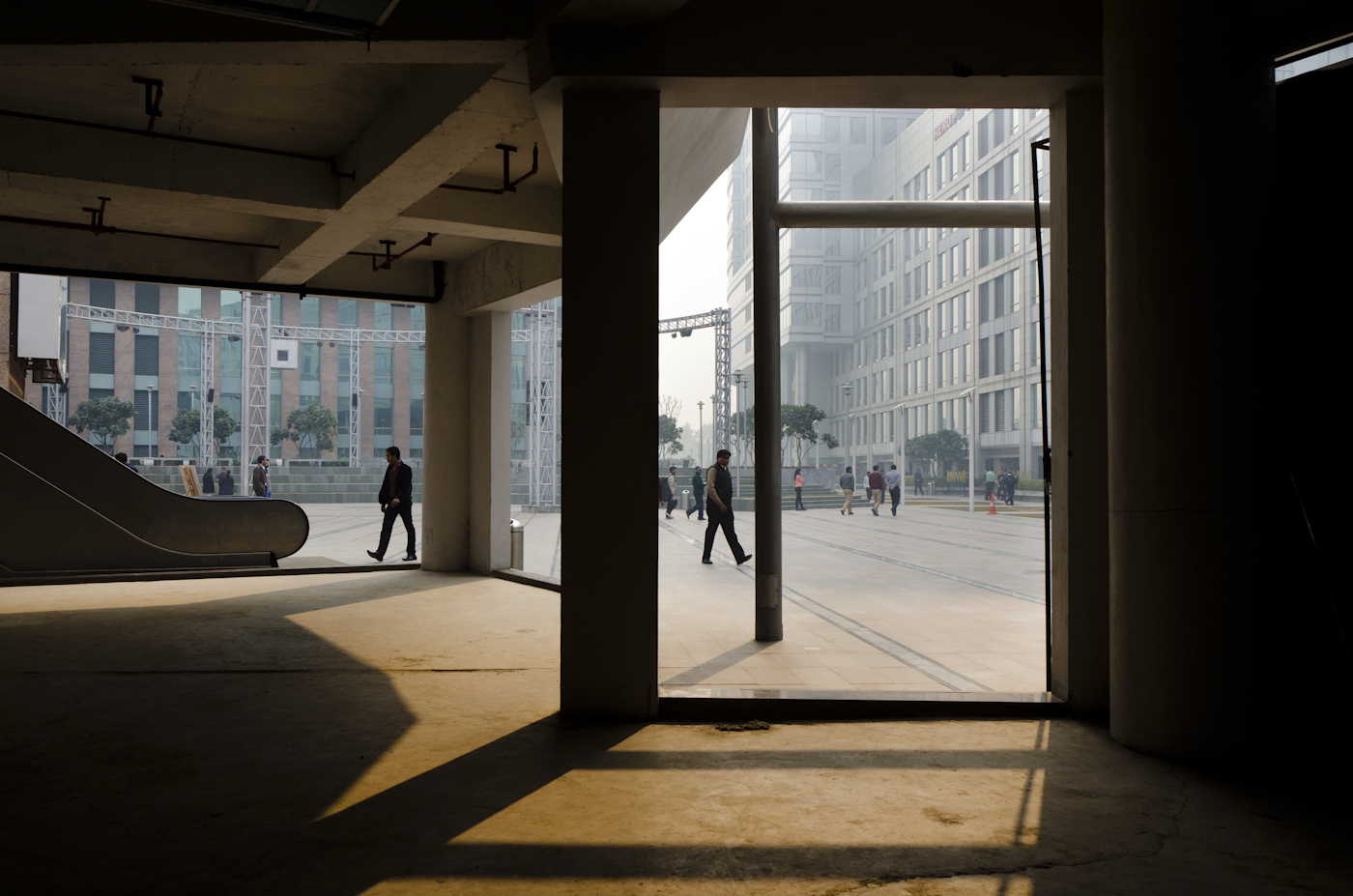 Inside the cyber-hub, the corporate leisure centre of DLF's Cyber City.
Ashok Singh (22) has been working as a guard for the Finnish corporation 'Valmet' since the last 3 years. He is satisfied with the job and has no plans of returning to his native place in Rajasthan. His workplace is stationed inside DLF's Cyber City which provides employment for several youth like Akshay who have migrated from smaller towns and villages.
Scene at the corporate leisure park DLF Cyber Hub.
A lone man at an open space in Cyber Hub.
A DLF building is reflected in a car at one of the parking spaces in Cyber City.
A garland seen underneath the Vodafone belvedere tower rapid metro station which overlooks the DLF Cyber City.
Street scene, Gurgaon.
A boy seen on a tractor during Dussehra celebrations, Old Gurgaon.
Scene at Gurgaon Railway Station.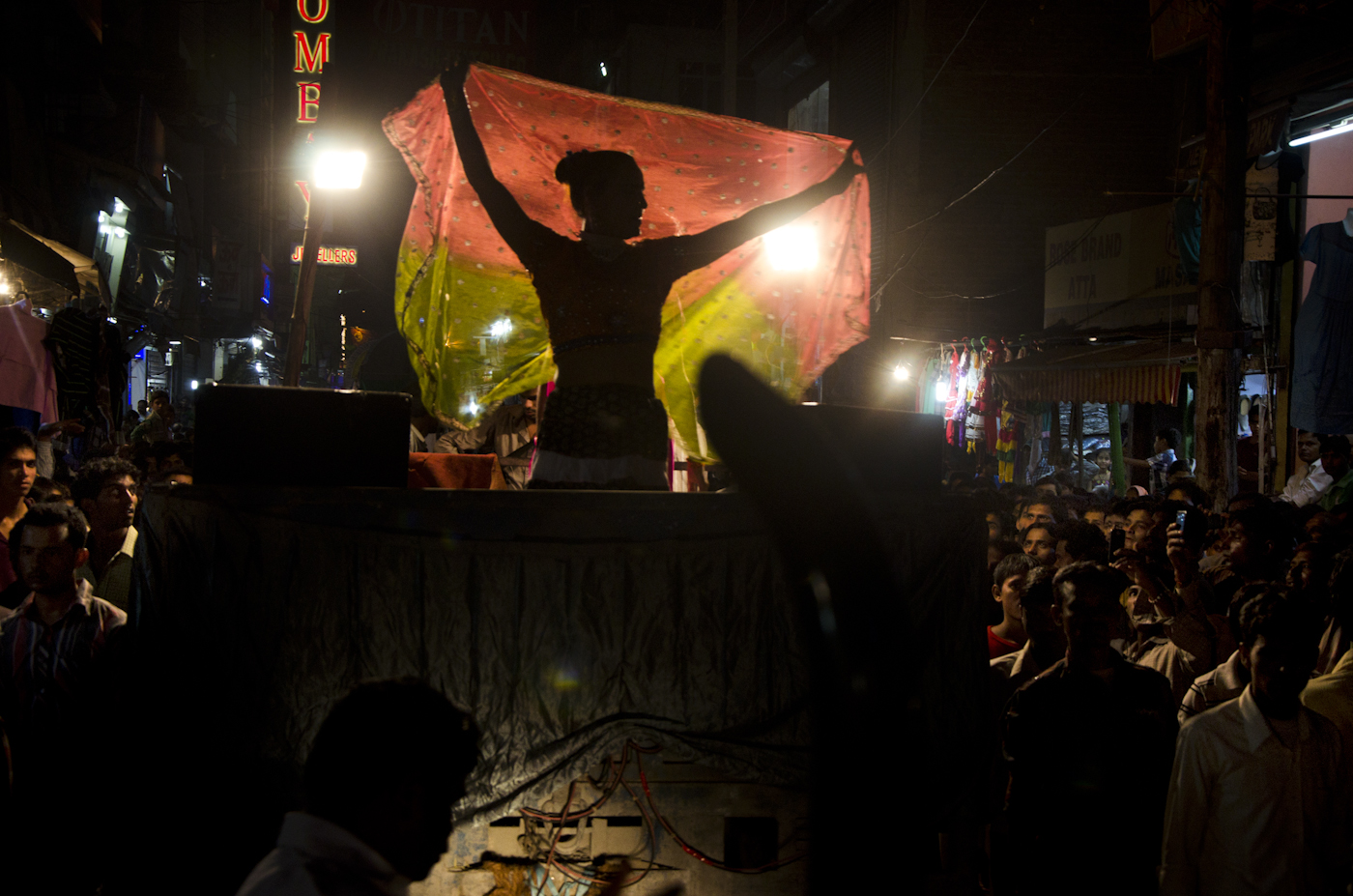 A transgender dance performer on a tractor during Dussehra celebrations in Old Gurgaon.
A girl seen amidst laundry at a building in Old Gurgaon which houses several migrant families. Usually from Bihar and Uttar Pradesh, the men of these families work in the construction or security sector for Gurgaon city.
Street scene, Old Gurgaon.
Shyamal Sheikh (31) and his wife Sayeeda Bibi (25) relax next to a garbage dump outside their home in the village of Nathupur. Originally from Kolkata, Shyamal works as a rickshaw puller in Gurgaon where he has been living since the last 5-6 years.
Street scene, Nathupur village, Gurgaon.
Street scene, Nathupur village, Gurgaon.
Street scene, Chakkarpur village, Gurgaon.
This body of work was produced under the aegis of  India Photo Archive Foundation and the Neel Dongre Awards/Grants for Excellence in Photography.
Bio:
Monica Tiwari is a freelance documentary photographer based out of New Delhi. Previously working at The Hindu as a photojournalist, she has received formal training in Photography and Visual Arts from MCRC, Jamia Millia Islamia and is mentored by documentary and commercial photographer, Amit Mehra.