Clothes make the man. But men and women who make the clothes for other people are often left behind. As of 2009, hundreds of mills in Ahmedabad have shut down, so this scene, which had been ubiquitous in Ahmedabad – the "Manchester of India" has disappeared. But still today the steam engines are running at some of textile factories in the city at the Sabarmati River. The factories producing fabrics which are offered later on the world markets. Mahatma Gandhi once founded his ashram here. He sat at his spinning wheel and spread his ideas of a nation of equality, tolerance and nonviolence. But today the Indian reality looks very different. Stories can be told about child slaves at cotton plantations in rural Gujarat, as well as stories about people who wash dirty clothes for the wealthy. Those stories are far away from fair-trade or from the glamorous Bollywood. A lot of workers work double shifts to enhance their salaries. Poverty makes them work under unacceptable conditions. A lot of them hardly see the sunlight. Long-term health damage caused by negligent handling of chemicals and colors or the dust that impairs from the work with cotton limit the lifespan of a lot of workers. Their lifespan lies below the Indian average already. But India is changing. Slowly but surely. As long as corruption, bribery and greediness steer this development only little of the economic prosperity will get where it is needed most. However it is unclear whom to blame and we have to take the blame with our materialistic consumerist mentality.
Society based on modern industry is not accidentally or superficially spectacular, it is fundamentally spectaclist. In the spectacle— the visual reflection of the ruling economic order —goals are nothing, development is everything. The spectacle aims at nothing other than itself  (Guy Debord).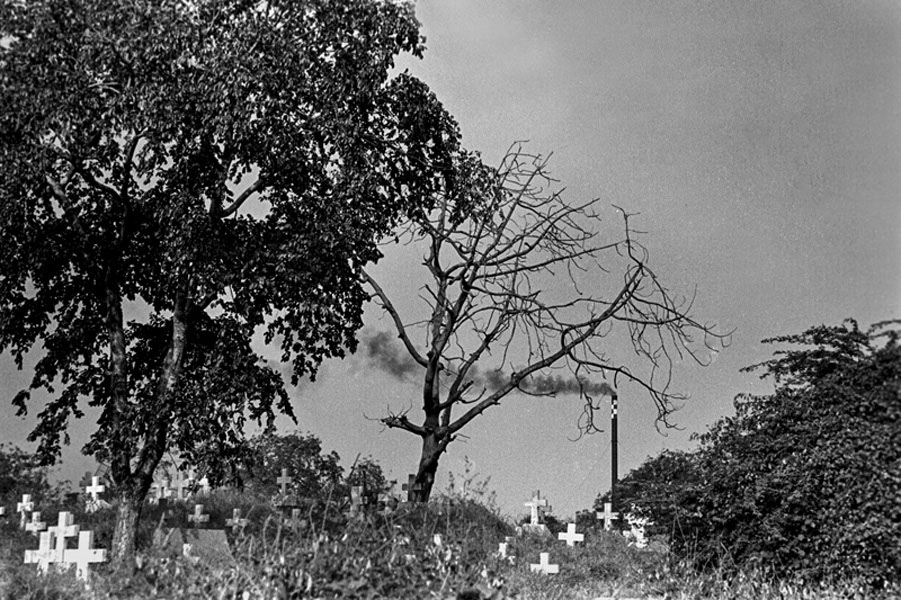 The first textile mill in Ahmedabad was established in 1859 and the number went up to 75 during the independence years. At one point of time as many as 10% of the city's residents were dependent on the mills for their livelihoods.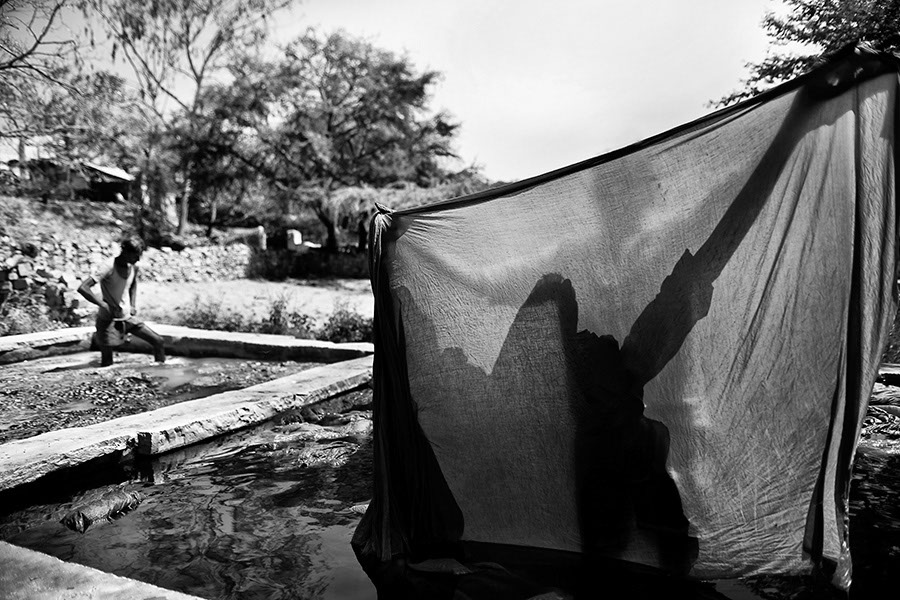 A lot of cotton textile mills have closed down due to lack of modern infrastructure and fresh investment and having failed to compete against the multinational brands. The city now has about 15 operational mills providing employment to an estimated 13,000 workers.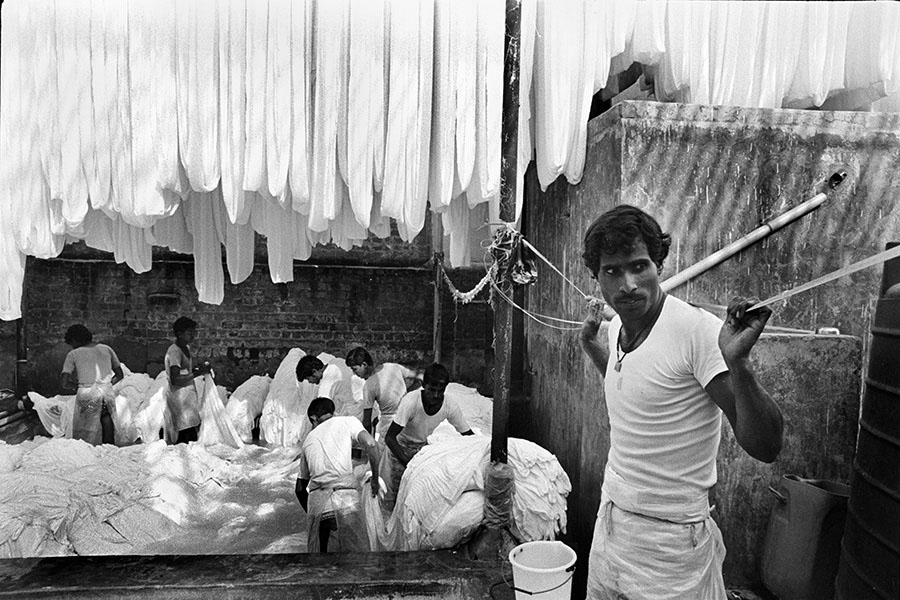 In the struggle between tradition and innovation, which is the basic theme of internal cultural development in historical societies, innovation always wins. But cultural innovation is generated by nothing other than the total historical movement — a movement which, in becoming conscious of itself as a whole, tends to go beyond its own cultural presuppositions and thus to move toward the suppression of all separations (Guy Debord).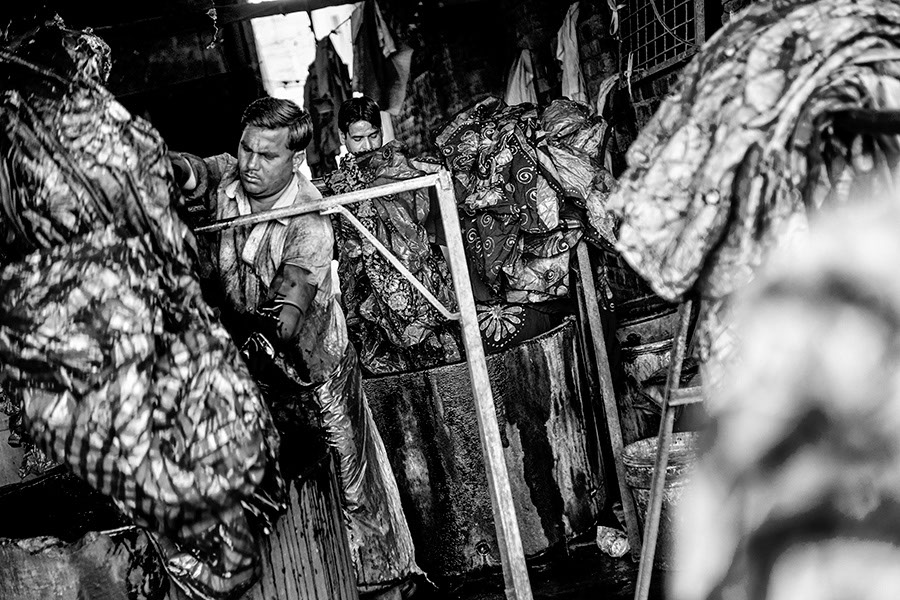 Working conditions inside the mills are often very poor. Temperature in the mills goes up to 51 degree Celsius during summers.
Highly inflammable chemical dump inside a mill.
Mahinder toils 14 hours a day for a mere Rs. 90 wage.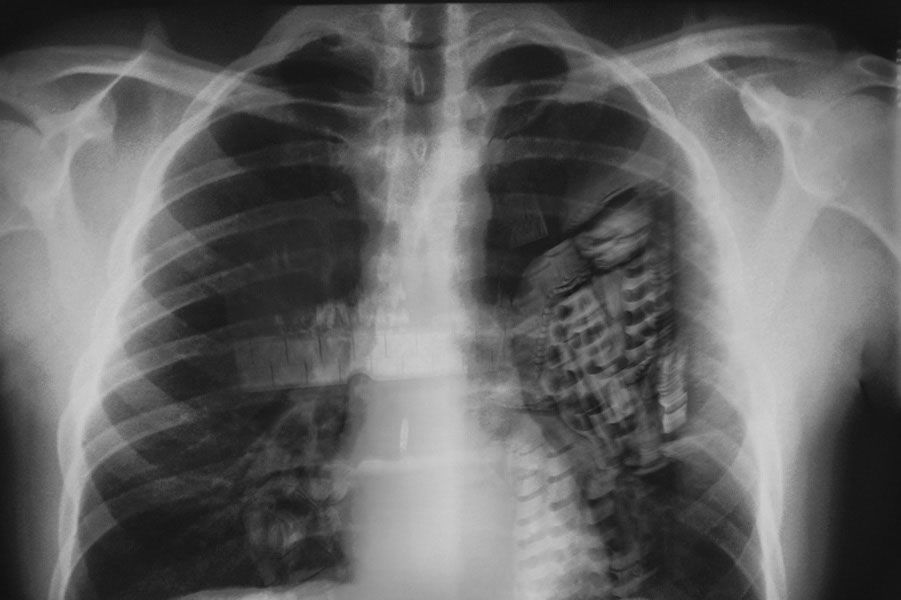 Sabinaa, 35, suffers from severe Byssinosis. A disease of the respiratory tract, it affects mill and yarn workers employed in poorly ventilated working conditions.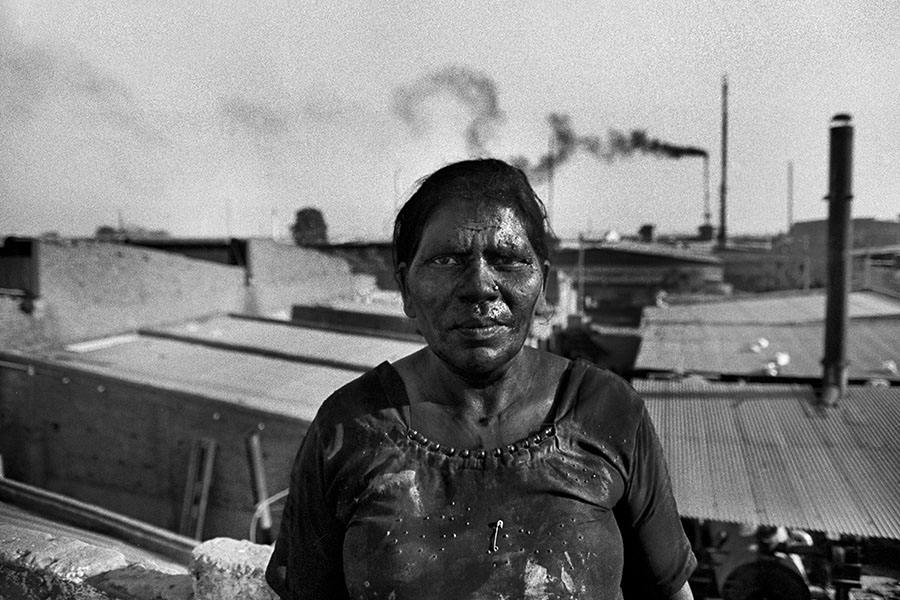 Meena Behen, a mill worker,  is the sole earning member of a family of 5. She lost her husband in 2009 to Byssinosis.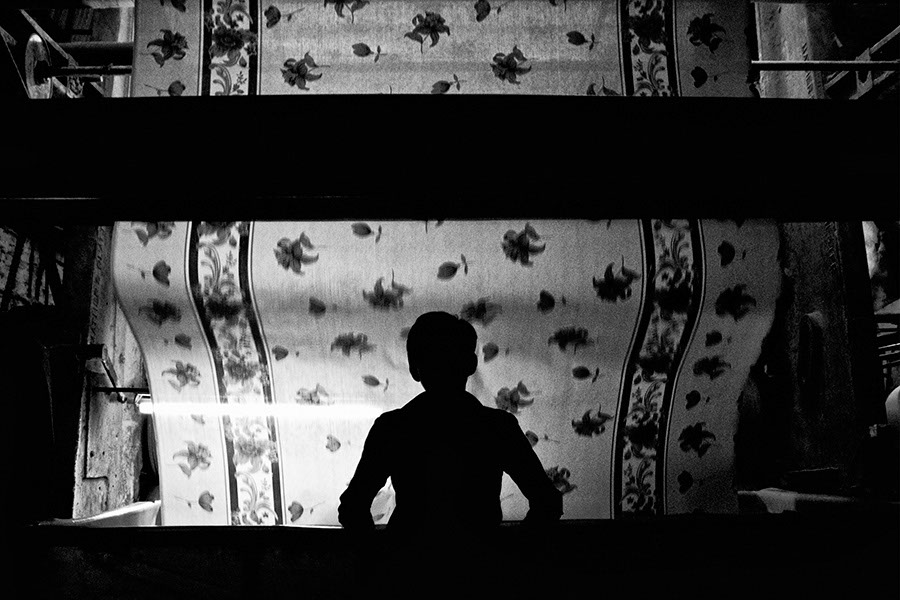 Nitin , 17,  too is suffering from Byssinosis, He claims that as per his physician his life expectancy is not more than a year.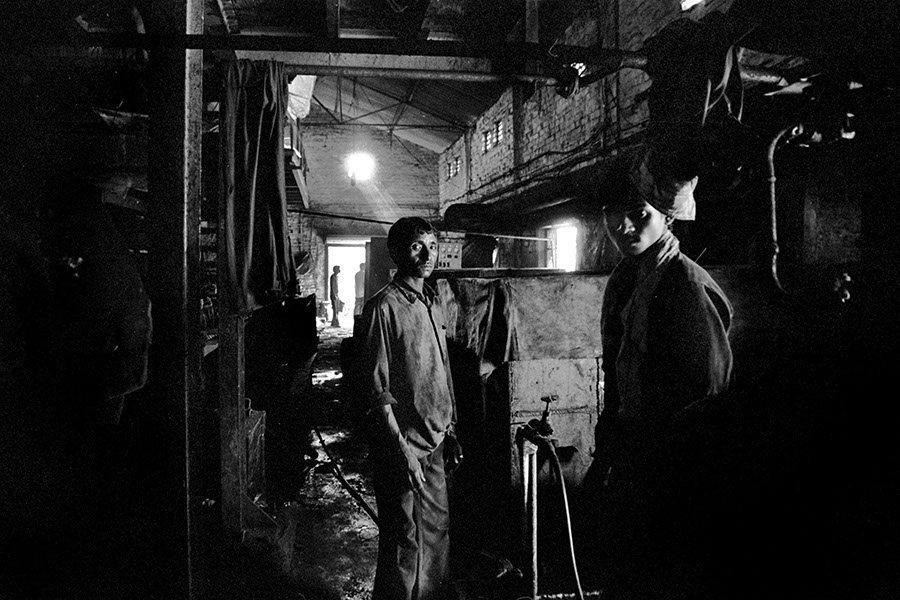 Vivek Bhai , 37 , lost both his father and brother due to prolonged effects of cotton dust in the lungs , but as the only earning member of the family he continues to struggle earning about INR 90  per day and feeding 6 members of his family.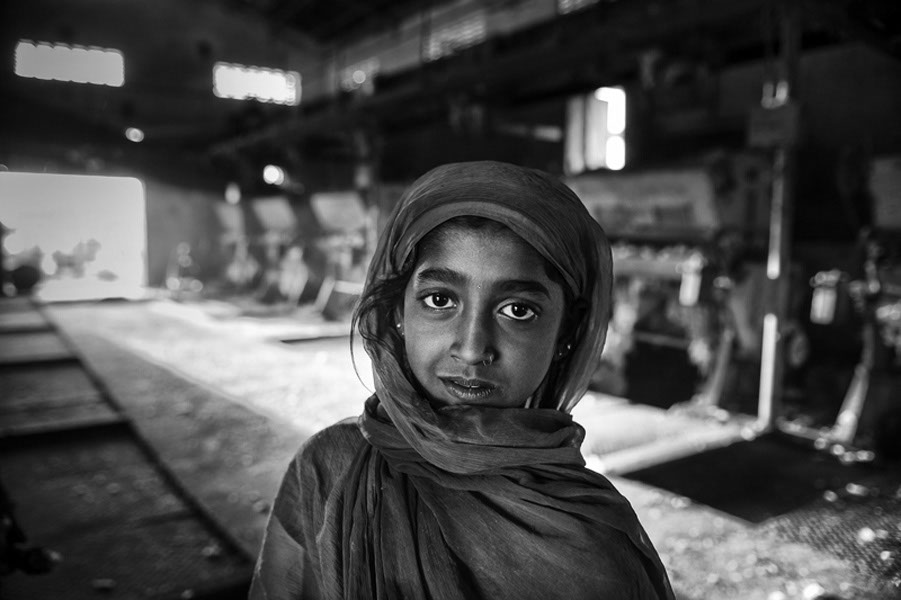 A lot of second generation child labours work in this industry, which becomes eventually a way of earning for the survival of the entire family.
Child labor and poverty are inevitably bound together and if we continue to use the labor of children as the treatment for the social disease of poverty, we will have both poverty and child labor to the end of time ( Grace Abbott).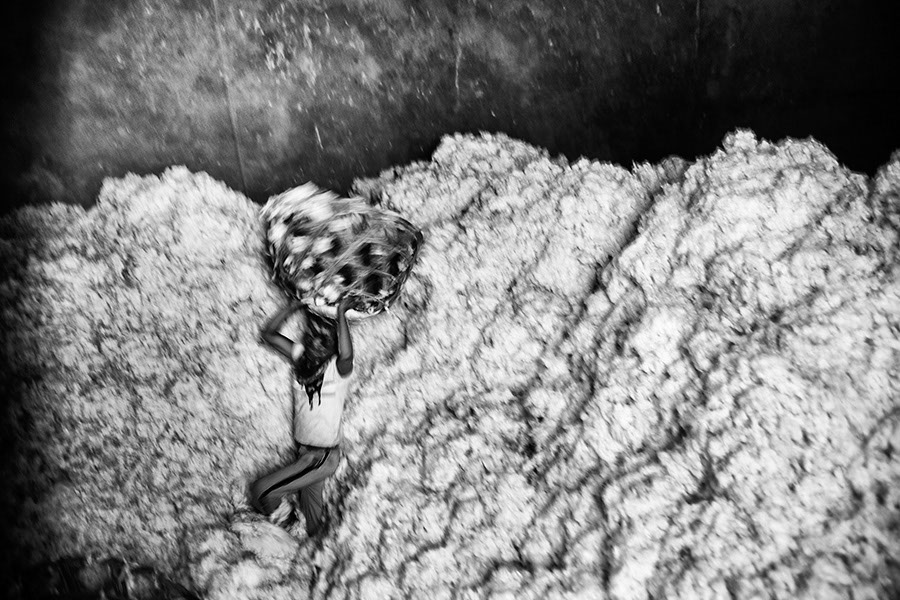 At some point it is inevitable that the system will fail when you take away from those who are willing to work and give to those who would not.
Inside the house of the workers, they believe in god, pray for a longer life and a slightly better future.
Once society discovers that it depends on the economy, the economy in fact depends on the society. When the subterranean power of the economy grew to the point of visible domination, it lost its power. The economic Id must be replaced by the I. This subject can only arise out of society, that is, out of the struggle within society. Its existence depends on the outcome of the class struggle that is both product and producer of the economic foundation of history (Guy Debord)
With the increasing accumulation of separate products and the increasing concentration of the productive process, communication and comprehension are monopolized by the managers of the system. the triumph of this separation-based economic system proletarianizes the whole world (Guy Debord).
As long as necessity is socially dreamed, dreaming will remain a social necessity. The spectacle is the bad dream of a modern society in chains, and ultimately expresses nothing more than its desire to sleep. The spectacle is the guardian of this sleep (Guy Debord).
Where the mind is without fear and the head is held high
Where knowledge is free
Where the world has not been broken up into fragments
By narrow domestic walls
Where words come out from the depth of truth
Where tireless striving stretches its arms towards perfection
Where the clear stream of reason has not lost its way
Into the dreary desert sand of dead habit
Where the mind is led forward by thee
Into ever-widening thought and action
Into that heaven of freedom, my Father, let my country awake.
-Rabindranath Tagore
Bio:
I have always been interested in realities different from those we are familiar with. I constantly stop to observe society and am attracted by people who emerge from the general pattern. Today, society, political and economic frameworks, solitude in the midst of the chaos of our day and the desire to have everyone fit some standard mould; influence the growth of a younger generation which often finds the answer to the search for itself in not choosing and therefore accepting easier and less-challenging situations. There is also a different reality which must be portrayed.
I started photography with a hope that it will enrich me with the visual training as a significant part of the general preparation of a free, self-reflective person who can participate consciously, appropriately, and fully in contemporary society and can also emphasize value-based teaching, learning, and research that focus on respect for others, respect for oneself, and respect for the process of interacting with others.
Before my passion took me into academic studies in photography I did my graduation in Computer Science and then post graduation in applied remote sensing and Geographic Information Systems from Jadavpur University, Kolkata. I finished MFA (photography) from National Institute of Design, Ahmedabad and University of Creative Arts, Farnham, United Kingdom in 2012.