Fellowship of the Ring focuses on unusual women and an unusual sport. The women come from different backgrounds – rural, urban, middle class, lower middle class – and the sport they have chosen to pursue is boxing, forming a unique 'fellowship of the ring'. Storming a male bastion – and particularly this bastion – isn't easy, and for many of the women featured in this story, as well as for many others who aren't here, the battle lines are very clearly drawn. Since 2001 when boxing was introduced in India women boxers have given India many world champions and every year Indian women boxers win armful of medals at international events. There are an estimated thousand women boxers in India, a number as astonishing as what the sport has achieved in such a short time.
The largest number of boxers come from the states of Manipur, Haryana and Kerala. Most of the girls start young. Boxing demands rigorous training and discipline besides fitness. 20-year old Priyanka lives in Shibpur, Kolkata's Howrah area. Two houses down live Saboni and Sayoni Karar. They meet everyday on Priyanka's terrace to practice under the watchful eyes of their couch Sanjib Banerjee who ebbs them on. Only a few kilometres away, at the Howrah police barracks, a 100 boys train daily. This boxing club has bred many national champions but there is no space for girls.
At the Asian championship selection camp girls from all over India arrive. Some of them have set up little households together. Three or four to a room, they cook, clean and help each other with the training. Kalpana Sharma is the daughter of a rice farmer from rural Assam. Her family's poverty has ensured that as a little girl she spent a large part of her living in Sports Authority of India hostels. They hope that she can box her way into a paying job but for Kalpana winning is what counts. Kavita is a powerful young Haryanvi welterweight. She has fought against both opposition and sexist attitudes to be here. L Sarita Devi from Manipur is a world Champion trying to retain her title a third time.
Every sports story needs a heroine. Four-time World Champion Mary Kom is the natural choice. She is today the face of Indian women boxing. Her parents didn't even know about her boxing till she won the State Championships. Skating past penury with her Manipur police job and small grants she made India proud by winning the bronze medal at the London Olympics 2012. Today she is trying to set up a boxing academy to facilitate young boxers training women boxers for free.
For most women, their greatest victories have gone unlauded in a country where mediocre performance in other sports bring fanatic following. Despite this, women boxers have fought and are fighting their way to the very top.
Outside Sanno Bibbi's house.
At a practice session.
20-year old Priyanka Majhi takes uncomplicated pleasure in boxing. Her father Bablu Majhi, a railway employee, was once himself a boxer and indulges her passion.
Priyanka along with Saboni practice on her terrace as there are no boxing clubs for women. Their coach Sanjib Banerjee makes often them box with boys to improve their skills.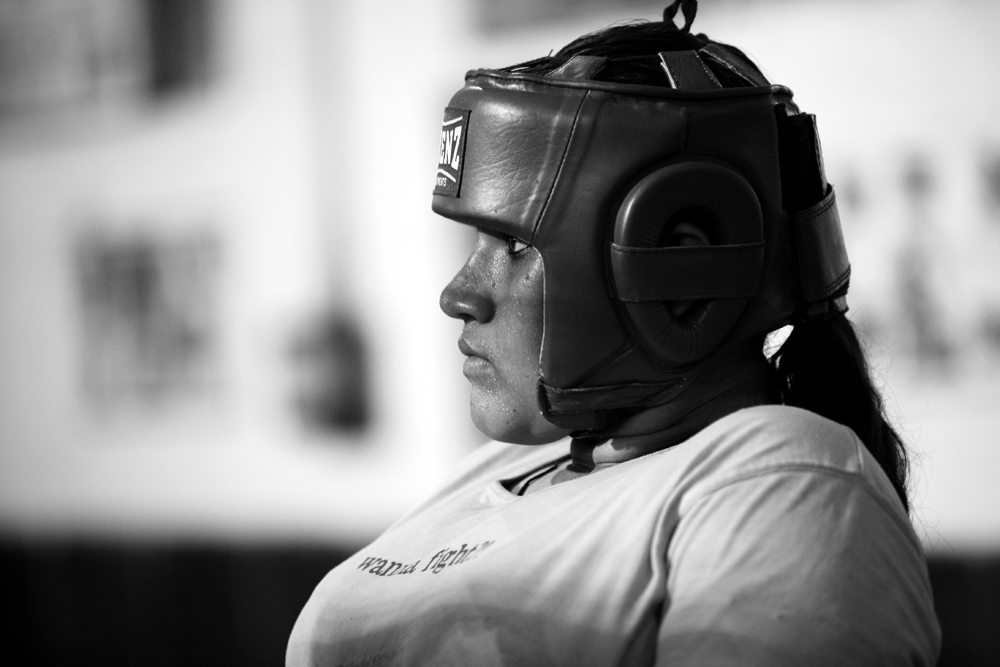 Sanno Bibbi.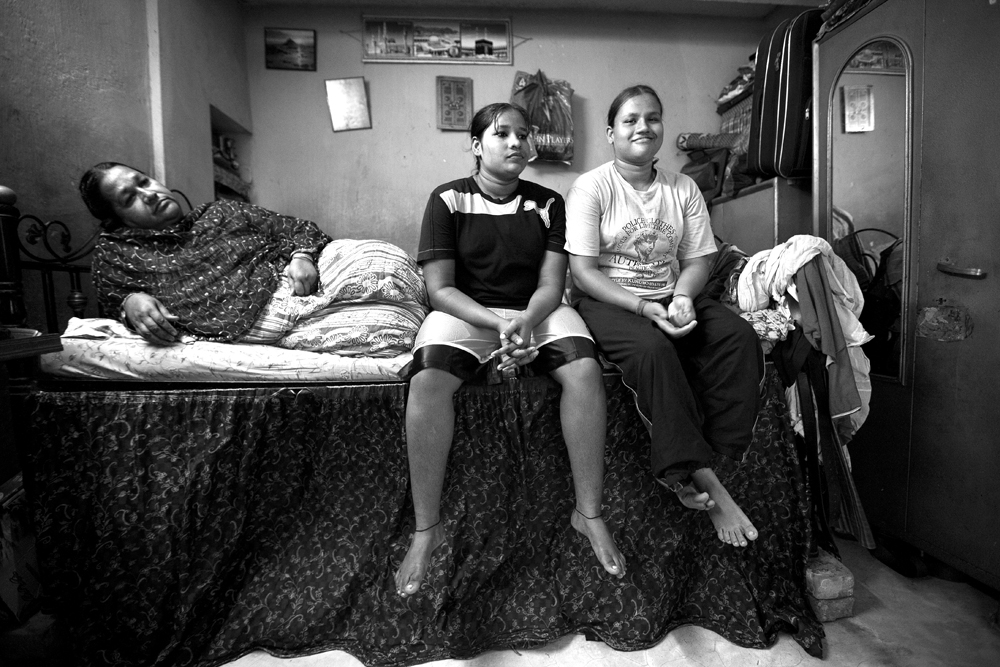 Kolkata-based twins Sanno and Shakeela Bibi. Their careers are monitored by their mother Banno Begum who keeps a watchful eye on them.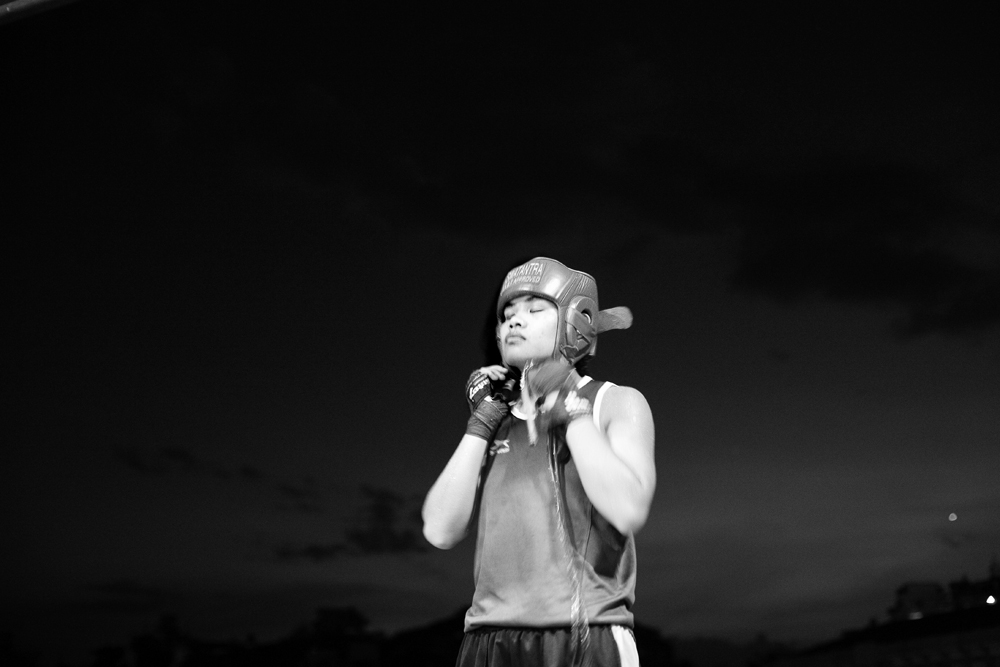 At the training camp at Guwahati.
Kavita Goyat from Haryana at the national camp.
L Sarita Devi from Manipur is a world champion. Even watching her rest is too strenuous for the sedentary. No boxer who isn't in peak form can survive the boxing camps.
Once a national champion, Geeta Chanu from Manipur is one of the earliest boxing coaches of India.
Jyotsna from Harayana binds her hands before going into a practice session. Fitness and alertness is the first thing serious young boxers learn.
Four-time champion Mary Kom's story best reflects the truth and struggle about being a woman boxer in India. Last year she won the bronze medal at the Olympics.
Photographs originally shot for a Tehelka story
Bio:
Uzma Mohsin graduated from the National Institute of Design, specializing in graphic design and has worked for the print media since 2000. She was the art director of Tehelka magazine for over 3 years. Some of her work has been published in various publications including Tehelka, Sports Illustrated and Outlook Magazine. She is pursuing her keen interest in photography, in the form of several independent projects.
In March 2008, Uzma was one of the 83 artists featured in Click! An exhibition on contemporary Indian photography produced by Vadhera Art Gallery, New Delhi. The show ran simultaneously in London the same year. In May 2010, she assisted Martine Franck (Magnum) on a book project, "Women Changing India" by BNP Paribas and Zubaan Publication. Uzma's work was exhibited as a part of a group show – "Transportraits: women and mobility in the city" presented by Jagori in November 2010.
Her latest work "Seven Sisters & The City" which explores the lives of young women from the Northeast India living in Delhi was exhibited during the "The Culture of Peace: A Festival Of The Northeast" in January 2011.