This photo story reflects the dialogue with my mother through my camera. She was trafficked from Malkangiri in Orissa while I was still a toddler to a red light area in  Sethbagan, Kolkata. She had to become a sex worker.
I came to Kolkata in search of my mother with my grandmother. Initially it was a stage of alienation for both of us, my mother, Kabita and myself. We used to belong at different poles. It was photography that had united us. That I didn't like her profession was an obvious aspect but gradually I realized the fragile relationship could be strong when more I take photographs of my mother. I think it helped me overcome the alienation.  It's challenging for a son who is not an 'outsider' taking pictures of his mother and it's me who as a son taking pictures of all oddities breaking the stigma and taboo.
My photography journey started in 2000 through a project "Empowering Sex Workers' Children through Photography" supported by UNICEF. I remember the very first day when the facilitator visited our area and sitting on the floor meeting with the then small kids asked me " whom do you love in your family?" I was shy and nervous in replying to his question. I took some time and finally hesitantly responded that I love my mother.
The second question was "why". This time I didn't have any hesitation to state that 'I miss her'. He handed over me a small compact analogue camera and asked me to photograph my mother, family and the surroundings revolving around her. He started teaching us how to compose a picture, so on and so forth.
I have seen some photographers coming from different parts of the country as well as from abroad taking pictures in the so-called 'red light' areas. The mainstream society and the outsiders call our areas red light but as an insider I never dub our localities in that term. Likewise, as an insider it was really challenging job to work in the locality where I live and particularly taking photographs of my mother was a tremendously difficult task. It was challenging because it's sort of 'facing one's own'. The interpersonal relationship with my mother till date is complicated. It has an emotional aspect as well as an institutional aspect. I tried to capture through my images the interpersonal relationship with my mother.
My mother Kabita Sarkar was trafficked and forced into the flesh trade. January 2000.
My mother standing at the door of the building where she lives. Sethbagan, Kolkata. January, 2000.
The man sleeping next to my mother is not my father and I call him uncle. January, 2000.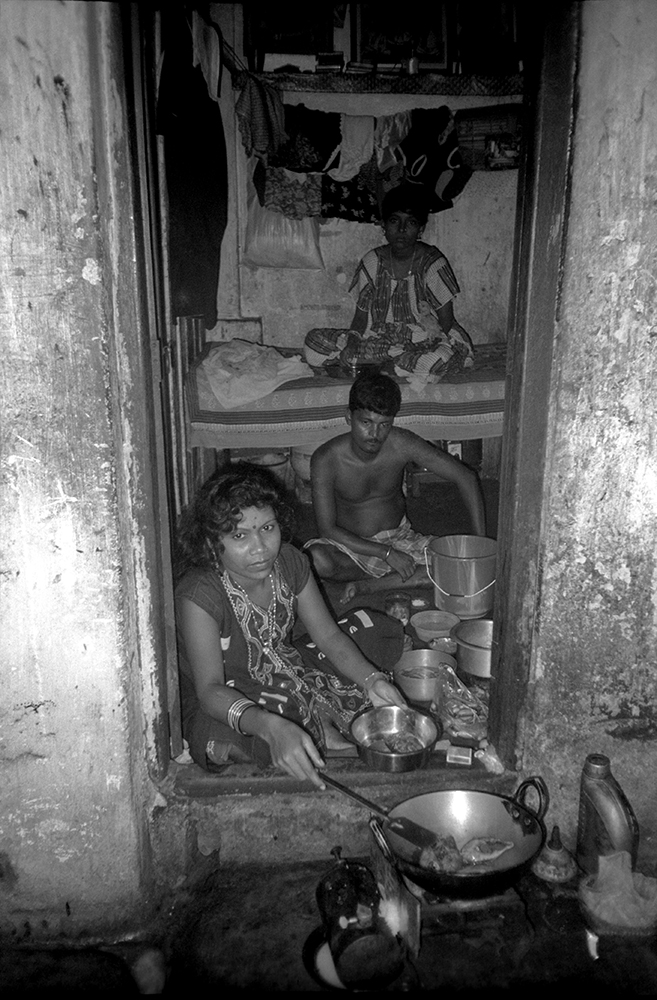 The 6ft x 6ft room where my mother cooks , we eat and sleep. August, 2001.
My uncle and my mother the way they share their lives.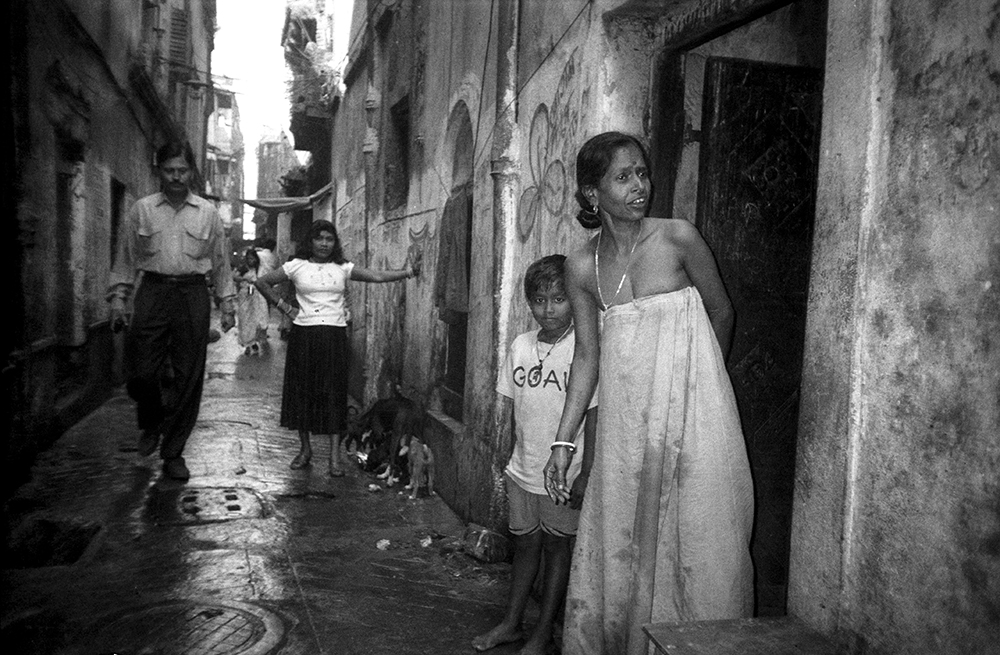 The dingy lane in Sethbagan where we live. January, 2000.
My mother was getting ready to leave for the job in the garment factory. May, 2011.
The way we are forced to live, a common scenario in 'our' areas. July, 2010.
Our pet a parrot in a cage enjoyed by a kid, a visitor in my mother's arm. September, 2011.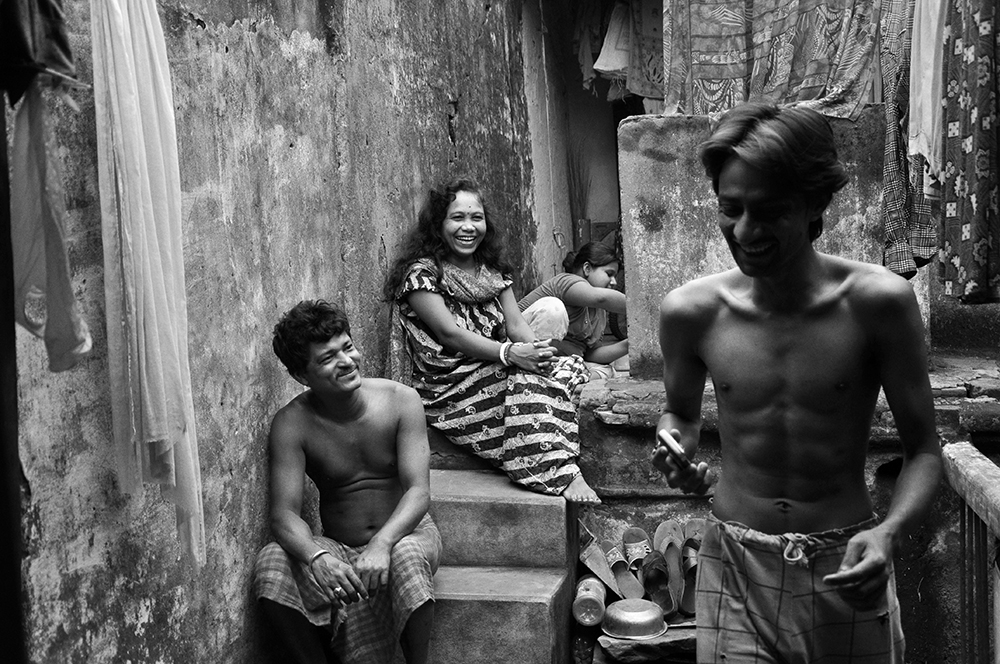 My mother Kabita Sarkar along with my uncle and neighbours. June, 2012.
Our room. October, 2011.
A self-portrait with my mother, an intimate moment in my life. August 2011.
My mother standing in front of our house. I am relieved that she is no more in the flesh trade. September, 2011.
My mother with her friends in front of our house. October, 2011.
The way the women folks gossip in Sethbagan, a common scenario. October, 2011.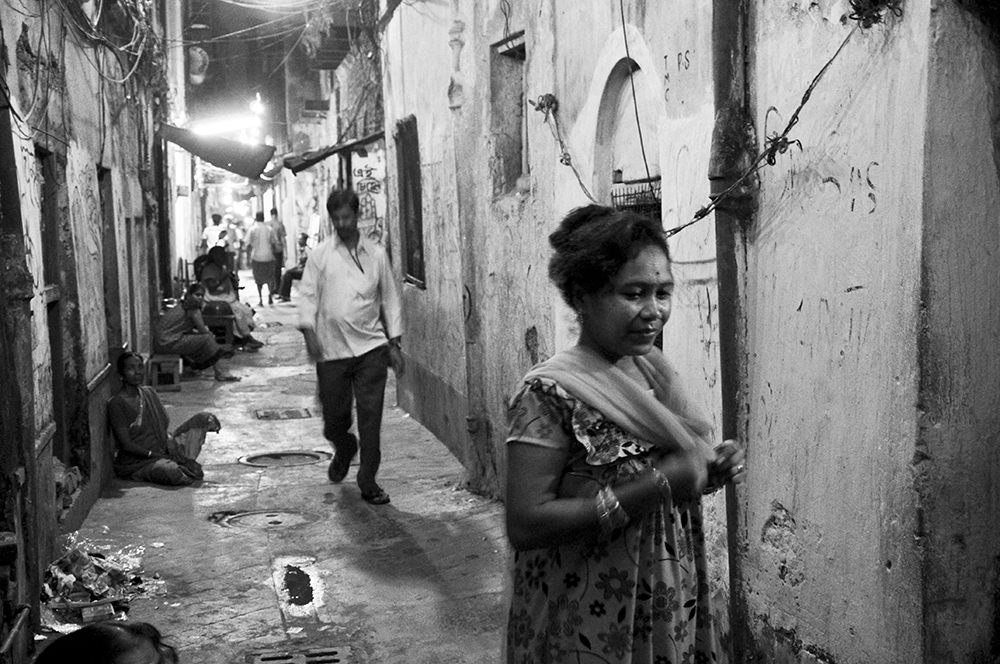 The same lane which I shot in 2000, still remains shabby and dingy. Nobody bothers including the municipality and NGOs. October 2011.
My mother lights a candle during Diwali. It's a celebration of life. November, 2010.
My uncle and my mother in our room. August 2010.
The staircase without any light. We are accustomed to this darkness, darkness of another society. September, 2011.
Bio:
Shankar Sarkar is associated with Drik India and Majority World, UK. His pictures have been exhibited in Indian Museum, Kolkata in 2000, Chobi Mela II (Dhaka) in 2004. One of Shankar's pictures was exhibited in a group show in Vermont, USA (2010). His work 'Facing One's Own', an interpersonal story on his mother was exhibited at India Habitat Centre in Delhi Photo Festival 2011, Oxford Book store in Kolkata, Seagull Gallery in Kolkata (2012) and Guardian Gallery, London with the initiative of Majority World. The ongoing project has been published in various journals and magazines in India and abroad.
He did an internship at AIT, Bangkok supported by a Norwegian agency Fredskorpset in 2008. In the same year he did internship for eight months at Drik Bangladesh.
He was one of the facilitators for a photography project 'Eye to Eye' on behalf of Drik India with the support of Save The Children, UK.