Amidst the relative peace of tall areca nut trees and vast mustard plains, constant tension burbles on the surface in Kokrajhar, Assam. Political graffiti dots house exteriors and market places. Most offices have a map of the proposed state of Bodoland displayed prominently along with that of India.
The indigenous Bodos, majorly Hindus and animistic in nature, have coexisted with Muslims, and Christian converts who have been living in the region for many years alongside other tribes. As the population density gradually increases, the Bodos fear being rendered a minority in their own homeland, and the resident Muslims fear being driven away on account 'illegal immigration' from neighbouring Bangladesh.
In July 2012, major ethnic clashes spread across 400 villages in the region, killing over 77 people and forcing an estimated 4,00,000 people into 300-odd relief camps. On both sides, houses were burnt and broken.
Dotma, one such village, witnessed its over 600 Bengali Muslim families fleeing their homes, after frenzied phone calls were received of the impending doom. The peace and quiet of the picturesque village was shattered, where for years they had lived alongside their Bodo neighbours.
As I roam in the Bodo market in Dotma village in January 2013, I recognize Afzal from the relief camp, who walks rather gallantly through the market place. Multitude of enterprising and hardworking Bodo women run the Bazaar. He looks impervious to the turmoil and tension, which I assumed, might ensue with a Muslim man's presence in a Bodo market. He smiles at people and greets friends and acquaintances and stops by to buy some food. The Bodo people in the market smile commiserate smiles back. The melancholy smiles are honest, just a little sad at the circumstances and how things turned out to be.  He later tells me that he used to run a fruits shop in the same market, which was demolished and vandalized during the riots.
In transit, in hope, Dotma tells stories of violence, displacement and despair. Eight months later, less than 140 families have returned, living in gloomy tarpaulin tents in a relief camp just three hundred meters away from what was once their village, their home. Vacillating between debris and dreams of what used to be, they battle everyday, rebuilding bamboo by bamboo, towards a bricked structure. They hope for not much, but a house they can live in.
Various political groups have been engaged in a separatist movement across the region, making it one of the most conflict-ridden zones in the country.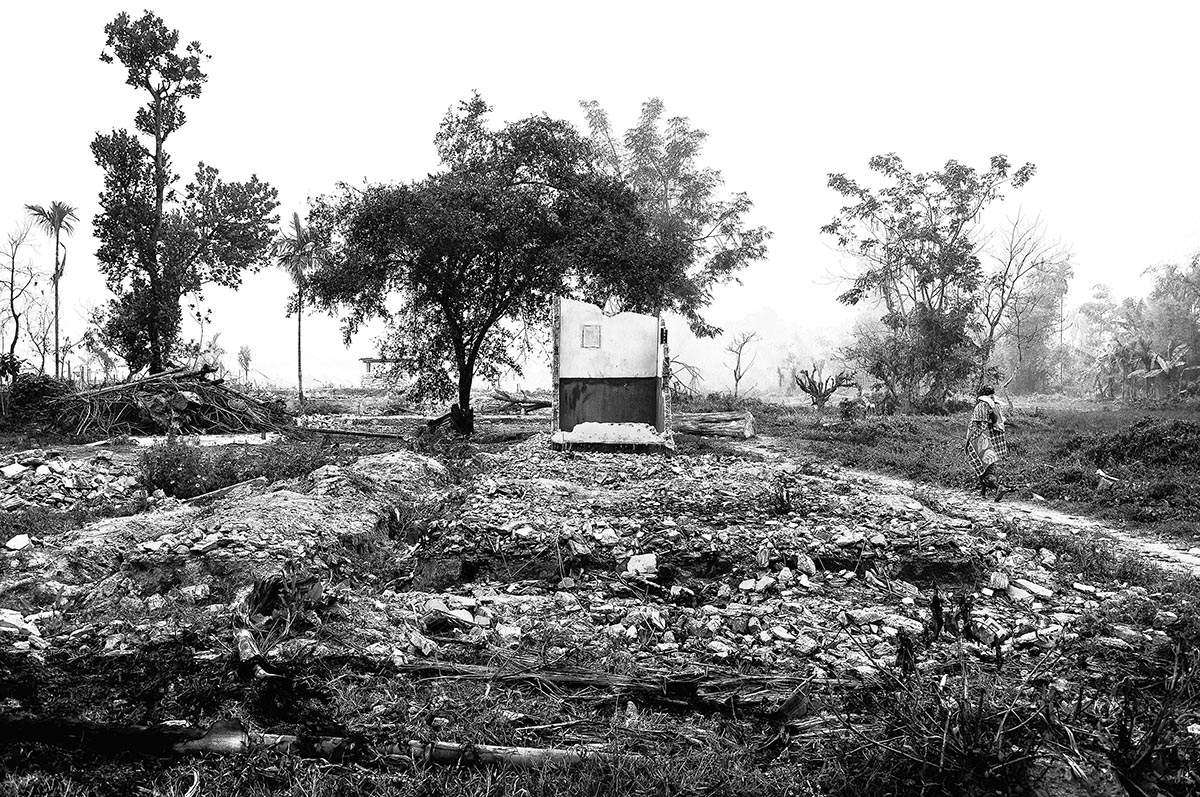 A woman walks past the debris of her broken house in Dotma.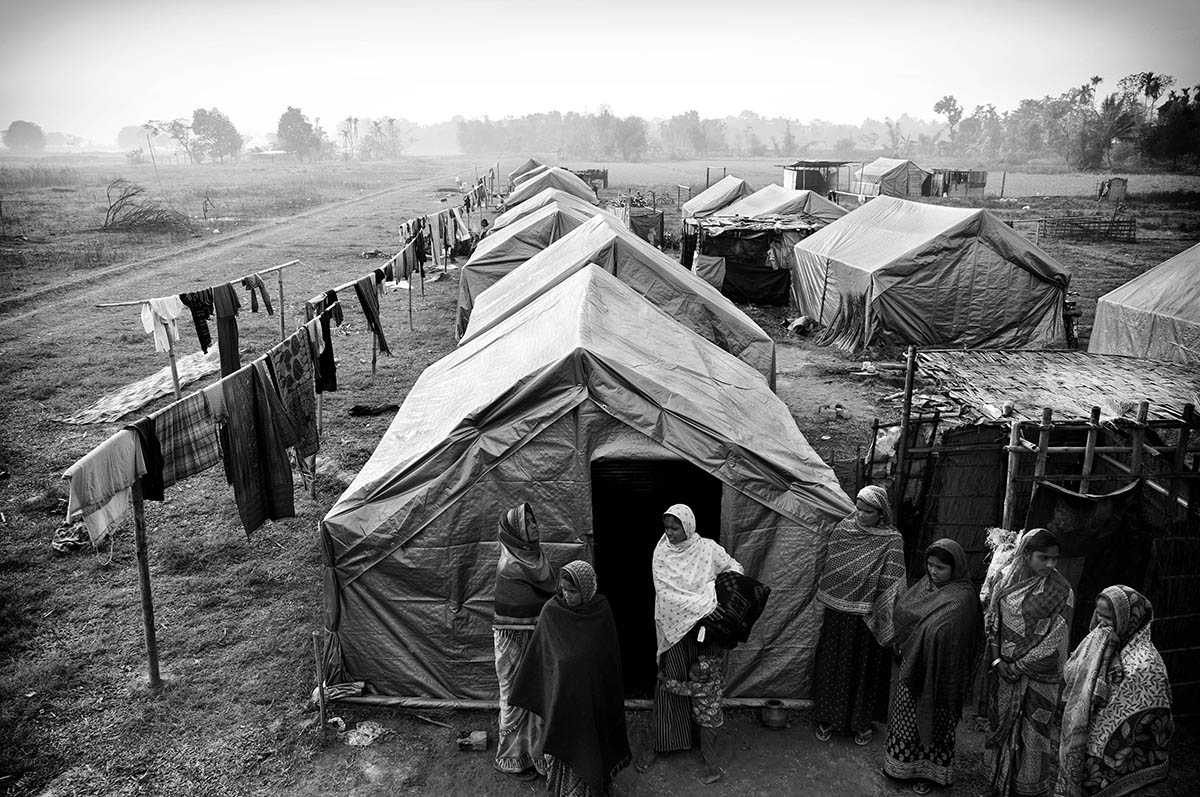 A group of women stand in front of one of the many makeshift tents in the Dotma relief camp. Out of the over 600 families displaced, only 180 had returned.
Moromi looks out of the torn shards of a tarpaulin she currently lives in. She lived in a fine house amidst towering areca nut trees in her quaint village, Dotma. Today she lives in a relief camp, just three hundred meters away from the site of what was once home.
Burnt and cut beetel nut tree stumps in Dotma bear testimony to the mob fury during the riots . The trees formed a major source of livelihood for the villagers in the region.
Saki Bema, over 80 years old, picks dry twigs to light a fire for cooking in the camp. Living all by herself, she is quite like her village Dotma, bent with burden and broken, but surviving with grit and determination.
Portrait of Md. Nizam Ali, the village Maulvi after he returns from his first namaz at the renewed site of what was once the village mosque.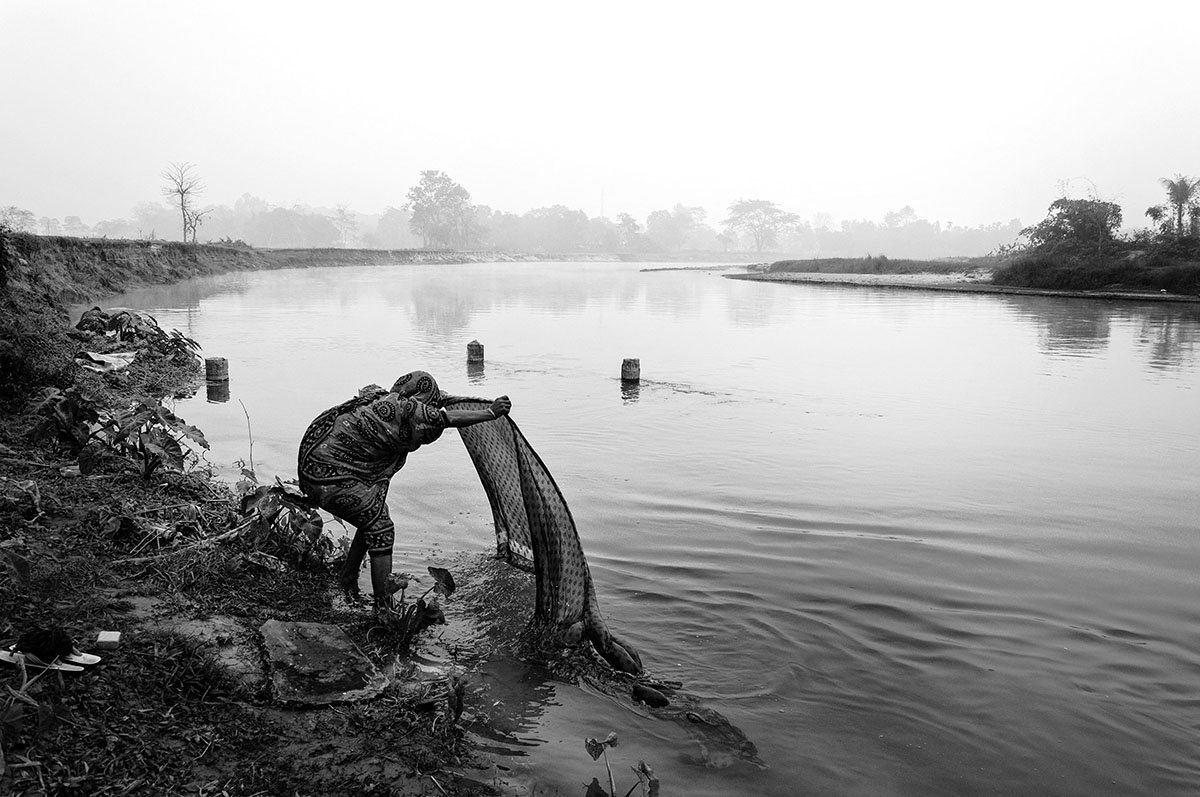 A woman washes her clothes after her morning ablutions at the Longi river, Dotma village. The river forms the lifeline of the relief camp which otherwise has no means of water supply.
Moijal Seikh, 62 years old, looks at identification documents to ensure even distribution of limited food grains across residents at the Dotma relief camp.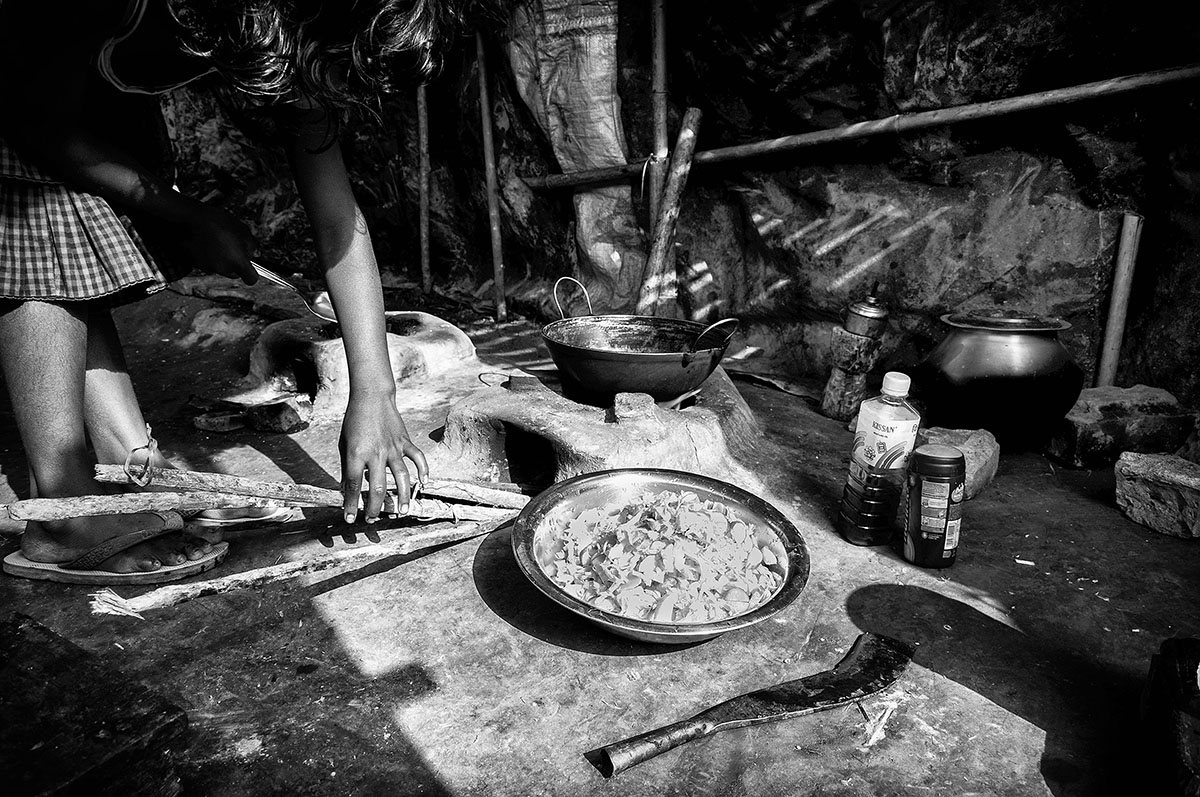 A young girl stokes a fire while she makes a meal for her family. Children have been hit the worst and are without schooling since the riots.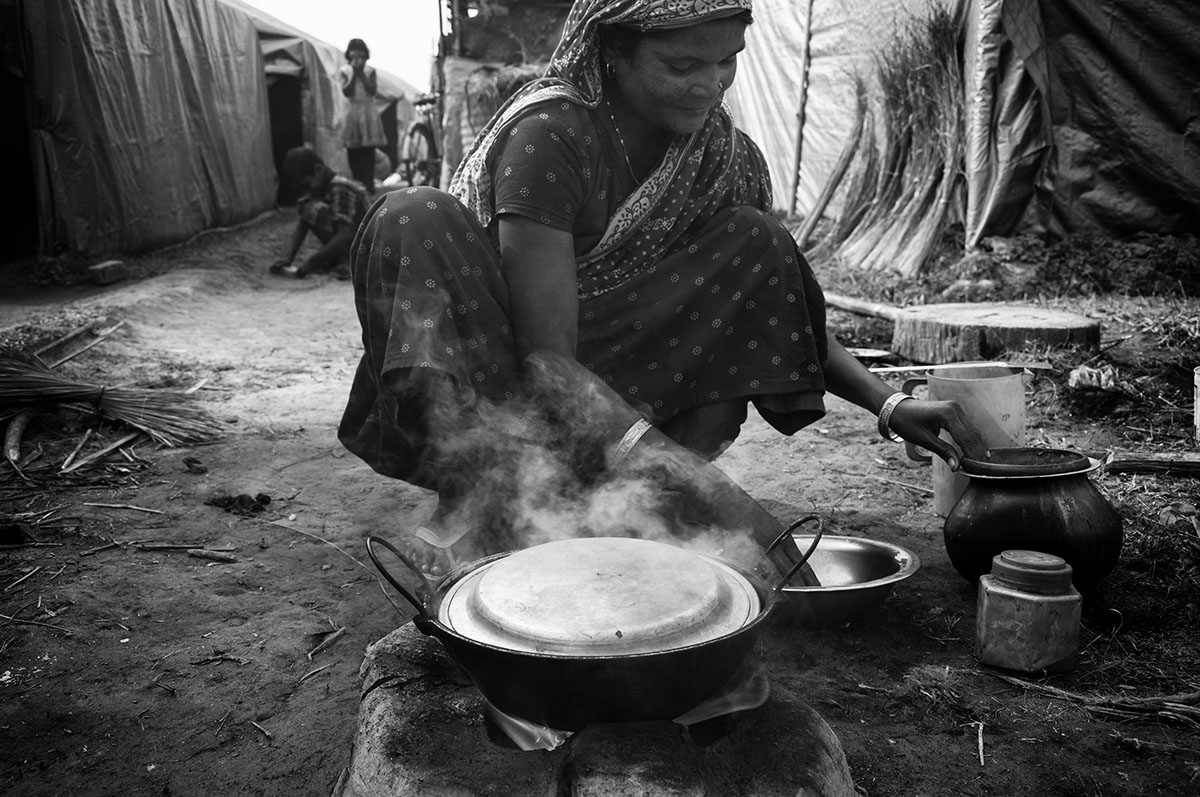 A woman prepares food on a makeshift Chulha (U-shaped mud stove) as children play on. Devoid of space, small areas between tents constituted many a family's kitchen.
Shadow of Mohammad Azial Haque falls on a ditch he just dug as he measures it for 6 feet depth using a stick. The ditch will act as a septic tank for the first lavatory in the relief camp.
A baby girl with her eight-month pregnant mother Moromi Bibi.  Women rely on each other for delivery and acting as mid wives during childbirth, as health care and medical conditions across all the camps are zilch.
A villager sits outside his makeshift house as a fire warms the winter chill. His wife is seen handing over Tamul (Betel nut leaf). Chewing this forms a major past time amongst both men and women.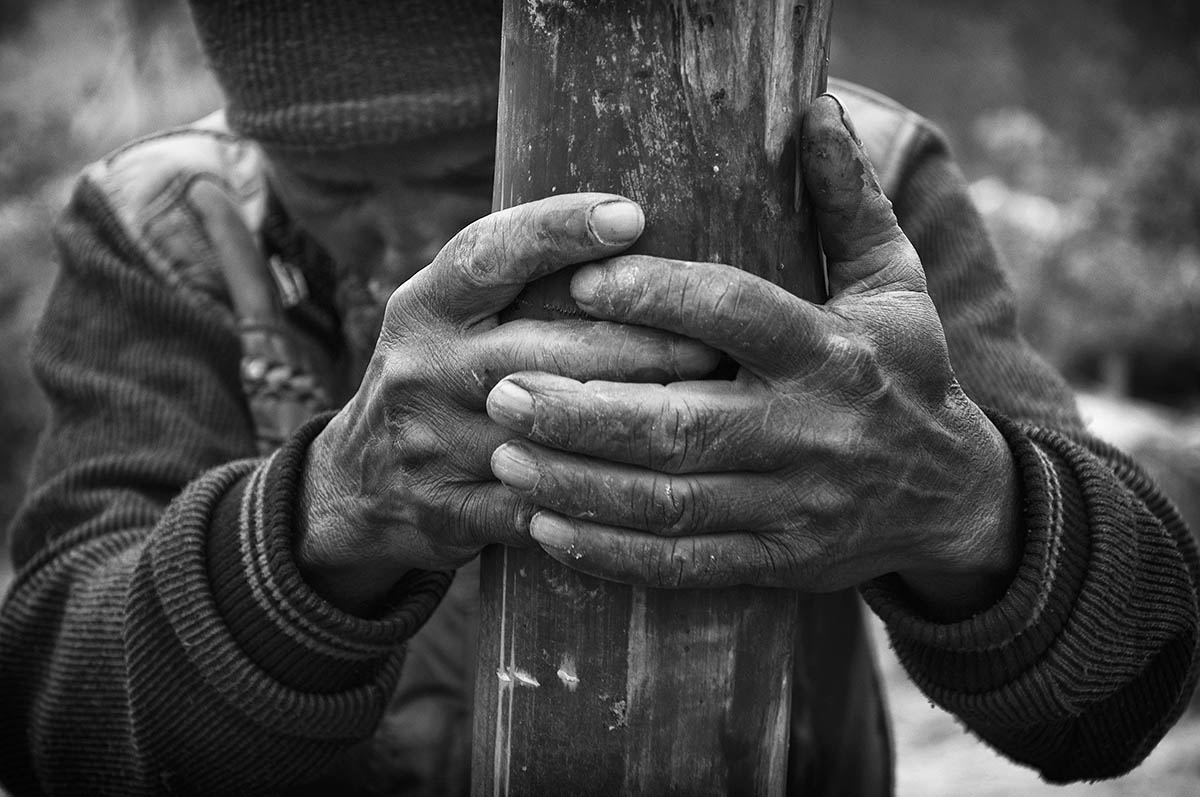 A man places a bamboo pole as he works on the scaffolding for his house. As people slowly return and rebuild, they work towards a home they can live, and hope for a better world continues.
Bio:
Divya Agrawal is a photoghapher based out of Mumbai.