Jadugoda, Drowning in Nuclear Greed.
The Uranium Corporation of India (UCIL), a public sector enterprise, has been mining for and processing Uranium in Jadugoda, East Singhbhum district, Jharkhand since 1967. It  is not just nuclear explosions and accidents at nuclear reactors that cause radiation exposure, mining of uranium and processing of ore is equally dangerous.
Being a Ho tribal resident of Jadugoda I have personally experienced the hazardous effects of radiation on our region, turning it into another Hiroshima of sorts. Genetic deformities and various kinds of cancers have become very common in the region. My very own grandparents died of lung cancer-my grandfather was an employed in UCIL. The tragedy continues as people still dwell there and the consequences are far more serious than before.
My father Ghanshyam Birulee was the first to realize the effects of radiation in Jadugoda and started pondering upon the problems. He led a struggle against radiation and founded the Jharkhand Organisation Against Radiation. Due to the struggle in Jadugoda the issue got highlighted in local, national and international media. Documentaries like Buddha Weeps in Jadugoda by filmmaker Shriprakash and a health study done by IDPD (Indian Doctors for Peace and Development) brought more attention to the problem. These works have given strength to Jadugoda's struggle, brought awareness to people across the world and also helped in the birth of new struggles at nuclear related projects across India.
Most importantly it gave me a vision to look at the problems of my own community from a different medium. I believe I can become a mediator through my photography to the world. I have felt the pain and sorrow that the people of my region bear- the regret of being born in Jadugoda, fear of living in a radiation zone and a desire, wish and hope for relief. I know I could be the next victim, the thought frightens me. The pain, sorrow and fear that we are facing in Jadugoda should not happen with any person in any corner of the world.
I think it's time we said enough is enough. The governments' false pride in being nuclear powers is costing many ordinary citizens' right to lead a normal life. More than the public it is the governments that need awareness on this issue.
I hope this little effort by me will bring more awareness.
The Uranium purification plant operated by Uranium Corporation of India Limited (UCIL) at Jaduguda. Mining operations commenced here in 1967.
The pipeline of death: The 3km-long pipeline carries and dumps lethal radioactive waste from the processing plant to the tailing Dam, which later meets the Subarnarekha river.
The third tailing dam, carrying thousands of tons of Uranium waste, lies uncovered. The radiation here increases by about 2mVs (millisievert) per year.
The UCIL has put up the boards near the tailing pond in self-defense, to wash its hands off in case of an accident. With no barriers to stop them, children who have no idea about the health hazards still go to the tailing pond.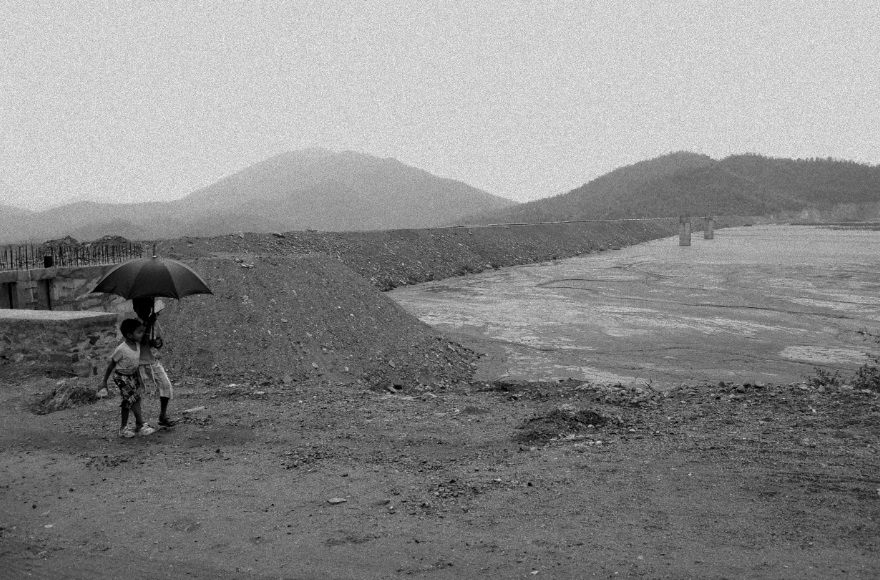 Children near the tailing pond.
Villagers worship at Jaherthan ( a religious place) between the 1st (on the left) and 2nd (on the right) tailing ponds.  The Shakwa trees in Jaherthan, considered holy by the adivasis, are all dead due to high levels of radiation. The Jaherthan too will be lost as the 1st tailing dam is being extended.
Vegetation set on fire by UCIL for the second time on 28 March, 2013 to facilitate extension of the 1st tailing pond.
Leafy vegetables being washed in the Gurra river where Uranium waste is released. These vegetables are sold in local markets and even in places free from nuclear contamination.
A truck carrying Uranium waste passes through public spaces.
A child with Gastroschisis, common in the area.
Babulal Bhumij of Tuar Dungridih village lives barely 100m away from the 1st tailing dam. His father Shuklal Bhumij, a contract labour in UCIL, passed away a few months ago.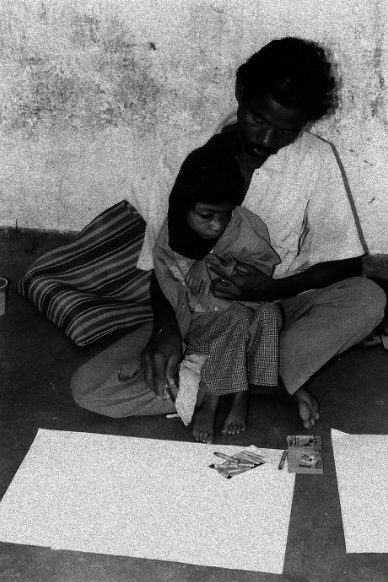 A helpless father trying to entertain his son Gandhakar Karmakar, a Down syndrome victim.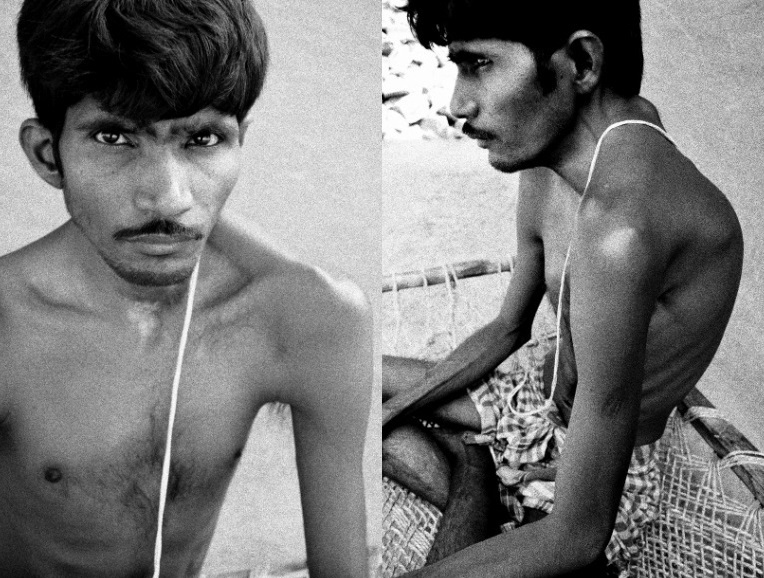 Sameer Acharya, son of a former UCIL employee, has congenital deformity.
Significant number of children in the region cannot traverse normally in streets and home, with many unable to even ride a wheelchair. Achai Baskey (10) of Rajdoha village is a megacephalic victim and is also mentally and physically weak.
Sonaram Mardi (7), whose family lives in a village barely 1 km from the tailing dam, suffers from Thalassemia.
A girl here faces more difficulties than a boy. Olabati Oraon (22) suffers from physical and mental disabilities.
Duniya Oraon, younger brother of Olaboti takes food. Deformities and mutations like this are endemic. It is a heavy price that the people of Jadugoda are paying for living close to a toxic mining facility.
Most children here dream of becoming good competitors but end up competing with their own disabilities. The hands that want to write prose and poetry end up  scribbling.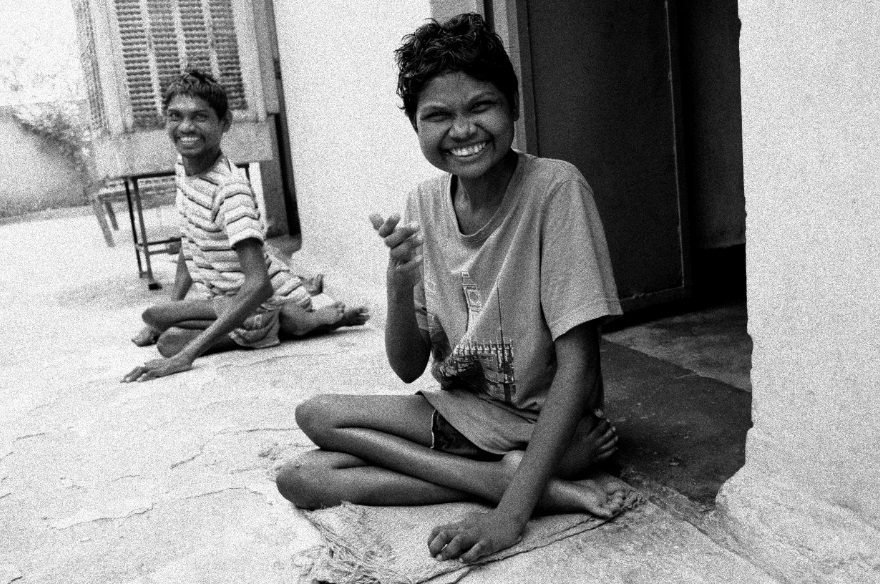 A smile can hide so much pain. It seems the residents of Jadugoda can only smile through their plight.
Bio:
I'm Ashish Birulee aged 24, born and brought up in Jadugoda. I'm pursuing a B.A. sociology honors from EIILM University, Sikkim through distance education. These photos of the toxic effects of mining in Jadugoda have been exhibited at the 3rd International Uranium Film Festival, Rio de Janeiro, Brazil in 2013.