9:15 pm, 16th December, 2012:
I made a photograph of my dear friend S in a nearly empty bus. We were on our way to a colleague's flat for a get together. Around the same time, not far from where we were, a 23-year-old paramedic student was being brutally assaulted in a nearly empty bus, just like ours. Her friend was also not spared.
The next day I woke up to the news of her ordeal and the presence of that photograph. This essay is an account of what followed.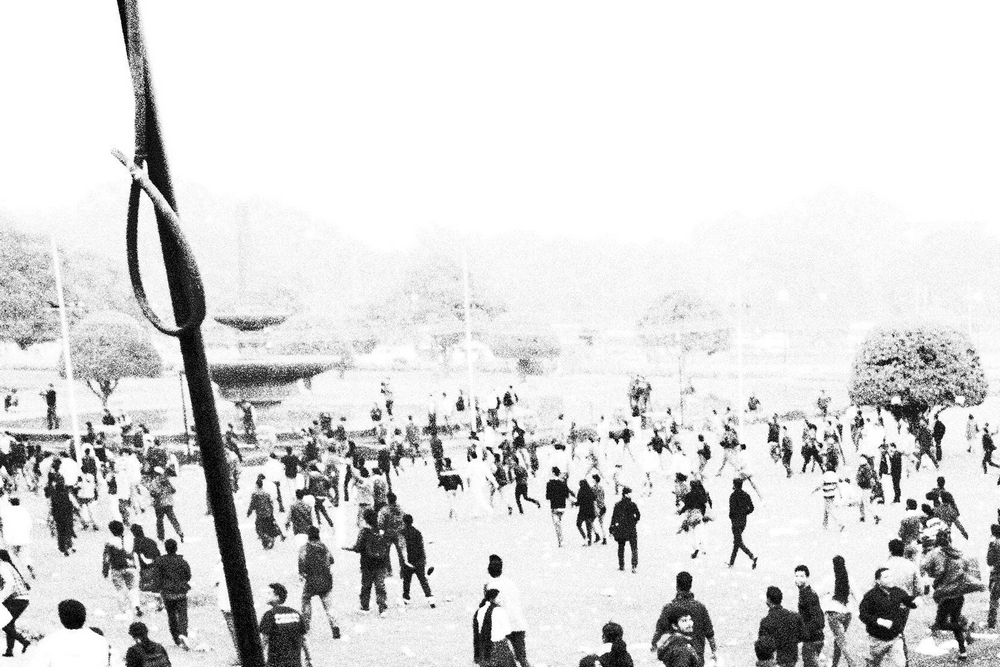 I too took to the streets, like the many young women and men of this city, in a bid to get rid of our collective helplessness. We wanted to reclaim a city that we had lost to our apathy and indifference.
Thousands of us occupied Rajpath, the most powerful corridor in our country. Tear gas shells were fired and water cannons were employed to disperse us, to scare us. Many were heartlessly beaten. Our only fault was that we stood in solidarity with the 23 year old paramedic who was brutally gang raped and left to die.
As we bore the brunt of police action, we did not forget to help each other. We shouldered those who were injured. We tried to protect each other by forming human chains. We shared water and Parle G biscuits; we shared stories & memories. We held our ground for we knew we were bound to each other by compassion. Slowly but steadily the movement found its way in every neighbourhood, every alleyway of Delhi. Similar protests were triggered across the country.
Ordinary citizens, faceless citizens, unknown citizens came out onto the streets – they were not called upon by a political or a religious outfit – they came out on their own to occupy a space that rightfully belonged to them, to confront their passiveness and of those around them.
This essay is an account from the perspective of a common man who on the morning of 17th December, 2012 realized that it could have been him instead of her. It could have been his sister, his mother, his lady friends or anyone else from the faceless mass. These photographs give you an insider's perspective – I am not documenting this movement as a photo journalist/documentary photographer but as a protestor who spent his Christmas & his New Year out on the streets raising his voice for justice, equality and freedom.
Through this essay I wish to tell stories of friendship and courage that have gone undocumented. Through it I strive to bring forth the little details that make all that make the difference; it is in them that the promise of hope rests.
"Thank you for the courage and the honour you have brought to Rajpath, the most dishonorable street in our city. You changed Delhi yesterday, and you are changing it today. Your presence, of all twelve thousand of you, yesterday, on Rajpath, that street that climbs down from the presidential palace on Raisina Hill to India Gate, getting soiled by the excreta of the tanks and missiles on Republic Day each year, was for me a kind of purificatory ritual. It made a claim to the central vista of 'Lutyen's Delhi' as a space for democratic assertion in contravention of the completely draconian, elitist and undemocratic prohibitory orders that make the heart of this republic, a zone of death, not life and sustenance." (Shuddhabrata Sengupta)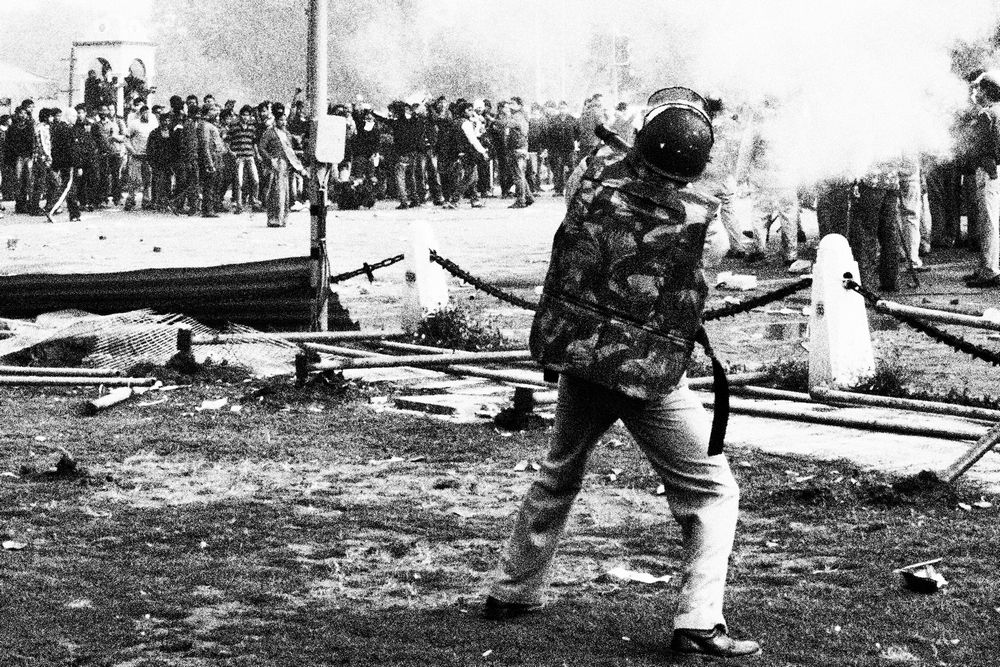 It is unfortunate that there is no space for dissent in a nation that takes pride in calling itself the world's largest democracy. On the 22nd and the 23rd of December we felt the pain and the insult that fellow countrymen in Manipur, Kashmir and Koodankulam have been bearing for quite some time now.
I took this photograph just after being dragged by my collar by a policeman. I too would have been beaten up if it was not for the camera in my hand. As you can see we have covered our faces and are running away from the tear gas shells. Our eyes were burning and throats hurting. We dispersed but within a few minutes gathered back. This happened quite a few times today. Many young men and women got injured. But we did not give up, we kept coming back.
Over 350 tear gas shells were fired at India Gate on the 23rd of December. Water cannons were also employed every now and then. This mindless violence was justified by the state in the name of maintaining peace.
The Police moved like a mob attacking us mercilessly. It felt as if they were enjoying all this violence, eager to break a hand or bleed a face. And yet, amidst the fear that was wreaking parade grounds, our young friend and many like her did not lose courage; they held their ground. One can see how much she put at stake, can her intent be doubted?
The poster reads 'we are ashamed'. She passed away on 29th December, 2012. We knew we had let her down. We knew she like many others before her had fallen victim to our apathy and passiveness.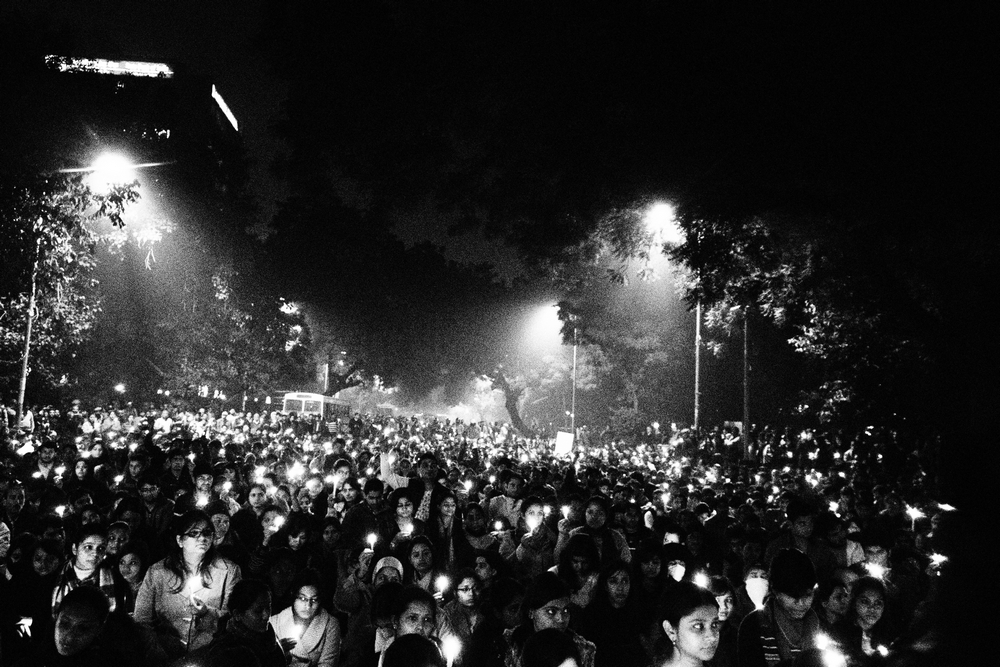 We pledged not to remain silent; we pledged to reclaim our lives, our freedom. We pledged to raise our voice against all forms of sexual violence.
This city of 'silent' beings has transformed into a city of spirits. These spirits have infiltrated our memories, our conscience; our neighbourhoods, our alleyways; our thoughts, our actions. They reclaimed this city on the 22nd. They did it again on the 23rd.
And on the 31st they reclaimed our nights – desolated bus stops and abandoned roads were transformed into pockets of hope, courage and empathy. And now they exhort us to sing for Freedom.
These spirits are faceless. Like you and me. Like the 23 year old paramedic. They are the unknown citizen, we are the unknown citizen. And we will not give up without a fight.
Thousands have witnessed these protests – some while waiting for their buses, some from their balconies, some in crowded market places.
These people are as much a part of this movement as we are. May be only a few thousands candles have been lit, but there are millions who carry their light in their hearts, in their minds.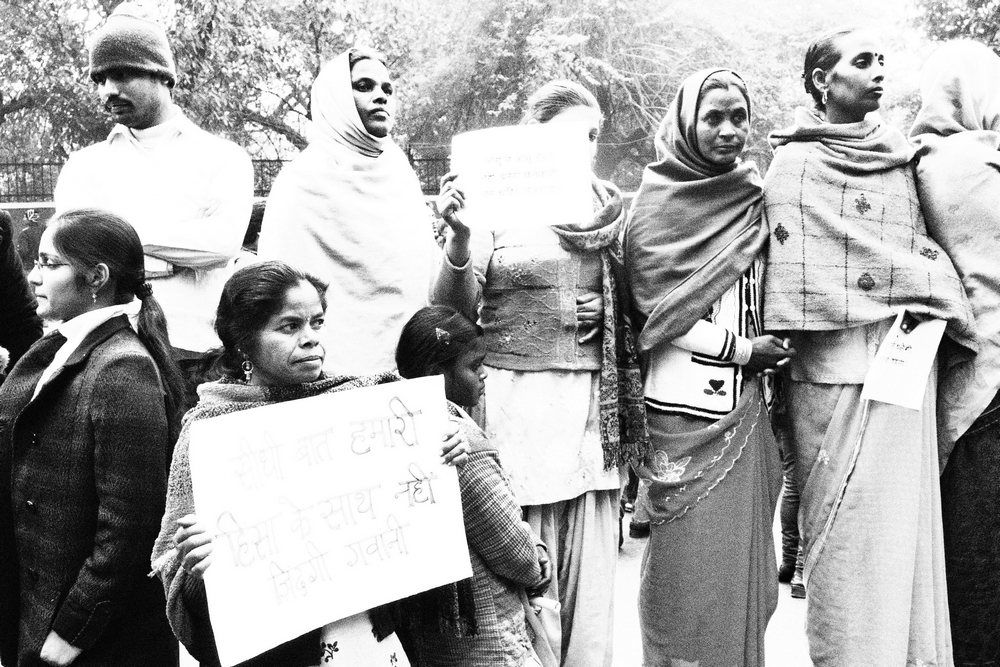 Women from across the social order are standing together in this movement. And those who for long have divided us on the basis of caste, creed & religion cannot bare this sight, this boycott of hegemonic barriers.
Raat mein bhi Azaadi. Din mein bhi Azaadi.
Pyaar karne ki Azaadi. Dosti ki Azaadi.
Moral Policing se Azaadi. Pehnave ki Azaadi.
'Denting-Painting' ki Azaadi.
Is rape culture se Azaadi. In gaaliyon se Azaadi.
Jeet ke lengey Azaadi. Pyar se lengey Azaadi.
Hum le-ke rahengey Azaadi.
Naye Saal mein Azaadi. Kal se lengey Azaadi. Abh se lengey Azaadi.
Yuan Hinsa ke Khilaaf Awaaz Do!
Hum Ek Hain!
To Jyoti, to Nilofar, to Aasiya, to Manorama
To you, to him, to her, to us
To empathy, to compassion, to liberty
To a brave new country!
Let us not forget, let us not rest in peace. 
Bio:
Chandan Gomes makes photographs for a living. At 23 he became the youngest recipient of the prestigious India Habitat Centre Fellowship for Photography in 2011. Photographs from his awarded essay 'Elegy for the Unsung Cubicle' were part of the Inaugural Delhi Photo Festival. He also exhibited at the recently concluded Chobi Mela VII; his first photo book released in November, 2012.
Chandan has read Philosophy at St. Stephen's College, Delhi and enjoys writing on photography. His paper 'Symposium of the Whole' will be published soon in a photo journal of considerable repute.
Chandan lives in an eclectic Old Delhi neighbourhood, nestled in a Mughal garden built by Aurangzeb's sister Roshanara. He can be contacted at: chandan.rang@gmail.com