When I was first told by a long time friend in 2007 that a mother at a remote Internally Displaced Persons' (IDP) settlement in Manipur, was feeding her children shirt buttons in the guise of medicines, it was certainly difficult to digest. It was on later trips that I realised how widespread and protracted the conflict had affected the local populace and tribal settlements in one of India's most violent areas. Away from the headlines, the North-East alone in India is home to more armed groups than anywhere else in the country, which demand either a separate homeland, autonomy or just basic governance. If at all, only a massacre of large-scale gets reported in the national media. What happens there, stays there.
It is a different case altogether when people are displaced in large numbers though, like in the recent violence in Lower Assam which according to official figures displaced as many as 400,000 people. Interestingly nobody refers to the Udalguri violence in Assam, 2008, which involved both the same communities also displaced during the recent clashes. Then again, what about the 35,000 (official number) displaced Brus from Mizoram, India, who remain forgotten on the Tripura-Mizoram Border, where they have been living since 1997, or the Kuki demand for an autonomous district council for Sadar Hills which resulted in the longest lasting economic blockade ever witnessed in Indian History.
Finally, those uprooted from their homes, anywhere in the world by conflict, human rights violations, natural disasters and other comparable causes, who remain within the borders of their own countries – are subject to rights driven excesses, both during and after displacement. Frequently, they are discriminated against for being displaced and exposed to discrimination on racial, ethnic and gender grounds. I strongly believe that violence, internal displacement, lack of governance and environmental issues remain hugely under reported from India's North-Eastern states. Surprisingly, this seems acceptable to most of our editors and therefore requires long-term engagement by both photographers and journalists alike, taking it to a wider audience both within the country and on an international stage.

National Highway 31, the lifeline of the North-East witnessed one of the longest economic blockades that India has ever witnessed.The demand for an autonomous district council for Sadar Hills area often turned violent. Here, the remains of a charred vehicle, also used as a road block.
Locals enforce a village blockade on National Highway 31. July 2011.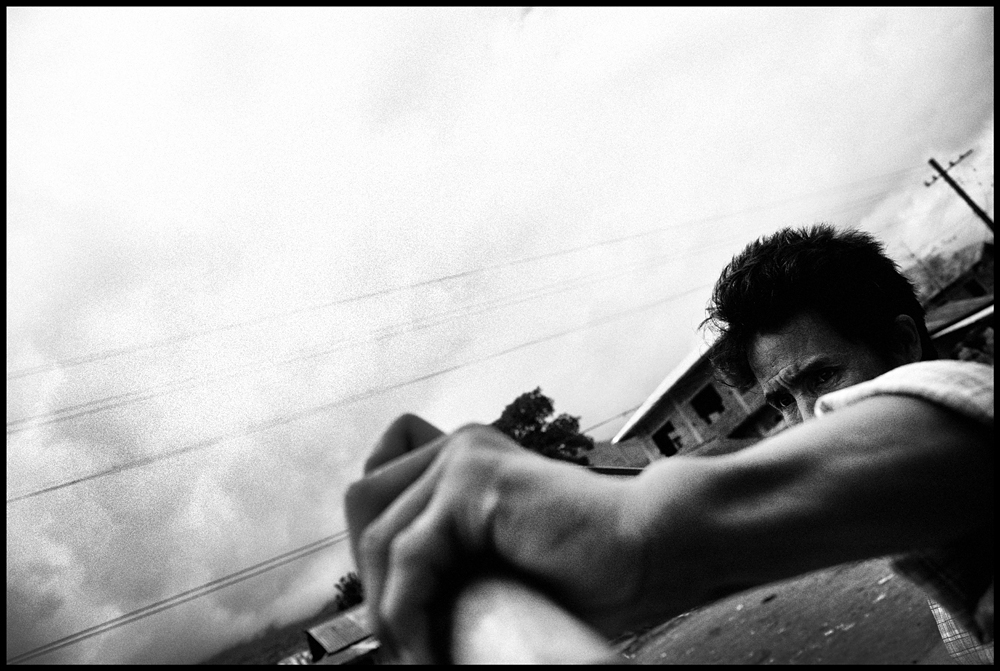 In 2011, National Highway 31, the lifeline of the North-East witnessed one of the longest economic blockades that India has ever witnessed. There was huge local support for the cause; here, a protestor uses his catapult to great effect.
A road block sign demands development for the Sadar Hills area in Senapati District, Manipur. July 2011.
Rebels belonging to the Kuki National Front (KNF) stand guard at Camp Ebenzer, deep inside Sadar Hills in Senapati District, Manipur.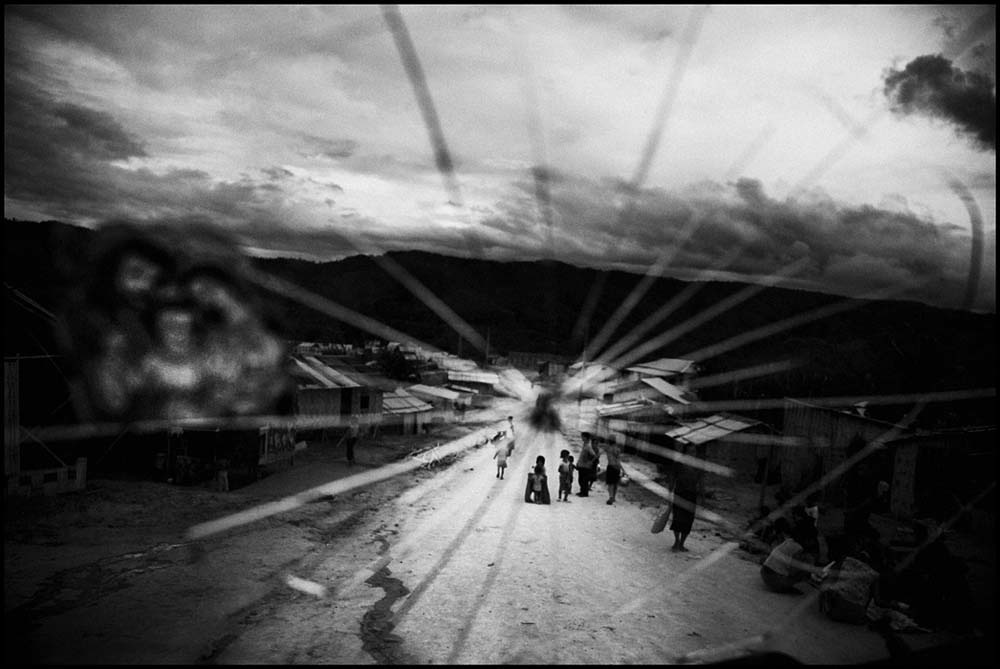 Displaced Brus from Mizoram, India are living shattered lives in six relief camps in North Tripura since 1997, when they were first pushed out of their homes.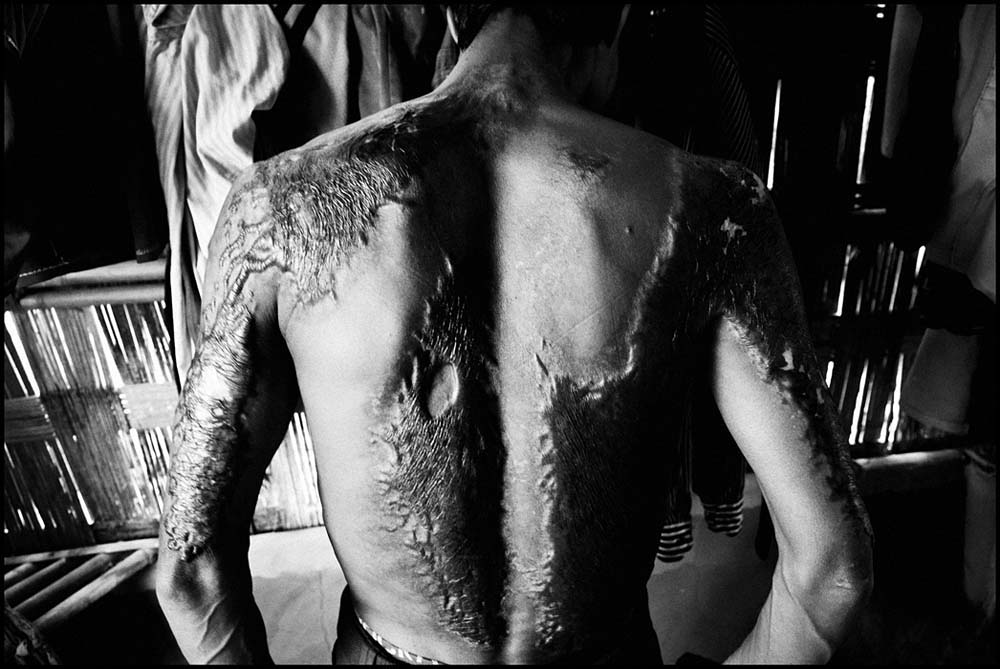 In the March of 2011, a fire broke out gutting most of the camps at Nasingpara, Tripura which houses the displaced Brus from Mizoram. Here a man is shown with burn injuries to his back and arms. Medical help is far and difficult to come by in these remote and inaccessible parts of India's North-East.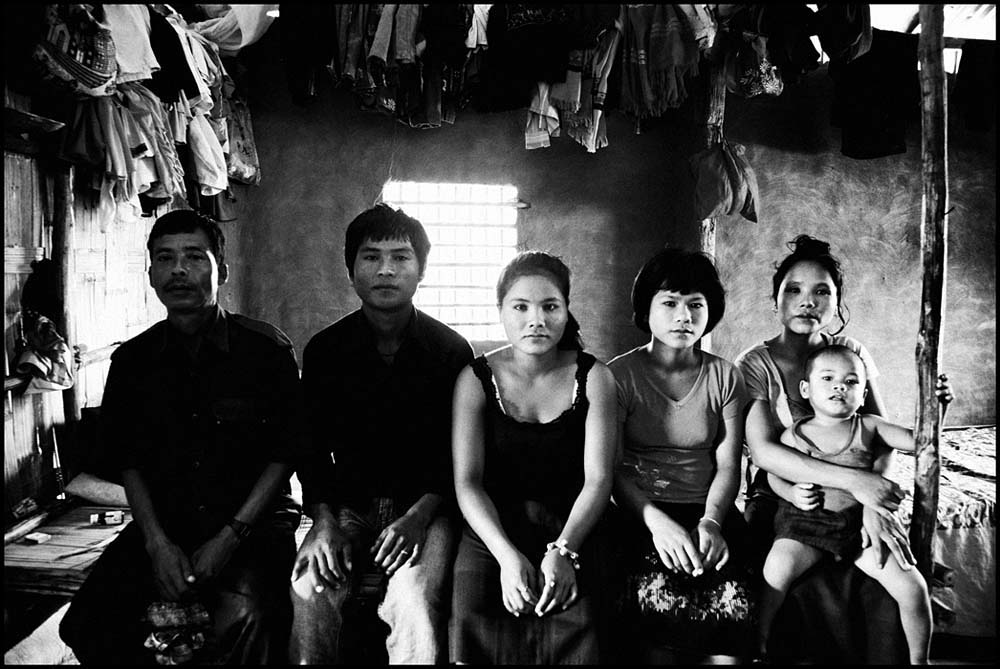 Ratan Kumar(left), with his family members at the Naisingpara relief camp for the Brus in 2011 . He had already lost two family members to fire and disease.
There is no provision for electricity at the Naisingpara camps for the displaced Brus in North Tripura from ever since they were uprooted in 1997. Kerosene lanterns are part of the relief material which is occasionally distributed by the authorities.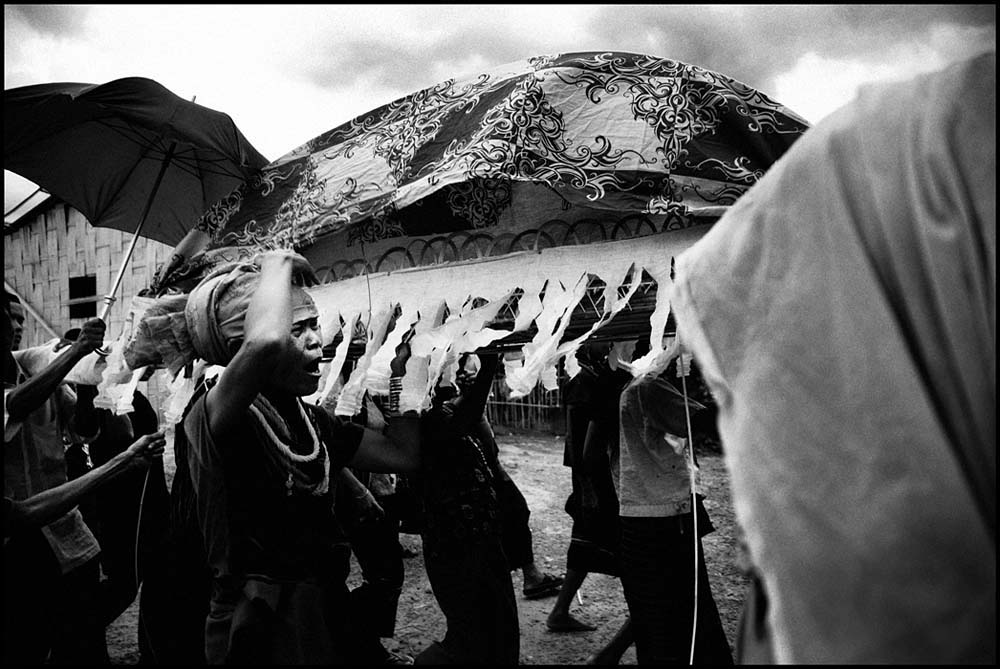 A Hindu funeral procession at the  Naisingpara relief camp for the Brus in 2011. Over 55% of the displaced Brus are Hindus while the rest are Christians. Scarcity of firewood has been a hurdle for cremation in the relief camps.
Virtual inactivity at the at the Naisingpara relief camp while clothes dry on a line. With repatriation to the home state seeming ever more bleak the Brus seem to be caught at crossroads between communal politics and political inactivity.
A family portrait with members lost to a fire that gutted the camps in Nasingpara in March, 2011. 18 people including women and children were killed. The Brus have been living in six relief camps in North Tripura since 1997 since they were first forced to flee their homes in Mizoram.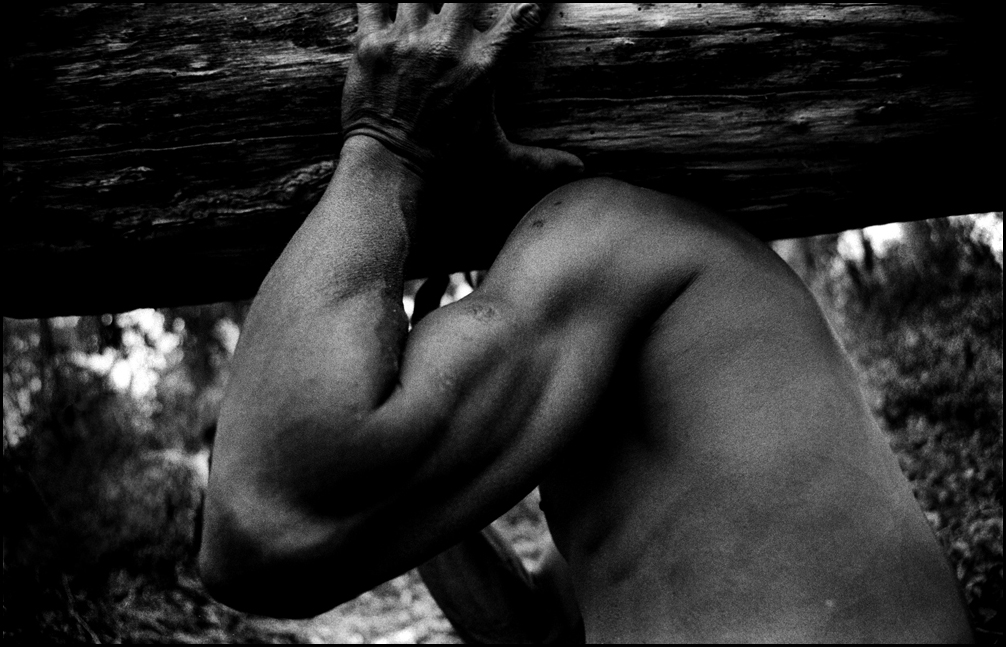 Karbi Anglong in Assam was witness to displacement of people in huge numbers due to ethnic clashes between the Karbis and the Dimasas in late 2005 and early 2006. The people of these camps have had to fight a battle for daily existence. There'€™s been little or no government efforts to rehabilitate them. Mostly cultivators and with no other skills at their disposal, the only means of livelihood is a long trek to the forest reserve everyday to collect firewood and sell it in the local market. The wood, up to 70 kilos per person, was sold for a mere Rs 70.
Residents of Hurnat Terang, a displaced Karbi village observe Good Friday in the Upper Chichirlangso area of Karbi Anglong, Assam in 2007. With no hope from the government, faith plays an important part in keeping people together in these parts.
Lepkhose was 58 and sick with tuberculosis in his legs, distraught and shunted from his village of L-Bongjoi because of violent clashes, was taking shelter in the village of Khenjoi, the last village north of Tegnopaul, on the friendship road from India to Myanmar in 2007. The closest medical help was at least two days walk away, and taking a sick person involved carrying them in tough weather all the way up difficult terrain of the Manipuri hills. Many from these areas had fled to Moreh and other safer areas due to constant threat of rebels and the fear of getting caught up in the fight between the army and the rebels.
Moreh, India's border town with Myanmar, 2007. There are frequent ethnic clashes in the surrounding areas and districts. Here, a mother's tender hand rests on her son's fresh grave. Tongkholun Sitlhou, just 17, was shot dead in a coordinated attack in which five people were shot dead point-blank within a minute of each other all over Moreh in early July.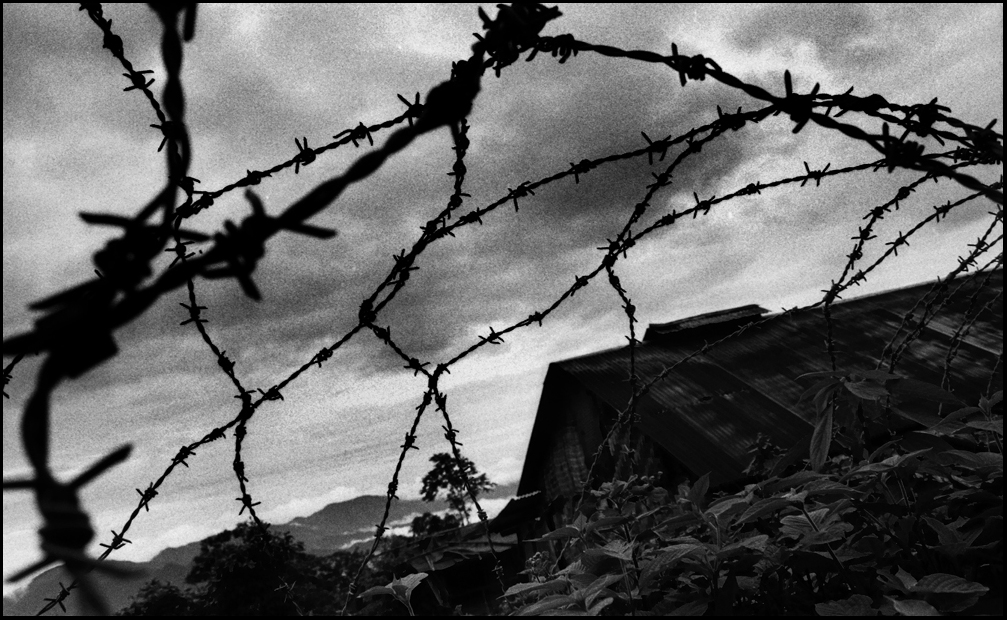 Hollenjang, the last village south of Tegnopaul, on the friendship road from India to Myanmar now lies literally empty. A ten kilometer corridor between India and Myanmar was controlled by rebels in this area. Many from these areas have in the past many years fled to Moreh and surrounding  safer areas due to constant threat of rebels and the threat of getting caught up in the fight between the army and rebels.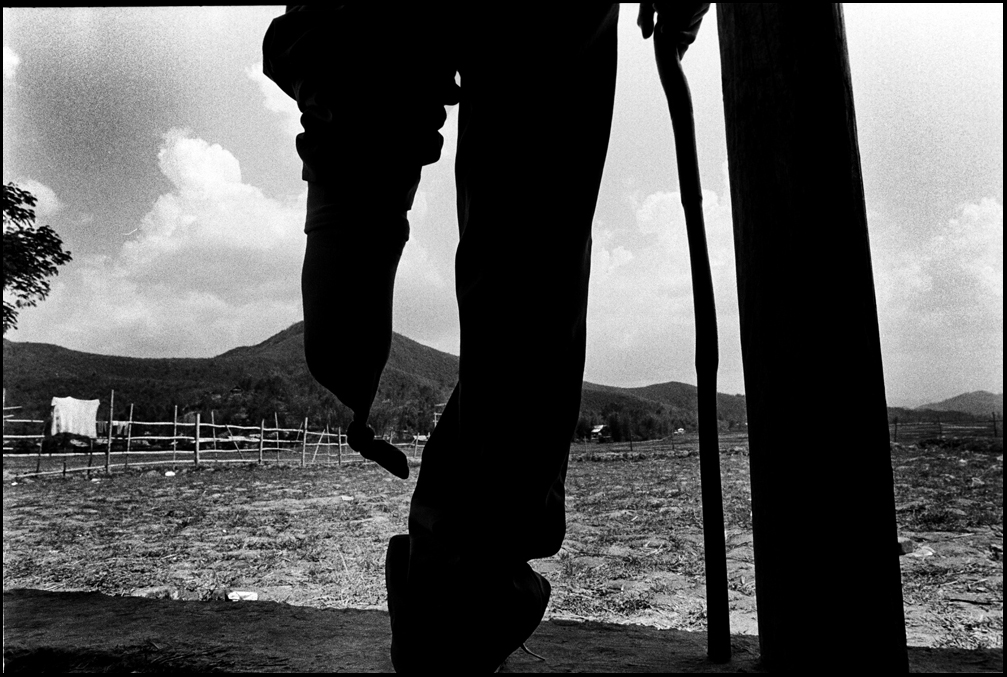 Jamkholun Baite was 27 at the time when this image was made, he had lost part of his left leg when out to cultivate jhumming fields, early in 2007, with his friends between Hollenjang village and Cheljang village. One of his friends was killed on the spot.
Hoi Kho Chin, 29, was many of the hundreds of displaced people in the camp for the displaced in Moreh, Manipur in 2007. She was suffering from TB, and suffered constant fever. A mother of three, displaced and distraught, she was one of the many who struggled to make sense of the crisis and conflict that had been thrust upon them.
Kho Khongsai lost both her husband and her son in landmine explosions in Manipur's Chandel district while they were out farming. This portrait was made in June, 2007, where she was living in a camp for the displaced in Manipur's Moreh town. With no source of income and having been rendered homeless within the borders of her home district, she is one of the many displaced who face a bleak future.
Residents of Moreh's camp for the displaced in Manipur play a game of Takraw in 2007. Unemployment is high amongst those who shifted to these camps. With no skills to deal with the ways of a town, the youth for a change enjoy a short game of Takraw.
Bio:
Whilst still experimenting and honing his skills in photography between 2000 and 2004 , Vivek's day jobs included journalism and television news production. His career in photography began with two short stints at the India Today group (staff photographer) and Timeout magazine(senior photographer) in 2006. Unsettled on home soil, in late 2006, Vivek headed to the north-east region of India to document social issues. Vivek spent a considerable amount of time over the next few years documenting the life and stories related to livelihood, conflict and displacement in the region.
A selection of this work from was screened at Chobi Mela V, International festival of Photography in Dhaka, Bangladesh.. He was commissioned by Goethe Institut in 2008 to explore "Art in Public Spaces" and subsequently exhibited this work at their gallery in Bangalore, India. Vivek was on the top 25 finalists list and tannounced by the Photocrati Fund Grant in 2012 for his work on the Bru displacement issue on the Tripura-Mizoram border. Vivek is based out of Gurgaon-Delhi(NCR), his work is represented by GigSupport Artiste Management.