The idea of Kashmir in an average Indian's mind is that of a paradise laid waste by the ill intentions and actions of unscrupulous individuals backed by a foreign power and supported by a section of the local population.
What interested me was what people my age were doing, where were they hanging out, what were their aspirations, were they like me? Were they very different?
This was my fourth visit to the Valley in the last one year; it may as well have been my first.
I visited the nearest (and oldest) snooker "club", and I found it filled with young college and unemployed youth at 12pm on a Tuesday afternoon. They were suspicious of this guy with a camera at first, but after a while a few opened up and let me hang out with them.
They told me how hopeless the situation is. How corruption is at the root of everything. Almost all of them had undergraduate degrees and some even had completed their masters but they didn't seem very hopeful about future prospects, especially since one would have to pay unthinkable sums to get a decent government job. There was a general agreement amongst them on how incredible talent is wasted in Kashmir.
Most of them live with family. Their parents, they tell me, are paranoid about their safety and they all have deadlines usually before sundown. Indeed the streets of Srinagar are quite empty after 7pm. With no jobs and the repressive atmosphere, most take to gambling and drugs (which is easily available in the valley).
They seem lonely even in the company of each other. I see them playing snooker, working out at the gym, playing soccer and cricket or just sitting trying to run a small shop, they do this with a sort of nervous yet solitary energy… reminds me of a beautiful yet very dangerous animal pacing up and down in the confines of a large cage.
"Things have improved…but not fast enough!" says Sajjad, who I feel took pity on me and in true Kashmiri hospitality, decided to be my guide for the entirety of my visit.
There are glimmers of hope that shine through the thick cloud of oppression; some want to be musicians and others professional soccer or cricket players, and they certainly have the will (if not talent) to be able to do so. Yet they seem resigned to their fate, fully aware, out of experience, that their own actions don't really lead to anything.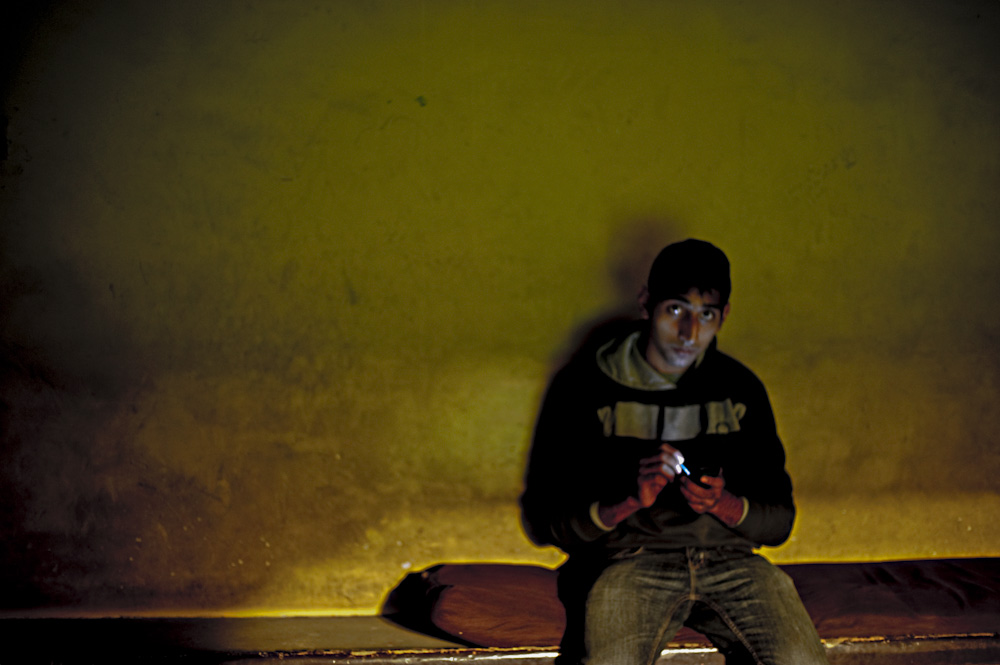 A college student spends his afternoon at a local snooker club in Srinagar, Kashmir.
A popular snooker joint in Srinagar, where young men come hang out and to gamble over games of snooker.
Young unemployed Kashmiri men at snooker club in Srinagar, Kashmir
A young shopkeeper waits for customers, on one of the few days his shop is remains open amidst the various curfews imposed by the government or forceful shutdowns by the protestors in Srinagar, Kashmir.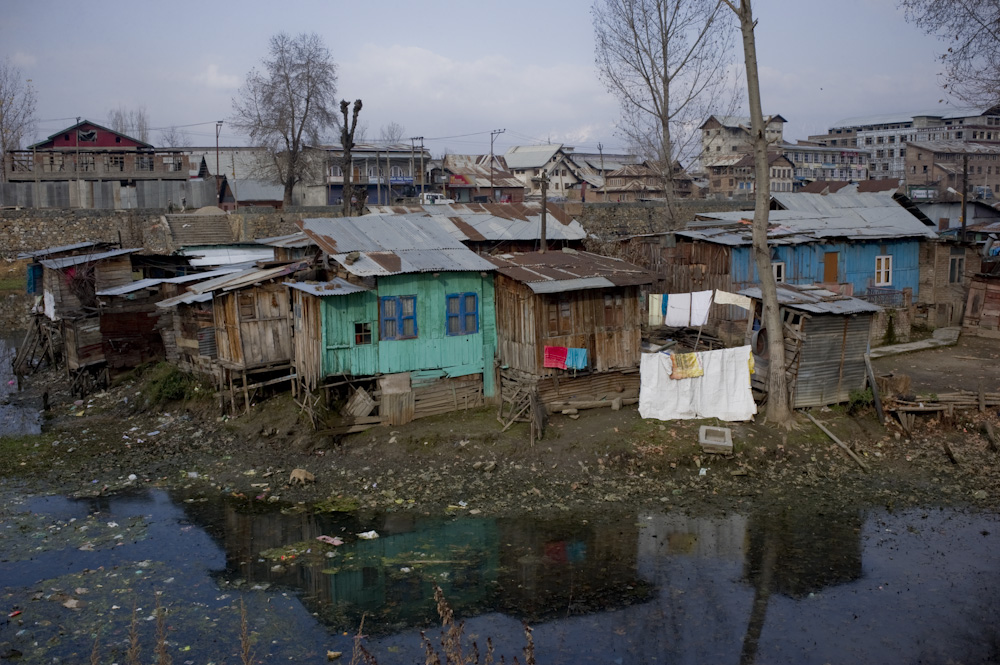 Housing shacks where many young Kashmiris live.
The lead guitarist of a popular Kashmiri band practices in a derelict room of a house occupied by the Central Reserve Police force in Srinagar, Kashmir.
A popular Kashmiri band practices in a derelict room of a house occupied by the Central Reserve Police force in Srinagar, Kashmir.
A Kashmiri boy practices at a soccer camp. Soccer is very popular in Kashmir and many young Kashmiri boys dream of playing soccer professionally.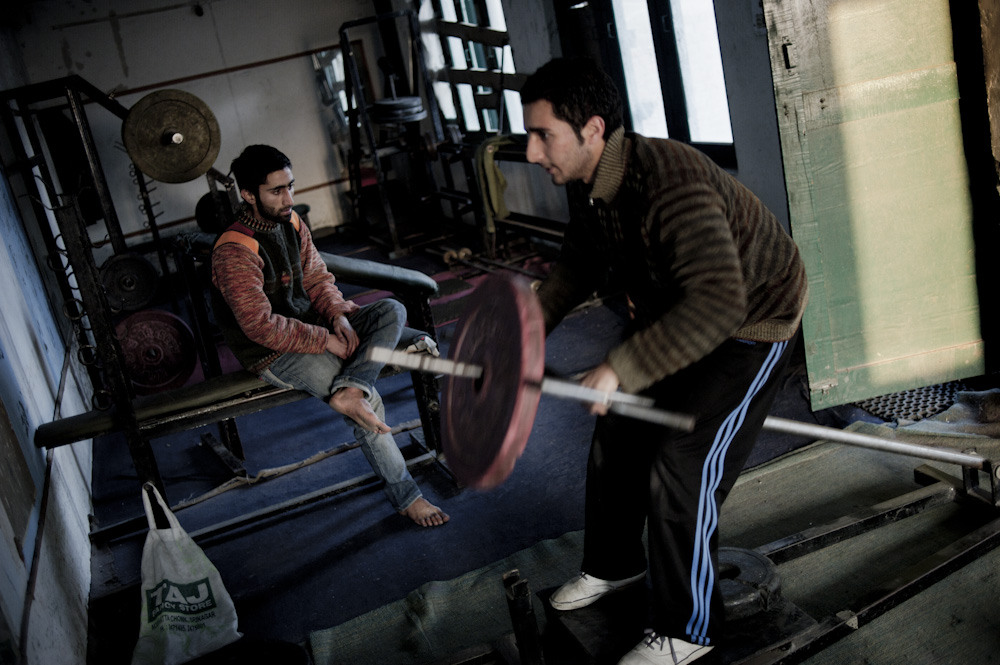 With nothing to do, two unemployed Kashmiri boys workout at a local gym in Srinagar, Kashmir.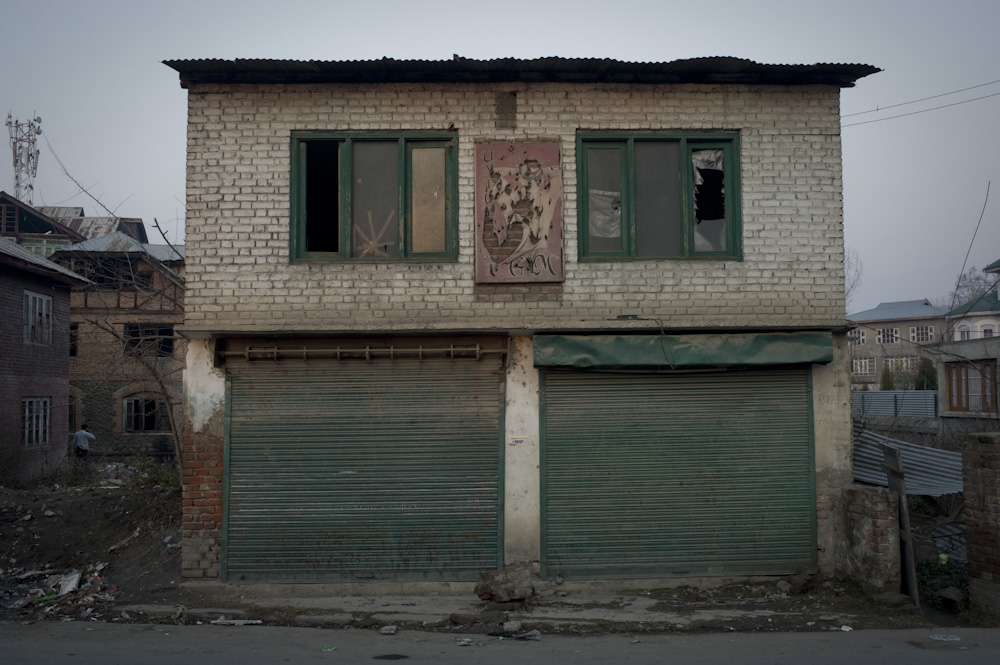 A dilapidated gym in the heart of Srinagar, Kashmir.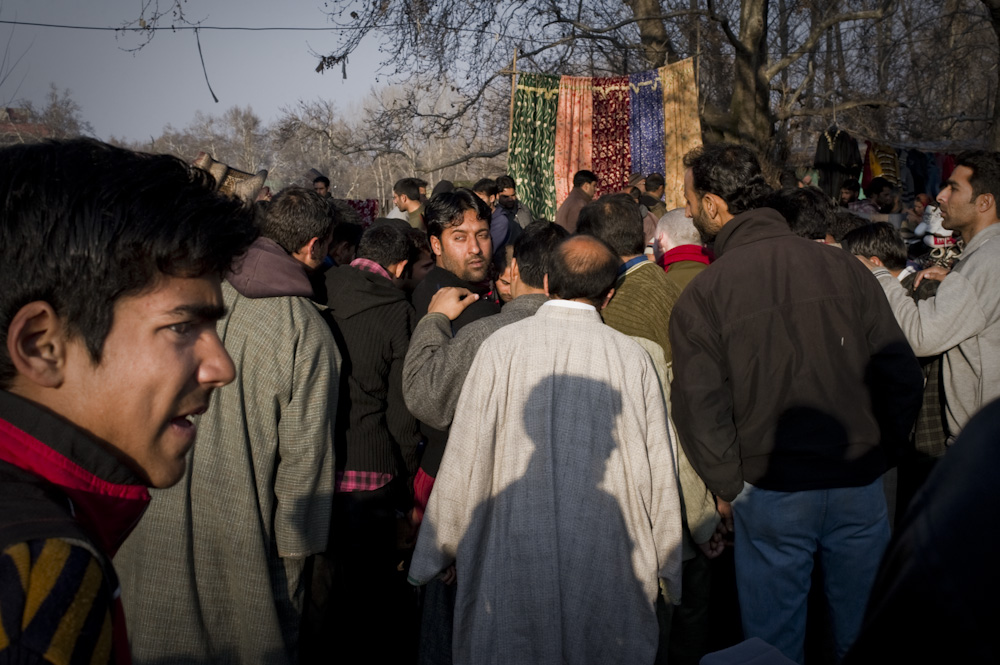 A group of young Kashmiri men gamble over a game of dice at a Sunday market in Srinagar, Kashmir.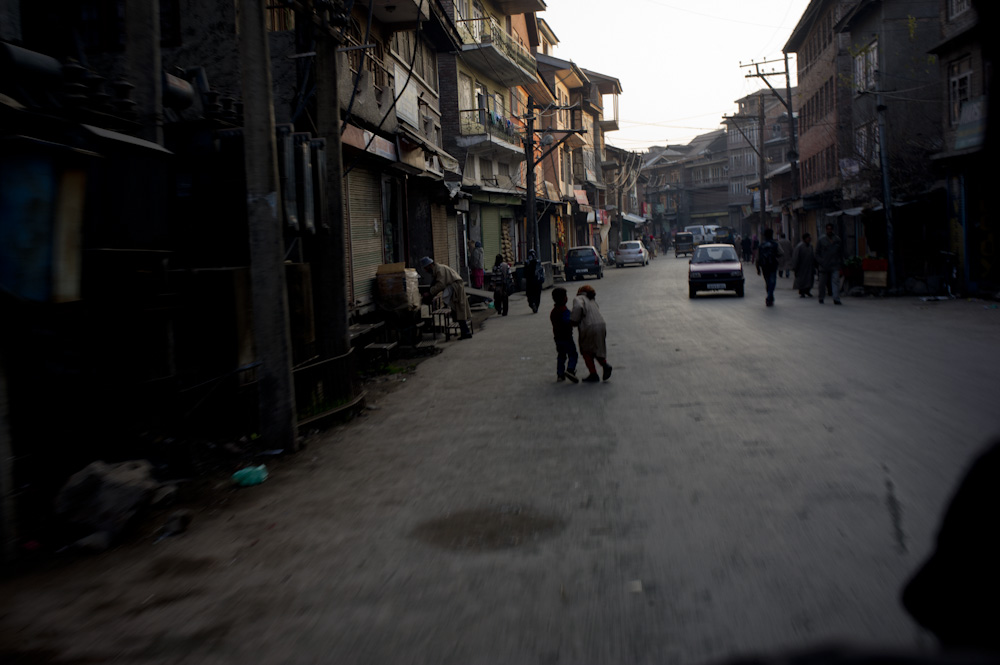 Two local Kashmiri children play on the streets in the middle of a afternoon on a weekday in Srinagar, Kashmir.
After three weeks, my fourth visit to this region comes to an end. I look forward to my return to Delhi. I have things to do, friends to meet, usually quite late in the evening, maybe watch a movie, have a drink and do what I feel like and all this without having to look over my shoulder. After all, I possess the power to leave whenever I want. Leave to a place where Kashmir seems like a distant fuzzy dream. All because I can!
Bio:
Karan is an award-winning photographer based in New Delhi.
He has worked with some of the leading NGOs and commercial companies and his work been exhibited in galleries abroad. Karan has assisted photographers like Gary Knight (VII) and Phillip Blenkinsop (NOOR) and learned from photographers including Antoine D Agata (magnum) at the Angkor Photo Workshop in Cambodia in 2010. In 2011, he was nominated for the prestigious Joop Swart /World Press Master-class. Karan is also part of the core team/secretariat (under Prashant Panjiar and Dinesh Khanna) and was instrumental in organizing India's first Photography festival: The Delhi Photo Festival.