The city of Kanpur in the north Indian state of Uttar Pradesh is famed for its leather industry. The leather from here is known to be of  superior quality and is exported nationally and internationally.
However, environmentalists say the industry, which earns a lot of revenue and provides livelihoods to thousands,  is gradually killing the city. Each day, the tanneries pump out about 30 crore litres of polluted water into the Ganges, which flows by the city. The city's water treatment unit, however, has a capacity of treating only 17 crore litres per day. The untreated water freely flows in the Ganges. The city also produces 400 tonnes of solid waste every day.
The rampant pollution has contaminated ground water sources. Farmers complain their fields are turning toxic. There are reports of increasing deformities among new born babies.
This photo-essay portrays the tragedy that has overtaken Kanpur.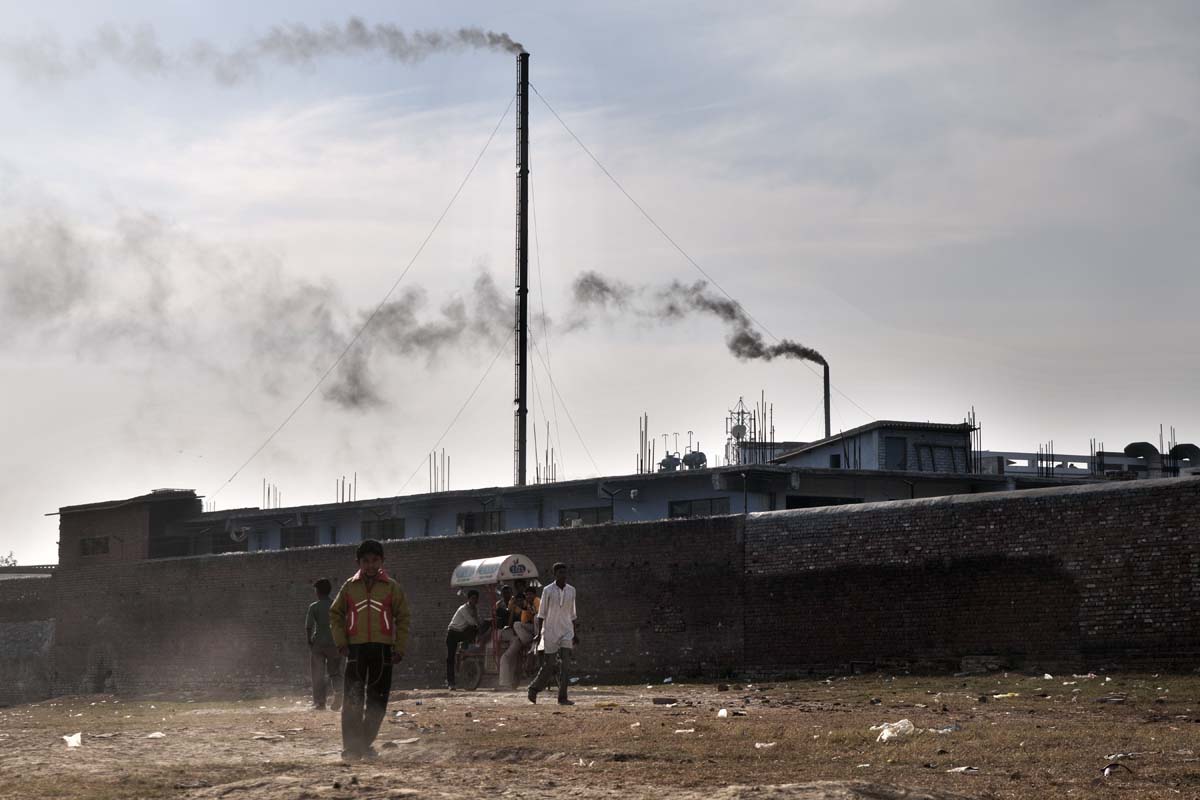 Fumes coming out of a tannery in Jajmau area in Kanpur, Uttar Pradesh, India.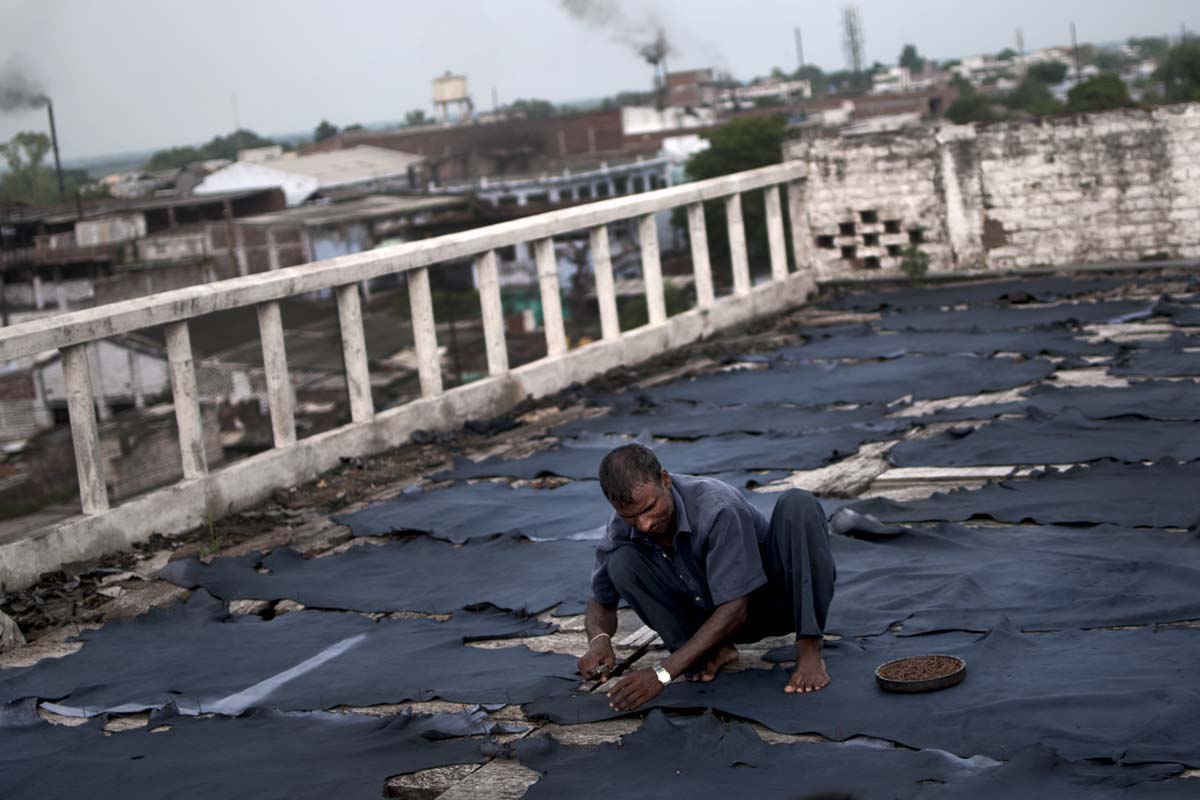 A daily wage labour stretching and pinning the leather with bare hands on the roof of a tannery in Jajmau, Kanpur. Exposure to harmful chemicals used in the tannery causes diseases of the skin, respiratory tract, gastro-intestinal system, etc. Researches have shown presence of elevated amount of chromium in the blood and urine of the workers.
Chemicals stored inside a tannery. Chromium compounds are one of the key chemicals used in this process.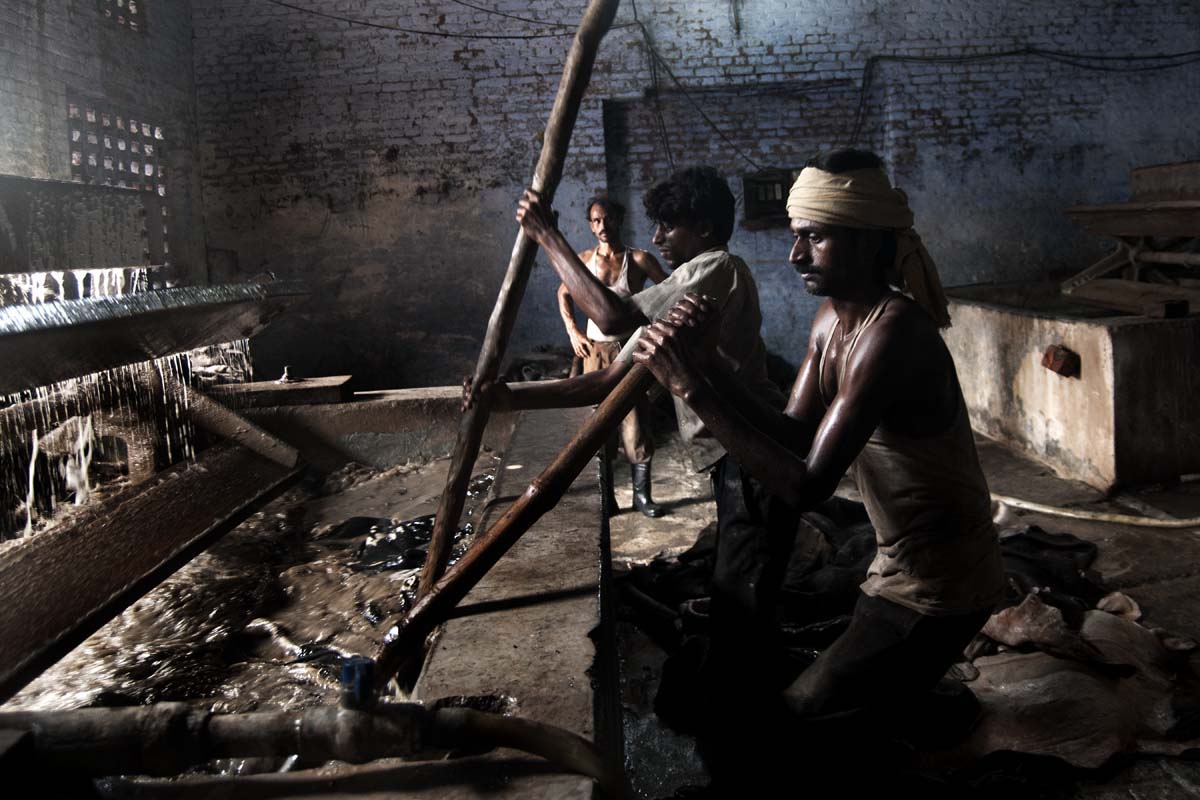 Men working in a tannery without any safety gear.
Daily wage labourers working in a tannery in Jajmau, Kanpur. They earn 60 to 150 USD per month depending on their experience in the kind of job they have to do.
Md. Yusuf (26) is a daily wage labourer in a tannery in Jajmau. He earns about 100 USD a month.
Sheikh Mohammed (28) is a daily wage labourer in a tannery in Jajmau. He earns about 115 USD a month. He suffers from a chronic respiratory disease.
A drain from the tanneries empties waste water with harmful chemical contamination into the Ganges at Jajmau, Kanpur.
Iqbal (19) transfers leather on his head for further processing in a tannery in Kanpur.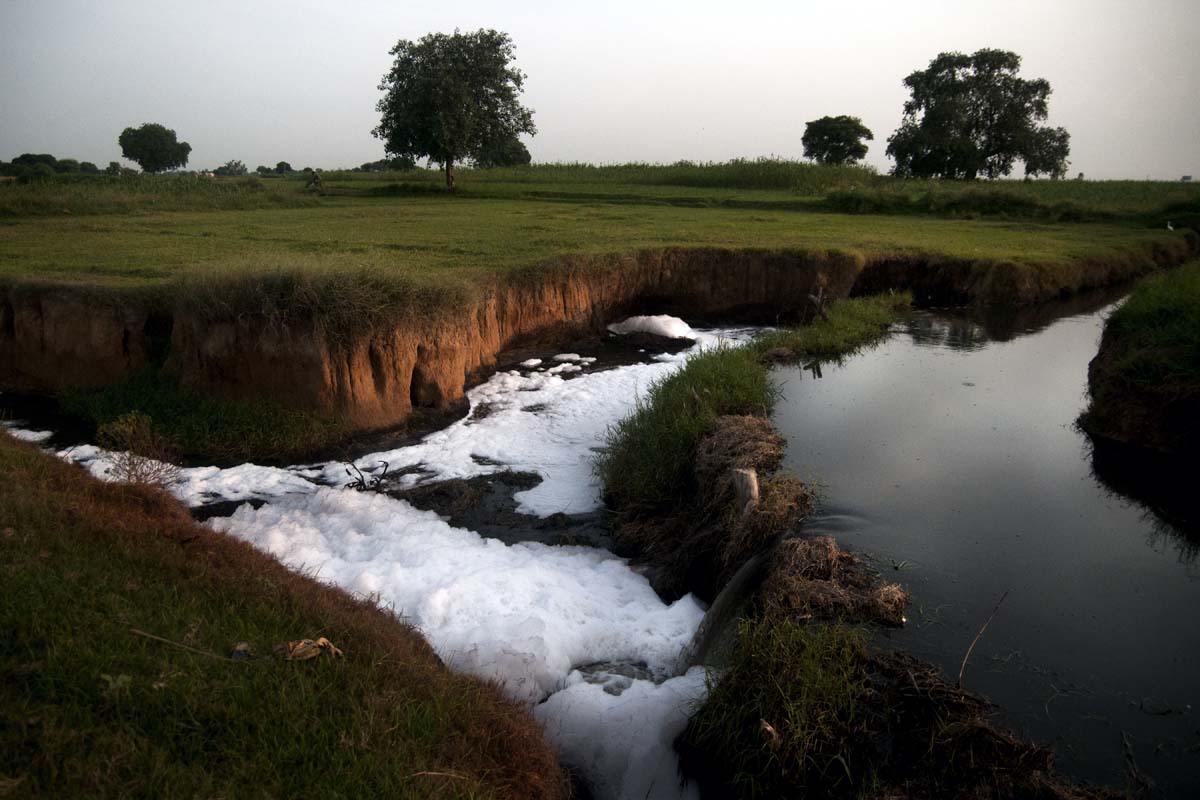 Canals carrying waste water from the tanneries cut through agricultural fields in Kanpur.  Agricultural fields have become less productive and the ground water too has become polluted as a result of this. Scientific research shows crops grown here also have high levels of chromium, a known carcinogen.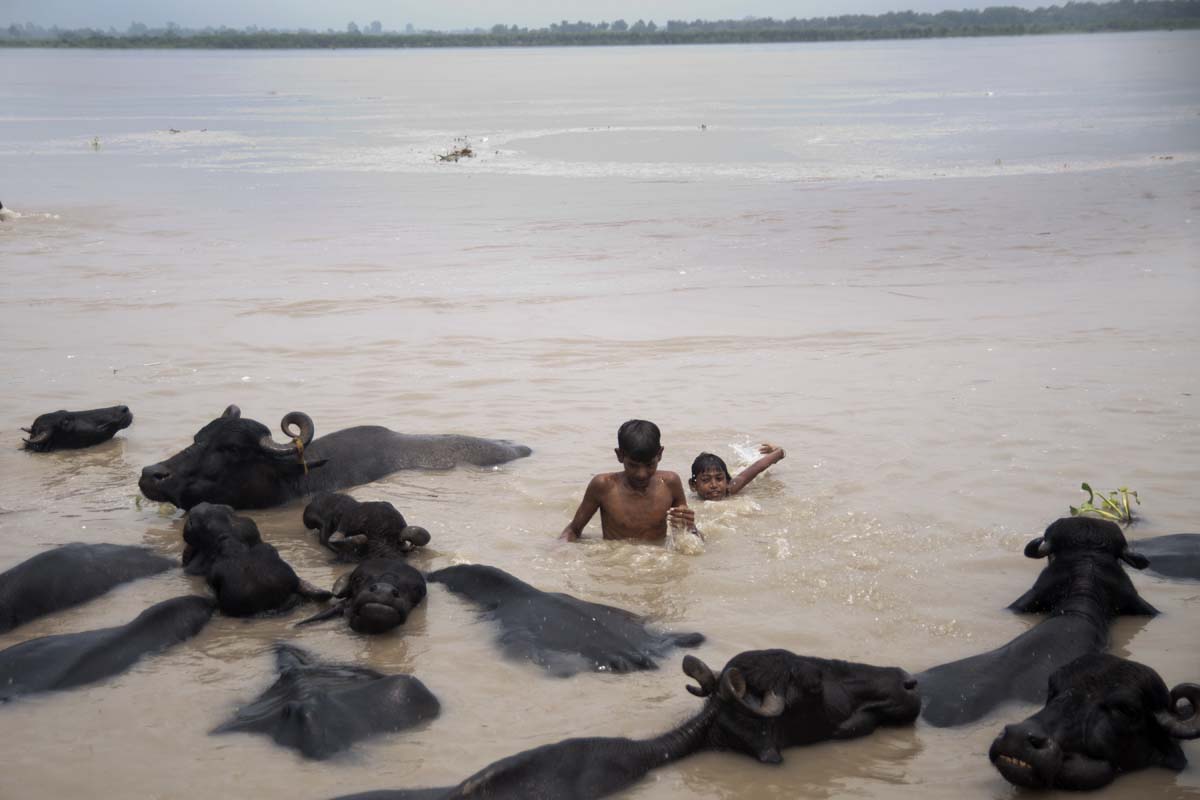 Children bathing alongside  buffaloes in the Ganges river at Jajmau, Kanpur.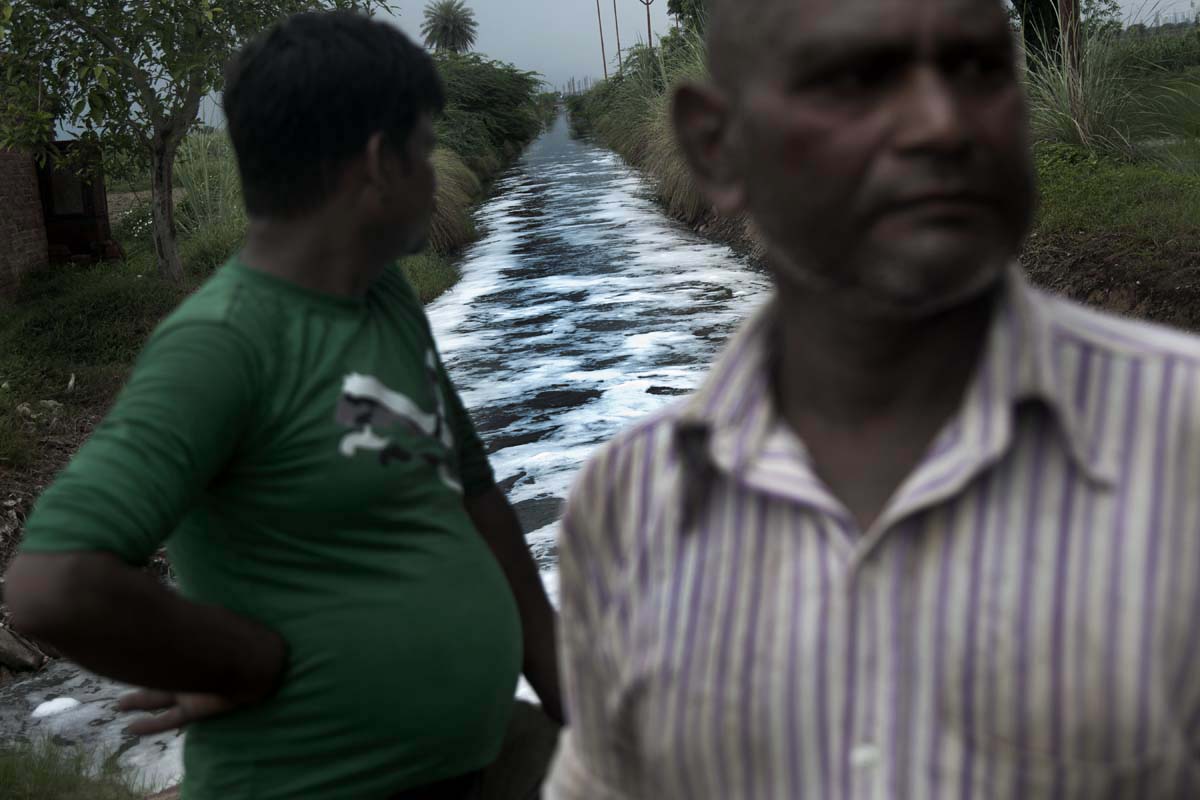 The water is highly contaminated with chromium and other harmful chemicals but is still used for farming.
A young girl works in a crop field at Jajmau, Kanpur. The crop fields of Jajmau are contaminated with harmful chemicals as wastewater from the tanneries are used to irrigate these lands. Farmers here suffer from rashes, boils, papules, vesicles, eczema, ring worm, white spots, blisters, decay of nails, advance stages of leprosy, numbness of limbs etc.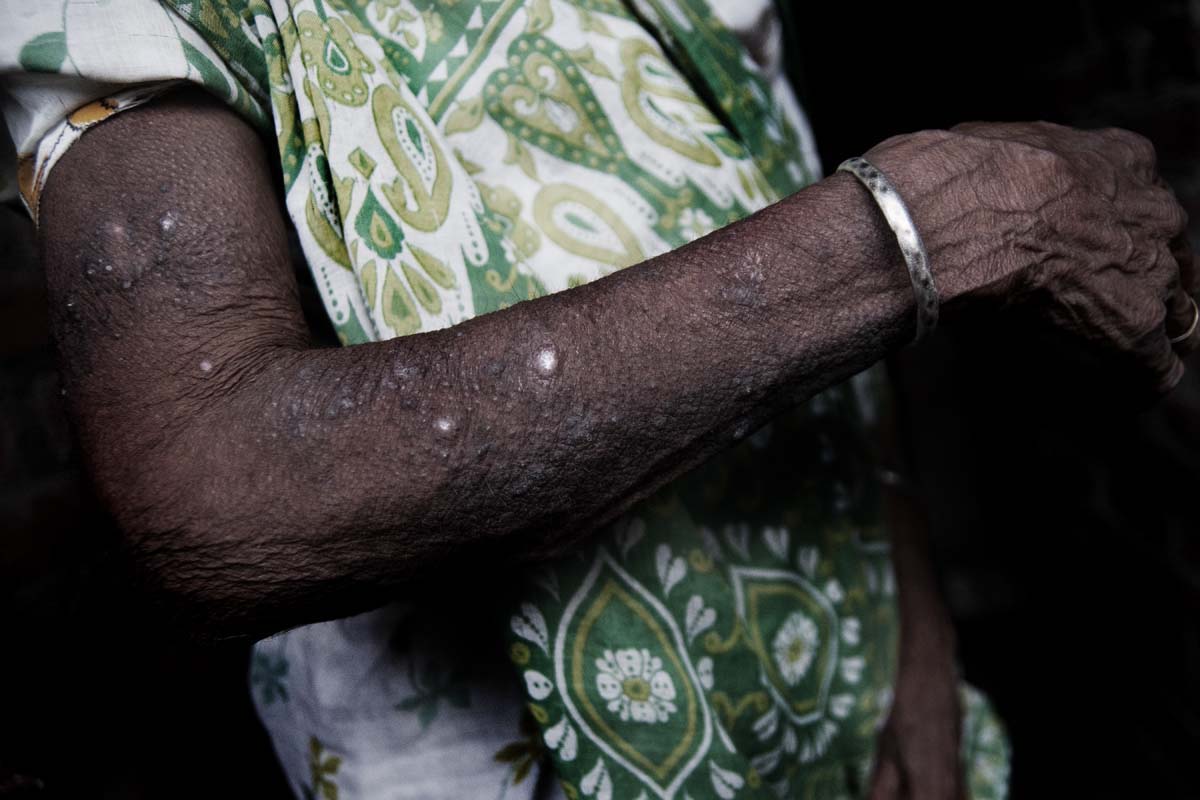 An old woman's hand filled with rashes and blisters. She used to work in the fields when she got afflicted by the skin disease that hasn't cured even after all these years.
Hand of Sripal Kashap (52) of Joana Village in Jajmau. He is suffering from decay of nails for the last 2 years. He used to work in the fields when he got this disease that hasn't cured as yet. He hasn't been able to work in the fields ever since.
Joana is one of the most polluted villages in Jajmau area, Kanpur. Waste water pollution is a big problem here.
An illegal leather scrap dumping yard located few meters away from Ganges in Kanpu. The chromium contaminated scraps are burnt to dust to produce raw materials for fertilizers and chicken food.
Ramshankar Paswan (30) of Motipur village in Jajmau area, lost the second toe of his left leg due to a disease caused by the waste water pollution in Jajmau area.
A child bathing by the side of a street at Joana Village in Jajmau. Waste water pollution is a big problem in Jajmau area.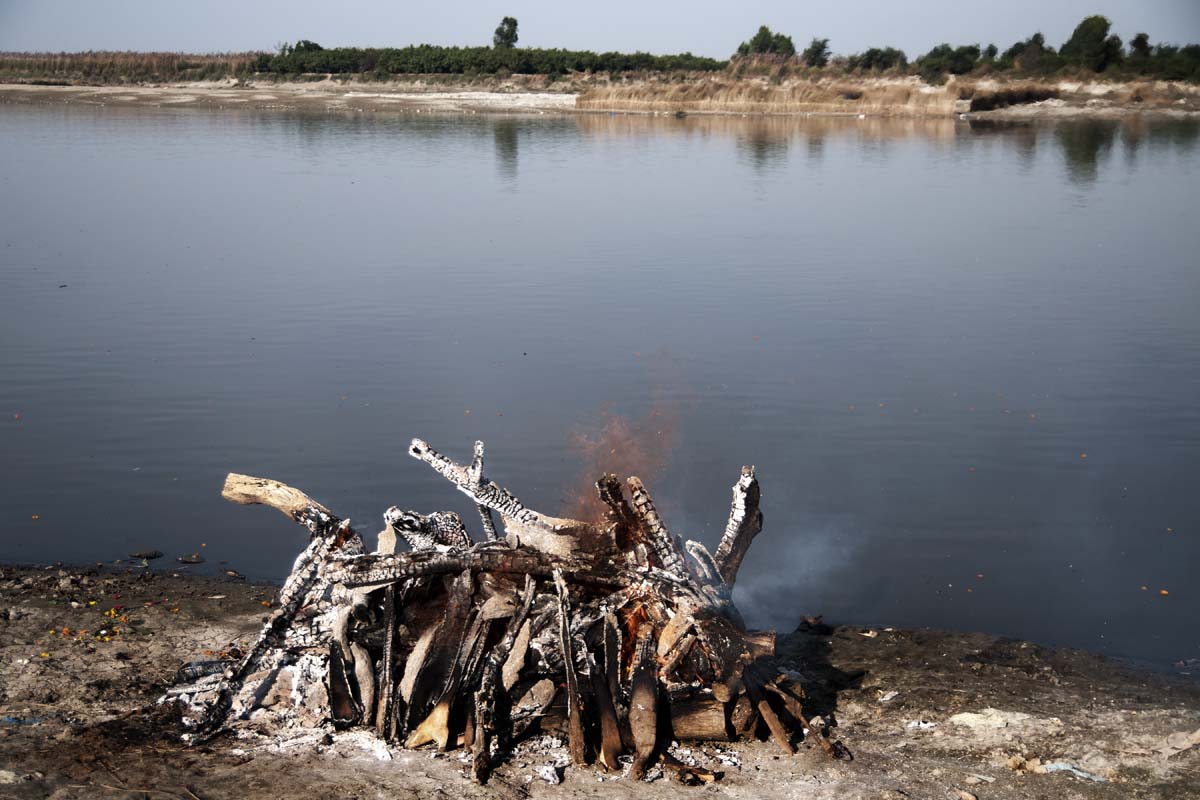 A funeral pyre is lit on the banks of the  Ganges at Jajmau, Kanpur.
Bio:
Arindam Mukherjee is a freelance photojournalist based in Kolkata, India. He started his career in 1996 as an advertising photographer and has had worked with reputed advertising agencies, fashion designers, graphic designers and NGOs.
However, since beginning, he was more interested in street photography, which later brought him to photojournalism. He has started his career in photojournalism as a freelancer with The Times of India. He has also worked as the chief photographer and assignment director for EyePress photo agency based in Hong Kong. Presently he works as a freelance photojournalist for newspapers, magazines and NGOs. He was the recipient of the National Foundation for India media fellowship for 2003-04. His work has been published in many national and internatioal publications including BBC, Al Jazeera, The Sunday Times, The Sunday Telegraph, The New Statesman, The New Internationalist, Grazia, Le Figaro, Le Monde, Stern and Der Spiegel among others. He also teaches basic and advance photojournalism courses for aspiring photographers.